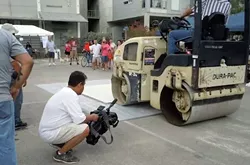 While monoprints are often cut and printed on the same day, some printmaking requires longer prep, and more people are needed for its execution. Last September, dozens of volunteers converged on the Blue Star Contemporary Art Center parking lot to help print 30 monster woodblock prints. Known as "steamroller prints," each 9 foot by 5 foot artwork was pressed by a paving machine. The designs were cut over the summer into sheets of plywood by the three SA artists who comprise the collective Art to the Third Power: Kim Bishop, Paul Karam, and Luis Valderas. Though rain threatened to halt the event that Saturday, the crews managed to complete what Art3 calls, "the largest monoprint in Texas" before the deluge hit at 3pm.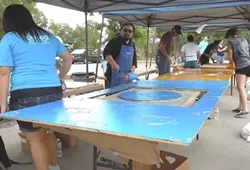 This Saturday, all 30 pieces of the puzzle will be laid out at Alamo Stadium for a one-time photo shoot to document "The Texas Size Print." Expect as many as 70 assistants, including students from Brackenridge High, will begin laying out the 270-foot-long print at the 100- year-old SAISD football stadium that may be soon converted into commercial use in a project proposed by the San Antonio Spurs' parent company, Spurs Sports & Entertainment.* They intend to add a pro-size soccer field to the football and track complex, a move that has received resistance from the community. Read more: http://www.mysanantonio.com/news/education/article/Officials-clash-on-stadium-rezoning-2522481.php#ixzz1je4q0OUD. The photoshoot will happen at 11:30am.
Volunteers for the event are still being accepted. If you would like to participate, email
contact@arttothethirdpower.com
. Selections from the project long with video and photo documentation will be on view in February at the Blue Star Lab.
Free; 10am-12pm; Alamo Stadium, 110 Tuleta Drive. arttothethirdpower.com
*An earlier version of this post mistakenly named the San Antonio Scorpions as the team that will move to a reconfigured Alamo Stadium.