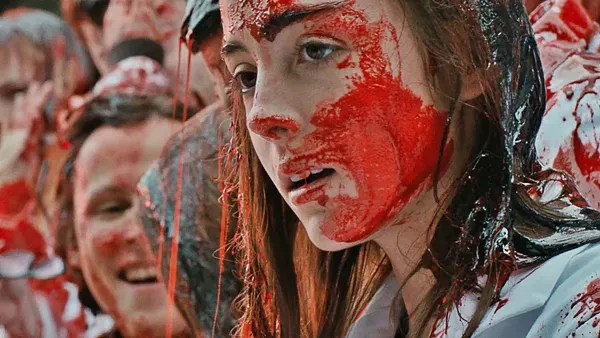 Despite
Raw
being a movie that will test your gag reflexes, this smart and unsettling film by first-time writer/director Julia Ducournau knows what it's doing, and does it very well indeed.
Raw
belongs to the tradition of horror films in the mode of
Carrie
, which couch female empowerment stories within the trappings of conventional fright films. And like
Carrie
,
Raw
's protagonist is a teen virgin whose desires are awakened by peer pressures and her own changing biological needs. This is a movie that shows how a vegetarian veterinary student discovers her need to eat flesh. Only part of the explanation lies in her genes.
This French/Belgian coming-of-age story as cannibal tale begins as 16-year-old Justine (Garance Marillier) is dropped off at veterinary school by her parents (Laurent Lucas and Joana Preiss). There, she joins her older sister Alexia (Ella Rumpf) as the girls study to join their parents in the vegetarian family's veterinary profession. Ducournau plunges viewers, along with Justine, into the school's savage hazing rituals when she is abruptly torn from her bed and made to crawl toward a chaotic rager. Other hazing assaults on the "rookies" follow. Ordered to swallow a raw rabbit kidney, Justine is revulsed but obedient once her big sister shows her how it's done. Subsequently, an exfoliating rash covers her body and her hair-chewing results in the self-extraction of a disgustingly long hairball. Justine follows up stealing hamburger patties in the school cafeteria with late-night raids on her dorm refrigerator to devour her roommate's raw chicken breast. An amusing bikini-wax scene between the sisters escalates into flesh-eating mayhem. Soon, Justine's gay male roommate Adrien (Rabah Nait Oufella) looks pretty tasty as well. Is it all just part of a teenager's natural experimentation with freedom and bodily limitations, or are we witnessing the coming into womanhood of a natural-born cannibal?
Focus World
Justine is forced to eat meat for the first time in a college hazing ritual.
Ducournau maintains tight control over her volatile material. Humorous moments punctuate the gore, which is plentiful without being gratuitous. Visually, Ducournau sets Justine's tale against the background of a drab institution whose corridors are lined with animal cadavers, bloody lab coats, and body parts floating in formaldehyde. Justine, much like her literary namesakes made famous by the Marquis de Sade and Lawrence Durrell, is a young girl who comes rightly by her complex sexuality.
Raw
firmly maintains its pedigree as an outsider's tale, the story of a girl on her own for the first time and discovering unknown capabilities. However, even though there's a great deal to admire in Ducournau's debut outing,
Raw
will mostly appeal to the taste buds of horror connoisseurs. Skittish consumers should consider other dining options.
***
Opens Friday, Mar. 24 at Santikos Bijou.