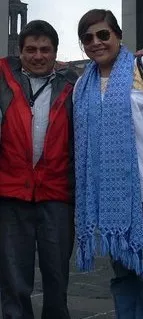 In 2007, Miguel Figueroa López walked into an Alabama restaurant with his brother - a veteran of the war in Afghanistan - and their mother.  He and his family found a table near the entrance, situated themselves, and looked around in search of their waiter.  Above the bar, a greeting awaited their glance: "DOGS AND MEXICANS NOT ALLOWED."  Funniest thing, I thought segregation was behind us.
López, a full-time anthropologist and a part-time historical tour guide in Mexico City, became visibly enraged when I solicited his opinion on immigration reform (or lack thereof) in the United States.  "Pinche bullshit," were the first words out of his mouth as he responded.  Though I'd only met him a few short hours prior, this type of emotion seemed uncharacteristic to Miguel's lighthearted personality. 
A man who earlier joked that the job title on his resumé was now "Owner of a Lonely Heart," Miguel hardly seemed like the type of person to become angered by much of anything.  (Years before, his Japanese girlfriend left him penniless, homeless, and hopeless.)  Completely unfazed by the ghost of his heartache past, he added playfully, "I'm married to my motorcycle now."  Miguel smiled a half-smile and took a calm, pensive pause.  "Christine," he said, "You will have to promise to find me a nice woman in San Antonio who will not steal all my money."
But an almost palpable passion came to the surface as he spoke of his people and his country, the real loves of his life.  And believe me, the emotion translated. 
With his arms crossed in front of him, he told me in a sort of panicked, frantic tone: "There is a double standard in the United States.  They say they don't like immigrants because they don't pay taxes and they are criminals.  But, no.  They pick the harvests, they clean the toilets, they build the homes.  And if they don't do the work, who will?  Many people say Mexicans in America use welfare.  So get rid of the welfare, not the people.  We are not the minority anymore."
Circling back to the beginning of our conversation, he echoed, "Dogs and Mexicans.  Nombre.  We are people, too."
This one's for you, Miguel.