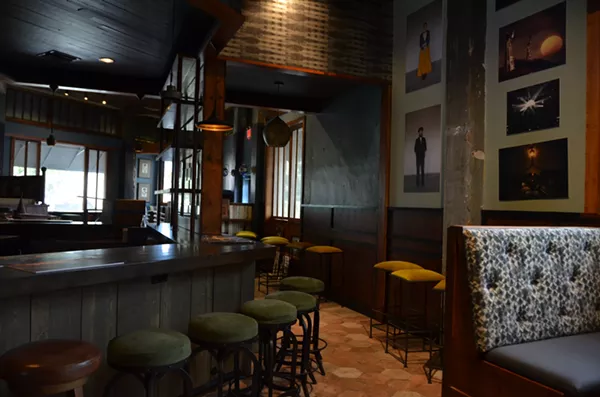 Update at 10:40 a.m. Tuesday, October 31:
Francis Boside opens tonight, exactly a year after a kitchen fire shut down the bar and restaurant. Doors open at 4 p.m.
Original post below:
We're excited about this one.
Francis Bogside,
part of the Steve Mahoney brand of bars that includes Blue Box and Hanzo, is almost ready to open its doors. To bring you up to speed, the bar has been closed for a year following a fire that gutted most of its kitchen on Halloween morning of 2016.
The bar first opened in 2015 with sister restaurant Brigid, an upscale eatery first helmed by Chris Carlson. Both gained traction with awesome service and late night food in Southtown along with a tight list of cocktails.
For its hopeful rise from the ashes as a bar Phoenix (sans Brigid), Francis Bogside has undergone some serious updates. The gleaming new kitchen (along with Hanzo's and catering at Blue Box) is now helmed by Chris Cook, vice president of the San Antonio Chef Cooperative. The menu will reflect contemporary fare with a pub angle. Expect a soup of the day, hand-cut fries with black garlic sea salt, Guinness rings with gouda ranch, a "Scotchantonio" egg with local pork sausage, beef cheek mac 'n' cheese, a Bogside Burger, six pizzas, an a list of entrees with prices ranging from $6-$11 for appetizers, $13-$22 for pizzas and $13-$22 for entrees.
The menu will change seasonally. Though Francis' take on brunch is still very much in the works (Cook tossed out buffet options, and an omelet station during our conversation), the chef is making a few menu items available for the late night crowd. Bar-goers will enjoy a similar cocktail menu (the Irish Old Fashioned is coming back). But perhaps the biggest change is the bar's configuration.
With Brigid's "closing" the bar doubled its seating capacity and added a new stage for bands and DJs. New upholstery and seating now graces most of the previous booths and bar stools. Though massive, the space has been carved up into intimate areas to listen to a live act, catch up with friends or grab a quick dinner.
803 S. St. Marys St., (210) 988-3093.