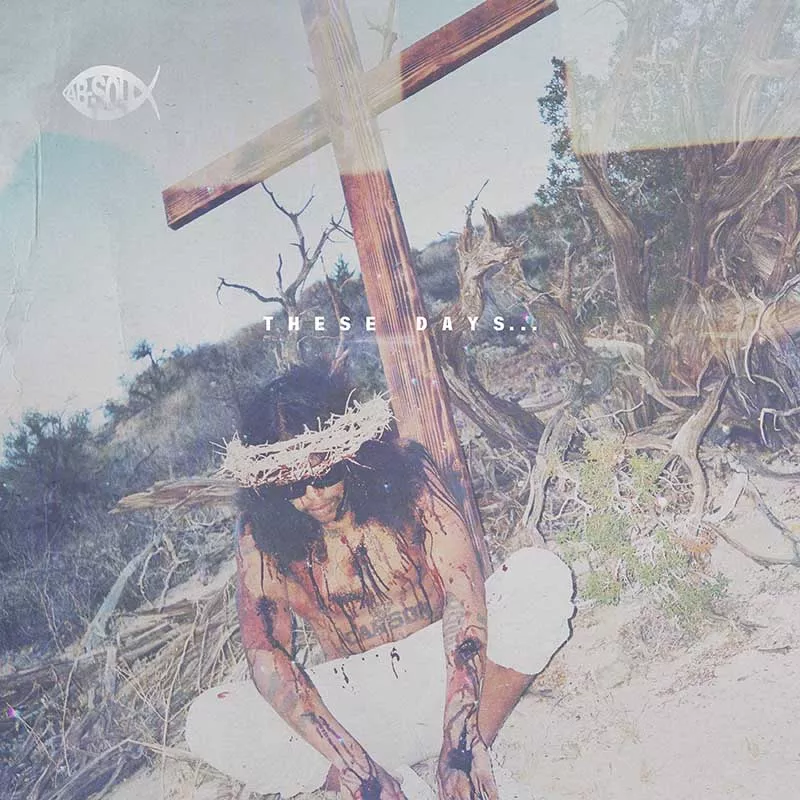 Ab-Soul: These Days...
Ab-Soul, in permanent shades and cool in demeanor, is the wildcard of the riotously successful Black Hippy Collective. Kendrick Lamar, Black Hippy's undisputed leader, seismically shakes the rap world when he appears on guest verses (see 2013's "Control"). ScHoolboy Q is the horny, bucket-hatted sidekick with a talent for making non-sequiturs work (see the impossible contortions of "titty, ass, hands in the air" on "Man of the Year"). Jay Rock is the prospect, with heavy DMX-yelling delivery yielding to a resonant image now and then (see Rock's strongest verse on Lamar's "Money Trees").
But Ab-Soul might be the most versatile of the Black Hippies, laying down an ignorant banger with ScHoolboy Q or something with a little more weight on a guest verse with Lamar. On songs like "What's tHa Word," Ab-Soul reveals an unexpected singing talent, busting out his falsetto chops on the hook.
Born Herbert Anthony Stevens, Ab-Soul has a family history in rap. His grandfather Cletus Anderson ran Saturn records, the LA label that put out Ice T's "The Coldest Rap" debut in '83. Growing up around the Saturn record store, Stevens grew into the family business, laying his first rhymes down on internet forums as a teenager.
By 2006, Ab-Soul had caught the attention of Top Dawg Entertainment, the Carson, California indie label with Lamar on its roster. In 2009, he dropped his first mixtape with Top Dawg, the Youtube-released and promising Longterm, and formed Black Hippy with Lamar and company.
In 2014, Ab-Soul released These Days..., his third LP and strongest Billboard performance (no. 11) to date. With guest verses from the Black Hippies, Rick Ross and Action Bronson, it's a star-studded affair. But when Ab-Soul is guest-less on his tracks, he delivers his best work. On "Just Have Fun," Ab-Soul relays a clouded first half, pausing for an AA skit and returning with a neo-soul beat and double-time rhyme. With the track coming in at 5:31, it's one of the shorter songs on the album. Though a few tracks miss the mark (album-closer "W.R.O.H.," the blank check of "Hunnid Stax"), this ambition proves Ab-Soul's best work is ahead of him.
Return of 4Eva: What's next from Big K.R.I.T.
From Meridian, Mississippi, Big K.R.I.T.'s finest work is, by default, in his past. In 2011, the King Remember in Time dropped Return of 4Eva, a mixtape that accidently referenced Chick Corea while proving K.R.I.T.'s status as a predominant Southern rapper. On the monstrous 21-song effort, K.R.I.T. combines the Cannabutter smoothness of Houston's Devin the Dude with the extraterrestrial energy of Outkast. Most impressively, Big K.R.I.T. produced the entire thing himself, morphing the brilliant vocal sampling of J Dilla with heavy Southern trap and undertones of 808. In a year packed with excellent hip-hop releases—Danny Brown's XXX, Jay-Z and Kanye West's Watch the Throne, the Beastie Boys' Hot Sauce Committee Part Two—4Eva stays true to its promise, standing at the top of rap in 2011.
In the past three years, Big K.R.I.T. released a mac-spit slew of mixtapes leading up to his sophomore LP Cadillactica debuting this Tuesday. Produced primarily by the King himself, it features Raphael Saadiq, "Money Trees" producer DJ Dahi, Beyoncé producer Jim Jonson and Nicki Minaj producer Alex da Kid. With this infusion of outside production, hopefully, Cadillactica will rise from the shadow cast by Return of 4Eva.