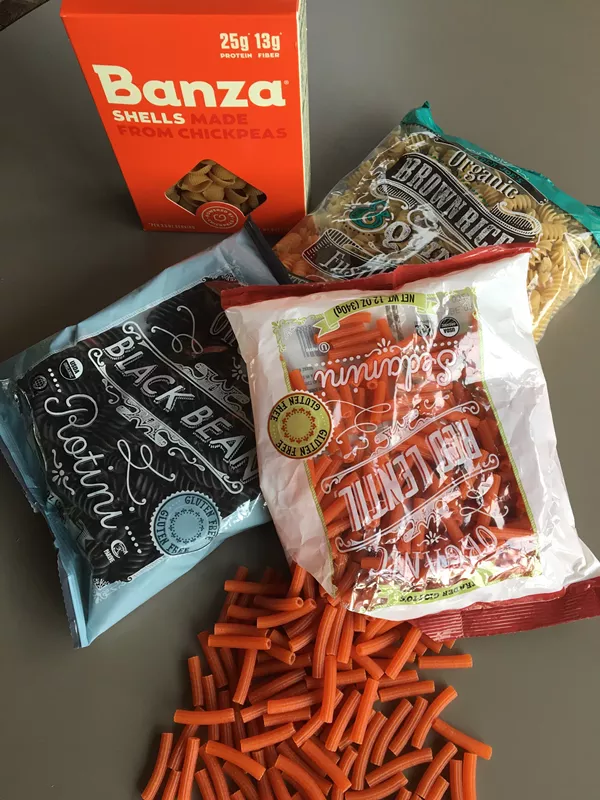 This is not, I repeat NOT, an article about gluten-free pasta.
OK, maybe it is, kinda. But the gluten-free aspect of the products under consideration is incidental — at least to most of us. The real point here is that there may be some pastas out there, made from ingredients other than wheat, that are simply better for you, ounce per ounce, than the knee-jerk, traditional variety. This all started with the appearance in mags, and on shelves at Target and Whole Foods, of a chickpea pasta branded Banza. Could it possibly be both good for you and as good in the taste and texture department as, say, your bestie Barilla? Only one way to find out.
And while I was at it, I snooped around at Trader Joe's and found three more test subjects: black bean, red lentil and brown rice with quinoa. With the selection of a simple sauce using canned tomatoes (recipe below), a project was born. (Just FYI, the assumption is that the more protein and fiber as compared to wheat the better, and that fewer carbs, fat and calories were also desirable.) Here are the results.
Banza is available locally in six shapes currently available at local Targets, Sprouts and Whole Food Markets. As none of the others offered a long form, I used the shells for this test. The color, when cooked, is just a little more golden than standard pasta, so nobody would be the wiser if you were trying some stealth health moves. The texture's not a giveaway, either. It's maybe just a tad chewier, kind of like whole wheat, if cooked to the low end of the time on the package (about 10 minutes). Especially when dressed with sauce and sprinkled with grated parmesan, the taste is almost a ringer for wheat. Only if you know it's chickpea, and you taste a shell solo, would you be the least bit suspicious. But here's the best news: noted in grams per dry ounce, protein weighs in at 7.14, dietary fiber at 3.71, carbs at 12.29, calories at 97.14, and total fat at 1.17. For reference, and from the back of a Barilla box, wheat's equivalent numbers in grams per dry ounce are 3.5, 1, 21, 100, and .5. At every level but fat, and assuming you're carb conscious, chickpea's results are better — often much better.

Trader Jose's red lentil sedanini
(a short, ridged tubular shape) are unabashedly orangey in dry form, but much of that leaches out in the cooking — the better for pulling a fast one, but otherwise sad. Yet it holds its texture well and isn't especially beany. So, cloaked in a clingy sauce such as pesto, it might just pass. The numbers, again in grams per dry ounce, are also good: protein 6.5, fiber 1.5, carbs 16, calories 95, total fat .5.
$2.99 for a 12-ounce bag.


TJ's brown rice and quinoa fusilli
doesn't sport an alien texture, but the shape is much softer than the wheat norm, even at just over 7 minutes cooking. You can detect just a little rice taste. And the numbers aren't quite as impressive: protein 2.5, fiber 1, carbs 21.5, calories 100, and total fat .75. This one you might choose largely if gluten were a genuine problem.
$2.99 for a 16-ounce bag.

The
black bean rotini from TJ's
boasted the most distinctive color: black when dry, still charcoal when cooked, despite cooking water that was impressively turgid at the end. The flavor is distinctly beanish. But the gummy texture (again cooked to the low end of the recommended time) was a major disappointment, and pieces stuck together. (This might be alleviated somewhat by tossing with a little olive oil immediately after draining.) But as the rotini were spectacularly dramatic topped with red sauce, maybe the texture can be (largely) overlooked — especially in light of the numbers: protein 7, fiber 7.5, carbs 17.5, calories 100, and total fat .75.
$2.99 for a 12-ounce bag.
Of course, you can use the quick tomato sauce recipe below, adapted from America's Test Kitchen, for any pasta. Though it's very good even in its simplest form, feel free to fiddle with it even more than I did by adding rinsed capers, chopped olives, roasted peppers … To the test recipe I added some anchovy paste, a squeeze of tomato paste and a pinch of dried Aleppo chili.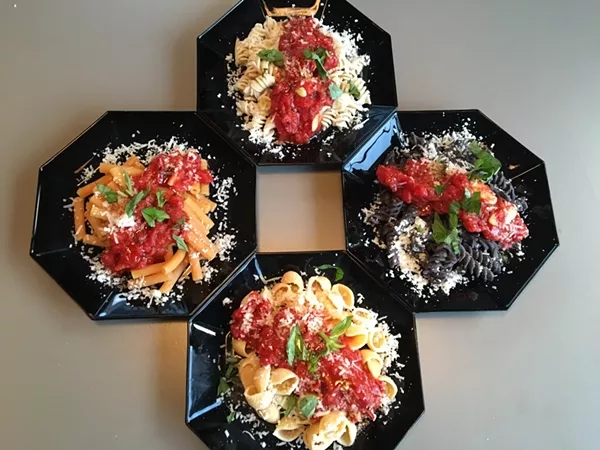 Ron Bechtol
Counter-clockwise from top: Quinoa and rice fusilli, black bean rotini, Banza shells and red lentil sedanini.
Quick Tomato Sauce
Serves 4
¼ cup onion, grated (this is really a good suggestion)
2 tablespoons butter (yes, you could use olive oil)
¼ teaspoon dried oregano or "Italian seasoning"
½ teaspoon salt (more later if needed)
2 garlic cloves, very thinly sliced
1 (28-ounce) can crushed tomatoes (I used Muir Glen)
¼ teaspoon sugar (not for purists, but it amplifies the flavor)
1 tablespoon olive oil
2 tablespoons fresh basil, chopped, plus more for garnish
Grated parmesan for topping, if desired
Directions //
Melt butter over medium heat. Add onion and sauté 2 minutes, stirring frequently. Add oregano and salt and stir some more until onions begin to brown, about 3 minutes more. Add garlic about half way through. Add crushed tomatoes and sugar, turn heat to high and stir until simmering. Turn heat to low and simmer for 10 minutes. Remove from heat, add olive oil and basil, stir to incorporate, and test for salt, adding cracked pepper to taste. Serve over pasta topped with optional parmesan and a few slivers of fresh basil.
Modified from America's Test Kitchen