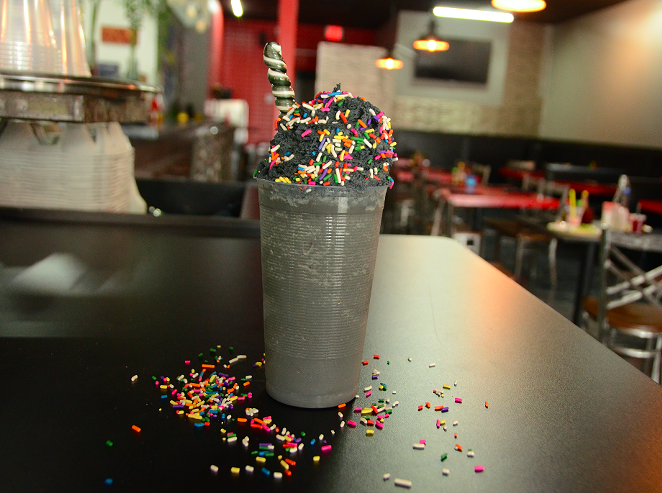 Jessica Elizarraras
The black unicorn milkshake from Suck It The Restaurant
An eye-catching new trio of milkshakes is bringing in a wave of change to
Suck It The Restaurant
. The shop, which opened late last fall, added three new bubble teas to its loaded bubble tea menu this week and there's still more to come.
Ease into things with the 24-ounce SA Unicorn of mango sorbet and chamoy-laced glass topped with fresh mango chunks, sour candies and a tamarind stick with a twisty lollipop because all unicorns need their horns. Or dabble in the white unicorn that blends Madagascar vanilla with house-made, red velvet or taro whipped cream, a dusting of Fruity Pebbles and twisty lollipop. Or go all in and try the chocolate-heavy black unicorn made with Ghirardelli and Godiva chocolate, and cookies 'n' cream whipped cream. The black lollipop is a duh, but the shakes color comes from one full dose of activated charcoal. The bubble teas, priced between $8 and $10, will include cookies shaped like wings as the pièce de résistance.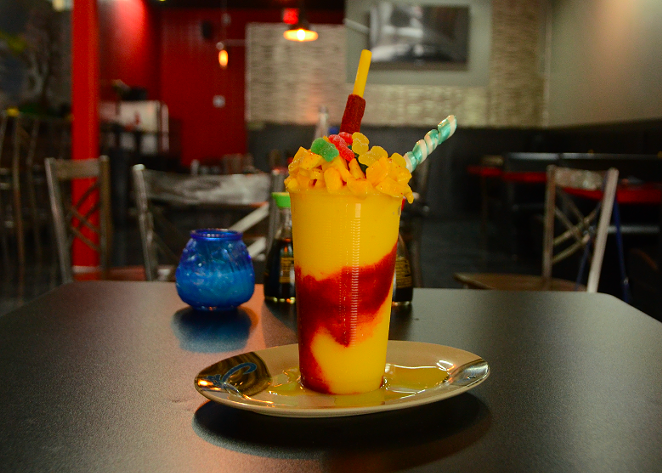 Jessica Elizarraras
The SA Unicorn
Activated charcoal is one of the it foodie trends on Instagram as of late with both coasts boasting black ice cream, black lattes, black martinis — all black everything. The trend had an early start with charcoal face masks and capsules that claim to whiten teeth when used in place of toothpaste. Activated charcoal — often used to avoid overdoses or poisoning — is used as a detoxifier of sorts, and you can learn more about it in Eater Dallas'
thorough breakdown here.


But Vinh Hoang and Yen Nguyen, owners of Suck It The Restaurant, aren't stopping at milkshakes. Hoang, who runs recipe development in the kitchen, says an alcohol license in on the way by the end of September. Diners can expect to find alcohol-laced bubble tea, along with sake, beer, wine and bubbles.
A food truck is also in the works where Hoang will continue testing out dishes before bringing them into the restaurant.

7220 Louis Pasteur Drive, (210) 560-2113.