Actor Chris Klein reprises his role as Oz in "American Reunion," the fourth theatrical release of the "American Pie" franchise.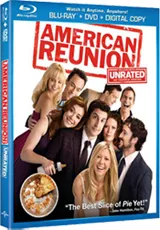 Best known for playing clueless high school student council president hopeful Paul Metzler in director Alexander Payne's 1999 dark comedy Election and for his role as hopelessly romantic jock Oz Ostreicher in the American Pie franchise, actor Chris Klein admits he doesn't know what the future holds but looks forward to whatever comes his way.
During an interview with me last week, Klein talked about the DVD/Blu-ray release of American Reunion, the fourth theatrical film in the Pie series, and his supporting role on the TV show Wilfred about a guy (Elijah Wood) who sees his neighbor's dog as a man (Jason Gann) in a dog costume.
American Reunion is available on DVD and Blu-ray July 10. Wilfred airs Thursdays at 9 p.m. on FX.
When you read the script for American Reunion, what were your initial thoughts on where your character ends up 13 years after graduating from high school?
I thought it was really cool. I actually knew what was going to happen before I saw the script. I sat down with [directors] Jon Hurwitz and Hayden Schlossberg just to talk about where they were in the process. That's when they pitched me that idea, which I thought was just perfect because Oz has loved sports since he was a kid. To grow up and carry that forward is pretty cool. Personally I am a big fan of the zany sportscasters. I grew up in a sports generation of the 90s so just listening to those guys like Keith Olbermann and Dan Patrick was great. To bring my own to the big screen was a real joy.
Do you think high school reunions serve a purpose today, especially since we can keep up with all our old high school friends on Facebook?
That's a really interesting question. I do think that there still is a place in our society for reunions. To have an opportunity to see someone in the flesh and to look them in the eye, that's a personal experience. I believe those experiences are important. For our world and American Reunion, it's crucial. Back in the late 90s when we made the first American Pie, we played our age which is pretty rare in Hollywood.  So to come back a decade later and revisit these characters was just a heck of a lot of fun. Let's face it, if the audience wasn't having fun watching these movies we wouldn't be making them.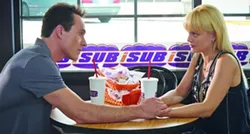 Klein and actress Mena Suvari in "American Reunion."
Where do you see Oz in 30 years? Would you come back for a fifth movie? Maybe it can be called American Retirement.
That is a beautiful question, man. (Laughs) It's one that crosses my mind from time to time. I don't know where Oz is 30 years from now like I don't know where you or I will be 30 years from now. If the first 33 years of my life has taught me anything it's not to speculate and to keep expectations at a minimum and roll with the punches and stay in the present. As far as Oz in retirement, I think he is a guy who will find happiness and will follow his heart but not to the detriment of his well-being. He's a guy that makes smart choices. As far as me being a part of another "American Pie" movie, those questions are way, way, way above my pay grade, my friend. Even being a part of three movies under this banner, I still need an invitation to these parties.
So you admit that you do not have a Eugene Levy fast pass?
I absolutely admit that I do not have Eugene Levy fast pass. As a matter fact, I can admit that Eugene Levy would say he doesn't have a Eugene Levy fast pass to the "American Pie" franchise.
Klein (right) alongside actors Elijah Wood (left) and Jason Gann in the FX comedy "Wilfred."
Congratulations on the work you're doing on Wilfred as well. You have a dog yourself. Do you ever have any existential conversations with him?
I got to tell you, I sure do. Thanks for mentioning Wilfred by the way. I love working with Jason Gann and Elijah Wood. When I found the Australian version on YouTube I thought to myself that Jason really captured what it's like to be a dog because I often find myself sitting there and looking at the Chief – my dog's name is Chief – and knowing if he could talk we could have some really cool conversations. In terms of what goes on around here, I think he's got a pretty heady opinion about it.
What would Chief say about you as an owner?
Oh man. (Laughs) You'd have to ask him. I think we get along really well. I love being a dog owner. I've always grown up with dogs, particularly German shepherds. I'm really grateful that he's in my life because I'm definitely a dog man.
Election is easily one of my favorite comedies of all time. What would a high school reunion look like for Paul Metzler and Tracy Flick?
What a cool question! What a unique question! I'm not sure. I think about Paul Metzler a whole bunch because that character is very near and dear to my heart. Gosh, I really don't know. I'd really have to sit down and think about that. But I'm sure if it was Alexander Payne building an Election reunion, he would come up with a genius script as always.