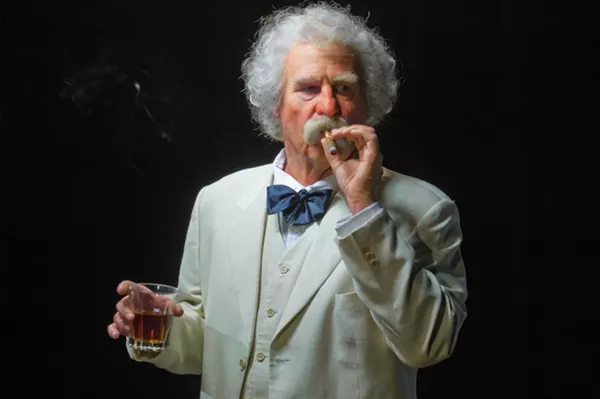 Courtesy
Actor Val Kilmer portrays American writer Mark Twain in the stage production of Citizen Twain. The film version, Cinema Twain, will screen at the LOL Comedy Club May 31 at 8pm with Kilmer in attendance.
Actor Val Kilmer isn't a stranger to portraying real-life men in history. From playing musician Jim Morrison in the 1991 biopic
The Doors
to gunslinger Doc Holliday in the 1993 Western
Tombstone
to porn star John Holmes in the 2003 crime drama
Wonderland
, Kilmer has made these type of performances some of the cornerstones of his extensive career over the last 30 years.
In
Val Kilmer Presents Cinema Twain
, which is a 90-minute film version of his one-man stage show
Citizen Twain
, Kilmer takes on a new real-life persona in Mark Twain, 19th century American writer and humorist, best known for his novels
The Adventures of Tom Sawyer
and the
Adventures of Huckleberry Finn
. During the satirical performance, Kilmer, who considers Twain "an honorary Founding Father," waxes philosophical on politics, family and faith.
On Wednesday, May 31 at 8:00pm at the
LOL Comedy Club
, Kilmer will be in attendance to introduce
Cinema Twain
to a San Antonio audience for the first time. The film will be followed by a Q&A session with Kilmer, and a meet and greet for VIP ticketholders.
Courtesy
Val Kilmer
"There's nothing different between playing all these real-life characters," Kilmer told the
Current
during an interview earlier this month. "It's just more challenging because he's a genius. It's hard to play a genius. You have to pretend to be smart, and that's a bitch."
For Kilmer,
Cinema Twain
is sort of pre-production work (and practice) for another film he is planning on directing, writing and starring in called
Mark Twain and Mary Baker Eddy
. The film tells the story between the two contrasting lives of Twain and Eddy, the founder of Christian Science.
"I needed to take time before pre-production to prepare for the role," Kilmer said. "The fastest, best way to do that was to create a stand-up show, like [Twain] used to do."
Kilmer admits the stage production took on a life of its own and "engulfed" him before he knew it. Suddenly, Broadway producers where calling him asking if he'd be interested in taking the show on the road.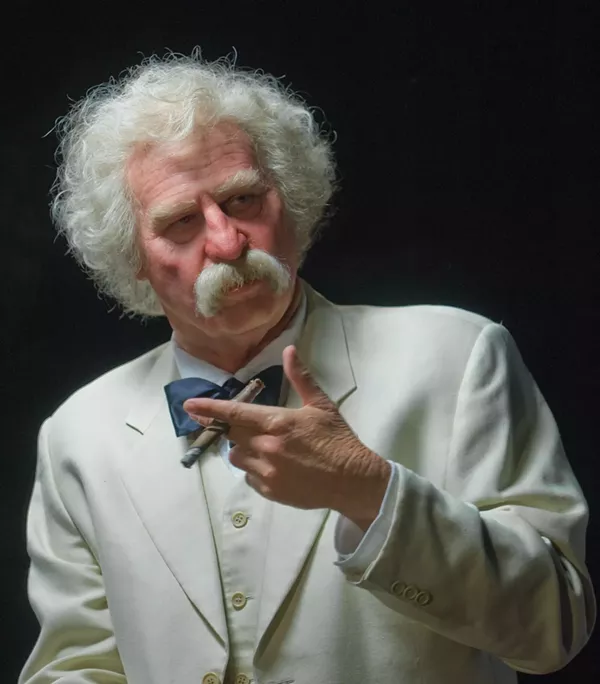 Courtesy
Kilmer as Twain.
"Theater is my first love," he said. "So, I created a tour to refine it, but I had to cancel because of a health issue (Kilmer recently revealed he was battling oral cancer). Now I'm back in perfect health, but still healing. So, while my voice returns, I'm screening the film of the play to sold-out comedy clubs and cinemas across the country."
Although Kilmer has starred in a few comedies in his career (
Top Secret!
,
Kiss Kiss Bang Bang
,
MacGruber
), it's not a genre he is necessarily known for. However, he hopes Citizen Twain helps him flex those comedy muscles.
"I've been trying to do more comedies for 15 years but it's a locked system in Hollywood," he said. "They want the name recognition on the movie poster like the wonderful Owen Wilson or Jack Black. It's just one of those rare hurdles—a Catch 22."
$32-$70, 8pm, Wednesday, May. 31, LOL Comedy Club, 618 NW Loop 410, (210) 541-8805, lolsanantonio.com.