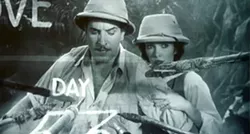 In the Academy Award-winning film
The Artist
, Bitsie Tulloch plays Norma, an actress in the 1920s starring in a silent movie with a veteran actor (Jean Dujardin) who has no interest in evolving with the industry and making movies with sound.
During an interview with me, Tulloch, 31, best known for her role on the TV show Grimm, talked to me about her small role in a film that received so much critical acclaim and about her little-known-about Spanish background.
The Artist
is available on DVD and Blu-ray June 26.
Did you ever imagine you'd be in a film that won an Academy Award for Best Picture of the Year?
You know, I knew the film was going to be amazing based on the script and my experience filming it, but I really thought a silent film in 2011 was going to be a tough sell. It was exciting to see how far it went. I think it really deserved to win Best Picture. It was really thrilling. I wasn't expecting it.
And all your scenes in the film are with Jean Dujardin. I was really happy for him when he won the Oscar for Best Actor.
Yeah, it's amazing to just thinking about our time filming only a year and a half ago and now he has been up on stage to receive an Academy Award. I feel really blessed to be a part of the film.
Now, I have to ask, why didn't you help him out of the quicksand?
Oh, because I would've died if I had! 
(Laughs)
That was a tough scene to film because it wasn't actually sand, it was silt. It was so fine and made everyone cough and got into everyone's eyes. Everybody on the crew was able to wear masks except for Jean and I. We were dying. That scene ended up taking two days partly because we couldn't get through it.
Was it a challenge to play an actress from the silent era?
It was different. I watched a lot of silent films to get prepared for it. It was a little challenging because the gestures are so important. It's harder to convey emotion with just your facial expressions. [Director] Michel [Hazanavicius] was fun to work with. He always had music blaring to keep the cast and crew in the mood of that time period.
Can you tell me more about your Spanish heritage?
My family came over from Spain about nine generations ago. I was born in San Diego, but by the time I was four days old I was on a flight back to Spain because that's where my family was living at the time. My mother's side of the family is primarily Spanish and my great-grandma is Mexican. I've lived in Guatemala and Uruguay and Argentina. My sister looks Latina. She looks like my mother. I don't look like her at all, expect I got her cheekbones and my hair is very, very dark like hers. They dye it red for
Grimm
, but it is very dark. I definitely look like my dad's side of the family more.
Not many people know about your ethnic background. Does it play a part in your life now?
It does. I think Latin American cultures are really rich and fascinating. I like the pomp and circumstance of some of their rituals and ceremonies. I definitely have some stereotypical qualities of being a Latina. I talk with my hands, which means I knock stuff over all the time. Also, Spanish was my first language growing up. It takes practice to speak it now, but every time I'm back in Spain, I'm speaking fluently. My accent is pretty good.
What do you remember most about living in Spain and Latin America?
Well, I don't remember Spain that well, but it has since become my favorite country to visit. I remember going to my little Argentine all-girls prep school. I got kicked out in grade school because I staged a riot because I wanted more library time. My mother is very Roman Catholic. We had a 500-year-old wooden statue of Christ in the house. But living in those places was great. I never knew anything different. We moved around a lot and experienced different cultures. It's just what my childhood was.
I read you went to school at Harvard University. What were your initial plans if they weren't to become an actress?
My initial plans were to get a Master's in art history and be a curator in my own gallery. What happened was I got burned out my senior year. It was a hard year for me. My parents were getting a divorce. I decided to take a year off from academia. I went out to L.A. because I had some friends there. I had a girl friend who wanted to be an actress, but was too scared to go to acting class. So, I told her I would go with her. She ended up never acting, and I never looked back. I loved it so much.
Grimm was picked up for a second season, so congratulations on that. What kind of TV influenced you growing up?
I never really watched TV when I was younger. We weren't really allowed to watch TV when I lived in South America. My mom was always big on reading, which is a major reason I am still an avid reader. We had very minimal time in front of the TV. I don't even remember watching it until middle school or high school. But then I would watch shows like
My So Called Life
, which is sort of serendipitous because one of my first TV shows was a show called
Quarterlife
, which was produced by the same people that had done
My So Called Life
.
Grimm, of course, pulls inspiration from the Brother's Grimm fairytales. Growing up in Spain and Latin America, were you exposed to fairytales from those cultures?
Well, one of the great things about Latin American culture is that if you look at an author like Gabriel García Márquez, there is a supernatural element to even his tales. It is definitely fascinating. Most of the stories I read were Spanish versions of
Cinderella
and stuff like that. But there is a fairytale, magical element to all Latin American literature.
Tell me about your work with the Corazón de Vida Foundation.
Well, one of the reasons I was interested in the organization is because of my Latin background. I knew I could do a lot with them. They support orphanages in Baja. Whatever I can do to draw attention to their cause is really great. It's one of the perks of being an actress.