Actress Dania Ramirez stars as Selena in the sequel "American Reunion."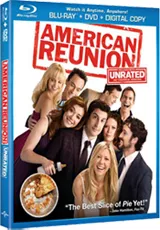 In American Reunion, the fourth theatrical installment of the American Pie series, actress Dania Ramirez (TV's Entourage) joins the cast as Selena, a former band geek who has matured into a very attractive young woman over the years. While everyone is back in town for their class reunion, Selena takes a liking to Paul Finch (Eddie Kaye Thomas) who she remembers as a very nice guy in high school.
During an interview with me last week, Ramirez, 32, talked about her own high school experience, having movie sex in a bathroom stall with actor Eddie Kaye Thomas, and how her natural athleticism helped her for her next movie Premium Rush.
American Reunion is available on DVD and Blu-ray July 10. Premium Rush opens at theaters August 24.
What was it like to be one of the newest members of the American Pie franchise?
It was really cool because I was a fan of the first movie. That was back when I was just getting into acting myself. I grew up watching these characters, so I felt like I was sort of in their world and already their friend even though I wasn't. (Laughs) It was very surreal. It was really interesting being on the set and listening to all the others tell stories about making these movies. It was really cool to come in and play a really cool character. [Selena] has a very down-to-earth attitude. She is comfortable in her own skin, something she wasn't at one point in her life.
What crowds did you run with in high school?
My own high school experience was more of a discovery of myself. Eventually, I ended up with, I guess, the cool crew. I played volleyball and basketball, so I ended up with the athletes. But I came to the U.S. when I was 10 from the Dominican Republic. I didn't speak the language or know the style. I had been in the Dominican Republic running around like a tomboy, climbing trees, and playing baseball with the boys. When I came here, I acted more like a lady so I could fit into this new American world. I had to figure out my way and try to get along with these people. By the end of my high school career, I had become friends with everybody – the cool group, the nerd group, whatever those labels are.
Did you get the opportunity to experience your own high school reunion?
No, I didn't. I was working at the time. My parents had kicked me out when I was 15 because I wanted to act. Straight out of high school I went to college and studied communications. Any time I had off, I was just working. I was living in Los Angeles, so I didn't even find out about my high school reunion. (Laughs) Nobody told me.
(From left) Alyson Hannigan as Michelle and Dania Ramirez as Selena on the beach in "American Reunion."
You're the love interest of Paul Finch (Eddie Kaye Thomas) in this movie. Other than with Stifler's mom (Jennifer Coolidge), Finch hasn't really been lucky with the ladies in the last three movies. Were you confident you could match the sexual connection Eddie Kaye Thomas had with actress Jennifer Coolidge?
Listen, I'm an island girl. If you don't have sexual connection with me, then I don't know what's wrong. (Laughs) I was pretty confident.
Well, it looks like it. Even though we didn't get to see it in the theatrical release, there is a sex scene with you and Eddie in a bathroom stall that makes it to the Deleted Scenes section of the DVD/Blu-ray. Was it a challenge to do that scene with all the splashing that was going on?
Oh, that was fun to shoot. You saw it. We were having a freakin' ball. That's what's cool about getting the DVD. You can see all these hidden moments. You already had your laughs at the theater, but there are always more laughs that didn't really coincide with the storyline. There are a lot of characters in this movie and we shot a lot of stuff. We improvised a lot. Even in that particular scene we just kept going. (Laughs) The directors just let us do what we wanted to do.
Yeah, I don't think Finch had as much fun the last time we saw him on a toilet in the original movie.
When he was taking a shit? (Laughs) Yeah, he was tortured. That was one of my favorite parts of the first movie. I think it's good that he ended up on the toilet bowl again 12 years later doing something completely different.
Which of the guys in the American Pie franchise would you have been most attracted to in high school? Has your taste changed over the years?
My taste is all over the place. I think I would pick John Cho (MILF Guy #2) because he's hilarious. I like people who can make me laugh. My favorite line in the movie is when we're at the party and the big fight breaks out and Jim (Jason Biggs) is getting beat on by the other guys and John Cho says out of nowhere, "Don't be a pussy, Jim. Don't be a pussy." That made me laugh.
You've only been in a couple of comedies in your career. So, what makes you laugh? What kind of comedy do you like?
I like The Office-type comedy. What makes me laugh are real situations. I think life is funny. Sometimes people take things too seriously. It's fun to exaggerate things.
Another special feature on the DVD is behind-the-scenes footage of all the main actors playing this ongoing game where they hit each other in the nuts. Were you able to get in a good shot on any of them?
Aw, no, I don't want to hit anybody in the nuts. That hurts. (Laughs) That's more of a guy thing. They might want to do something with their package later. I didn't want to do any damage.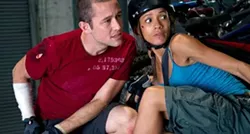 (From left) Joseph Gordon-Levitt and Dania Ramirez play bike messengers in the thriller "Premium Rush."
You'll be staring in Premium Rush with Joseph Gordon-Levitt in August. Did your natural athleticism help you with your role as a bike messenger? It looks like a pretty physical role.
Yeah, I think when you're athletic and you get those kinds of roles you're really grateful. There is something about being an athlete that you can't fake. It allows you not to depend so much on other people. I did a lot of the bike riding. Don't get me wrong, I had stunt doubles. There were certain things I was not going to do.
(From left) Roselyn Sanchez, Dania Ramirez, and Judy Reyes are three of the four maids featured on the upcoming TV series "Devious Maids" from the creator of "Desperate Housewives."
You've also been signed on for a new TV series called Devious Maids, which comes from the creator of Desperate Housewives. What do you tell critics out there who say a show like this depicts Latinas as a stereotype?
I think we're beginning to have a bigger voice as Latinas. We should try to support all Latino content so we can have an even bigger voice. This is a show where we have four Latinas as the first four leading characters. I think that is amazing within itself. I'm working on producing a show with Wilmer Valderrama, but if I don't have a voice then things like that can't happen. People need to see the show before they decide if they like it or not.