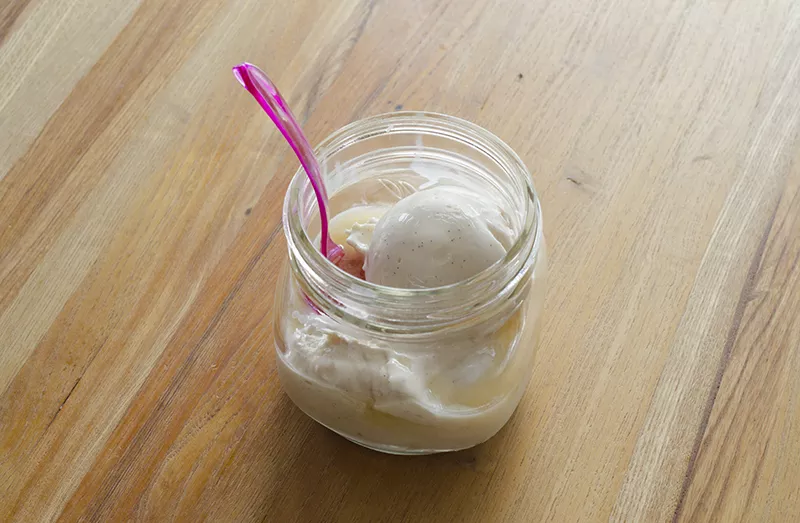 Sara Luna Ellis
The House upgrades ice cream, which is already perfect, with booze
Booze and ice cream? Sounds like an attractive hangover. Just in time for summer, Robert Nickle and his daughter Dani Nickle-Farmakakis opened The House in Southtown offering beer and ice cream ... and boozy ice cream. You can order a beer or glass of vino at the bar or get a cup of bourbon vanilla or Aztec ice cream.
Upon entrance, Nickle kindly greeted us from behind the ice cream bar. To the left is a row of benches along the wall with a few tables. It's a Friday night and The House is half-full with couples quietly digging into their desserts. Instead of hearing them smack on their creamy treats, we'd rather be listening to the real "Sound of Silence." After all, The House is a hybrid of a dive bar and ice cream shop — both of which should be booming with louder beats. Crank up the music, please.
Before checking our IDs, the elder Nickle explained the concept behind his ice cream — there are kiddie options (non-alcoholic) and liquor-infused options. Among the bold flavors are bourbon vanilla, French toast, Irish cream, Aztec; mint and vanilla with heath chips for the kids. Some of the alcohol infusions for the adult-only options include bourbon, amaretto, tequila and Blue Curacao.
While the concept is unparalleled in the ice cream market, expectations fell short. Since we were not allowed to leave with our ice cream (because The House is technically a bar) we expected a little more liquor in our dessert — and perhaps glass bowls rather than disposable cups.
We understand that ice cream won't freeze if it's made with too much alcohol, but we need more flavor. Instead of oaky bourbon infused vanilla bean ice cream, our serving only had subtle notes of liquor. Perhaps that explains the wood-flanked bar — where people can get their real fix of local brews and alcohol.
Although there's no official ice cream cocktail menu, if you request to amp-up your dessert with a shot of liquor you won't regret it. Think affogato, but Texas-style. To make the most out of your ice cream bar experience, try the vanilla bourbon with a shot of bourbon, mango with a shot of mango tequila or a beer float.
Though slightly disappointed by a plain serving of "boozy ice cream," the ice cream with a shot of booze surely compensates. The House is a sweet concept and with a little time, and a little more alcohol in the ice cream, it's sure to rank high on our dessert list.
The House, Boozy Ice Cream And Brews
732 S. Alamo St., facebook.com/thehousesa