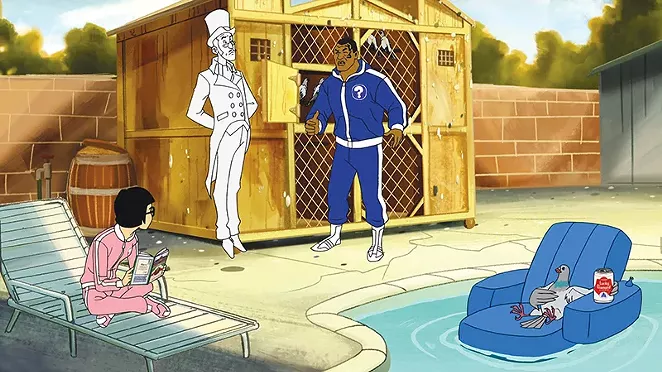 Courtesy
Mike Tyson's Mysteries, one of Adult Swim's sillier series
Netflix and your friend's dad's HBO GO login are literally decimating TV audiences.
According to the industry standard Nielsen metric, television ratings in the third quarter dropped 10 percent from last year. As streaming providers craft award-winning material and traditional TV pumps out dross like Dating Naked: Playing for Keeps, the decline looks like it'll be pretty steep all the way to the bottom.
But as many television channels double down and buckle in on a sinking ship, Adult Swim is exploring creative ways of staying relevant and afloat in a changing marketplace.
Since 2010, the nighttime affiliate Cartoon Network has run the annual Adult Swim Singles series, putting out hip shit from artists like Run The Jewels, Danny Brown and Cherry Glazerr in this summer's installment. Back in 2008, a guerilla-marketing program was a little too ahead of the curve, when the Boston Police and Fire Departments confused a Lite-Brite-like installation for Aqua Teen Hunger Force as an improvised explosive device. Last year, the channel achieved its greatest viral success in Too Many Cooks, an 11-minute blast of sitcom parody and surrealist horror that first aired unannounced at 4 a.m.
In September, Adult Swim unveiled a drive-in tour cruising through 15 cities in six weeks. In Lot C of the Alamodome parking lot, the drive-in will screen unaired episodes from current shows, unreleased pilots and specials with a whole lot of goodies thrown in by sponsors. Like most of their events, the party is 18+ and free with RSVP — Adult Swim knows it can get sponsor support for its cool factor and the enviable Millennial market share it commands.
With most Adult Swim programs coming in between 10 and 20 minutes in length, the drive-in will be a rapid-fire showcase of determinedly odd cartoon television. Now in its second season, Rick and Morty follows an alcoholic scientist and his grandson through remarkably well-thought-out sci-fi adventures. In Mike Tyson Mysteries, the boxer voices himself in Scooby Doo-like series of capers with his adopted daughter, the ghost of Marquess of Queensberry (the father of boxing) and a weed-smoking pigeon played by Norm MacDonald. My favorite of the shows at hand is Squidbillies, in which a family of hillbilly cephalopods lives in the hills of North Georgia. Having spent a good deal of time in the state, it's disturbing just how many Southern idiosyncrasies it flips on its trucker-hatted head.
Adult Swim Drive-In Tour
Free with RSVP, 8:30pm Mon, Oct 12, Alamodome Lot C, 340 S. Cherry, (210) 207-3663, adultswimpresents.com