For months, advocates for victims of sexual assault in the military have pressured the House Armed Services Committee to have a public inquiry into the ever expanding scandal at Joint Base San Antonio-Lackland. So far, 30 instructors at the base have been placed under investigation for abuses against 56 trainees, including charges of sexual assault and rape. Hearings could start as soon as the end of this month – Jan. 23 is the unofficial start date, according to unnamed sources who spoke to the
Express-News
and the
Hill
. But for Congress to truly fulfill its oversight role, advocates say, lawmakers have to consider the Lackland scandal in its proper context, not as an isolated incident, but as the most recent flareup in an ongoing cycle of abuse that's plagued the military for at least two decades. Since the 1990s Congress has heard repeat vows of "zero tolerance" from military officials on the matter. Yet the military has dealt with numerous sexual abuse scandals since. Nearly every month investigators uncover new abuses stemming from Lackland. The military first promised to crack down on rape and sexual assault within its ranks in 1992, after a massive scandal erupted from the Navy flier's annual Tailhook Association convention in Las Vegas the year prior. Navy officials initially treated Tailhook like a frat party that went a little too far. Then Paula Coughlin-Puopolo, a Navy helicopter pilot and admiral's aide, went public, telling how she was hurled down a hotel hallway at the convention, forced through a gauntlet of pawing officers who tried to strip off her clothes, and molested as others watched or turned their backs. Some 90 victims were later identified as being sexually assaulted by as many as 175 drunken officers.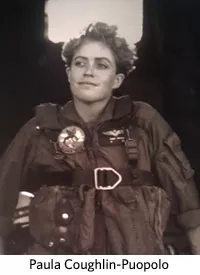 Coughlin-Puopolo, who helped drive the petition calling for Congressional hearings on Lackland, says the local scandal is a symptom of a military that's "failed to evolve, that's failed to take the steps necessary to eradicate this kind of criminal and violent activity in our military." Years after Tailhook, another scandal surfaced at Maryland's Aberdeen Proving Grounds, where a dozen male officers were accused of sexually assaulting female trainees. In 2003, the U.S. Air Force Academy was accused of repeatedly ignoring ongoing sexual assault within its ranks. See Kirby Dick's groundbreaking documentary
Invisible War
for litany of other cases. The reaction to Lackland mimics much of what was said after Tailhook, Coughlin-Puopolo contends. Some officials get cited for lack of leadership, while others vow to fix a culture that's both too tolerant of sexual abuse and that uses fear to keep victims from coming forward and reporting assault. The history of abuse, Coughlin-Puopolo says, begs broad questions that aren't isolated to Lackland. How do you ensure trainers don't abuse the inherent power imbalance in boot camp? As the recent case against Staff Sgt. Ryan Deraas, a Lackland trainer, shows, the abuse of power isn't limited to sex – Deraas forced bootcamp trainees fill their canteens with toilet water. Can sex between trainee and trainer ever be considered consensual? Advocates like Coughlin-Puopolo bristled at the outcome of the tricky case against Staff Sgt. Kwinton Estacio, a Lackland trainer, last year. A judge dismissed the most serious charge against him, aggravated sexual assault, because the 19-year-old female victim in the case couldn't articulate a specific threat against her on the stand. The woman testified that after two months of obeying Estacio's every command, she was too afraid to resist when Estacio made sexual advances. "I was too scared to," she said. "Sometimes when somebody's too scared to talk, does that mean they want to do something?" Like a broken record that's been skipping since 1992, advocates have continued to ask Congress to take the reporting and investigation of sexual assault in the military outside the chain of command, something military officials have actively resisted. The most recent iteration of this is Rep. Jackie Speier's (D-Calif.)
STOP Act.
A recent Pentagon report says that in 2011 3,192 incidents of sexual assault were reported in the U.S. military, up one percent from 2010. But according to the DOD's own estimate, only 15 percent of cases get reported, meaning some 19,000 assaults each year. That number deserves repeating: the DOD's own numbers say 19,000 service men and women are raped or sexually assaulted in the U.S. military each year. Meanwhile fewer than 21 percent of sexual assault cases in the military go to trial (many are handled with non-judicial or administrative punishments). Only half of those prosecuted result in convictions, and about 6 percent of those charged are allowed quit their jobs instead of facing prosecution, also known by the euphemism: "resign in lieu of court-martial." It's yet to be seen whether Congress will take a narrow, limited view of the Lackland scandal or attempt to place it in this broader, troubling context. "The deference and patience Congress has shown to the [Department of Defense] in regard to ending this crisis has come at a great cost to service members who are victims of rape, assault and harassment within our military," said Nancy Parrish, president of the advocacy group Protect Our Defenders. HASC spokesman Claude Chafin wouldn't confirm whether a hearing is set for this month, and gave scant details for how such an inquiry might move forward. Advocates want victims of military sexual assault to testify. Chafin wouldn't say whether or not they'd be allowed to, adding, "A hearing is not intended to be an investigation. It's not intended to be an exhaustive exploration of the issue." But that's exactly what advocates say is needed after Lackland. "These victims that are coming forward, they have examined clearly what happened to them, how they were treated," says Coughlin-Puopolo. "They have extremely valuable information. They are not just gonna go and testify and cry about how they were hurt and how things went wrong. They have answers. And that's Congress' duty to listen to these people." Coughlin-Puopolo remembers testimony from one Navy officer who saw her assault in that Vegas hotel hallway in 1991 at the Tailhook convention. "He said, 'I knew who she was, I saw her go to the floor, and I turned my back and left,'" she recalled. "Without using this Lackland hearing to give the issue a full vetting, including hearing from victims, [Congress] would be doing the exact same thing."  –
Michael Barajas