From Interstate 35, the farming community of Pearsall's most visible landmarks are the Hungry Farmer Steakhouse, an H-E-B that resembles a red barn and a hunting superstore surrounded by an armada of deer blinds.
But the small town an hour southwest of San Antonio is also home to the South Texas Detention Complex, one of the largest centers U.S. Immigration and Customs Enforcement uses to hold undocumented immigrants. The for-profit site typically houses around 1,700 inmates — a number equal to a fifth of Pearsall's overall population.
With its razor-wire fences and windowless concrete walls, STDC looks from the outside like a high-security prison. That's by design, experts say, pointing out that the center is emblematic of the Trump administration's "zero tolerance" immigration policy, which aims to use detention as a deterrent to asylum seekers.
"Detention is intended to break people's wills, so they will accept a deportation order," said Kathrine Russell, a staff attorney with San Antonio-based immigrant legal services provider RAICES, which represents clients at the South Texas Detention Facility.
Russell recently saw how well STDC served that purpose when an El Salvadoran client told her she'd rather return home and face her abusive spouse than spend any more time locked up. Even as the woman's case for asylum moved past an important legal hurdle, she said she couldn't face months in lockdown waiting for it to finish.
While the Trump administration says it's stopped its policy of separating children from parents detained at border crossings, a recent report by Human Rights First documented numerous detainee complaints against ICE detention facilities, including the one in Pearsall.
Officials with GEO Group Inc., the corporation that runs the for-profit South Texas complex, disputed the report, saying it strives to "deliver high quality services." ICE officials did not provide comment by deadline, nor would they allow the Current to tour STDC.
Cutting Off Access
A frequent complaint about the Pearsall site is lack of space for detainees to meet with lawyers or others facilitating their asylum requests. At present, there are just four such rooms, or one for every 425 inmates. That means attorneys often face waits of two, four and even six hours to meet clients.What's more, the rooms lack phones, so legal representatives can't remotely access translation services they need to speak to detainees not fluent in English or Spanish.
As a result, migrants — many of whom spend months at the facility — face a harder time getting the legal representation and documents essential to pleading their cases, said Sara Ramey, executive director for the San Antonio-based Migrant Center for Human Rights.
"When it comes to asylum, denial rates are significantly higher if you don't have legal help," Ramey said.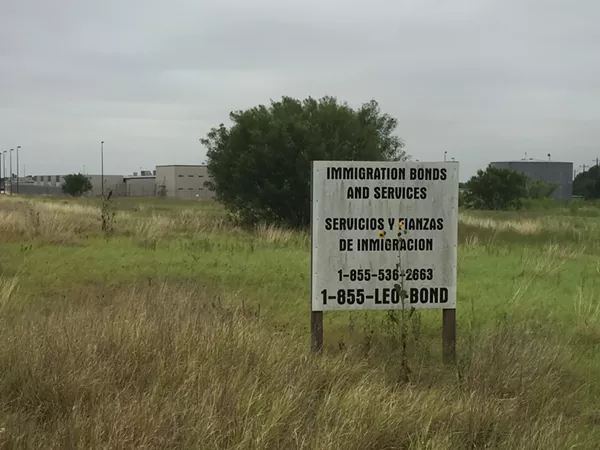 Will Work for Food
While the Human Rights First report doesn't include allegations of physical abuse at South Texas Detention Complex, detainees frequently complain they're not served enough food during meals. As result, many end up taking kitchen jobs that pay $3 a day — well below the $7.25-a-hour minimum wage — so they can purchase additional food at the commissary, Ramey added.
GEO's end-run around minimum-wage rules in its immigrant facilities is that it considers those who do labor "volunteers" rather than employees. However, Washington State's attorney general last year sued the company over that practice at its Tacoma facility, arguing it violates state minimum wage laws.
In its written statement, GEO denied the findings in the Human Rights First report.
"On a daily basis, our dedicated employees deliver high quality services that comply with performance-based standards set by the Federal government and adhere to guidelines set by leading third-party accreditation agencies," spokesman Pablo Paez wrote. "Members of our team strive to treat all of those entrusted to our care with compassion, dignity and respect."
Questionable Care
Even so, STDC was cited in another recent study, this one by Human Rights Watch, which documents the high number of recent deaths at ICE detention facilities.
In 2016, Wenceslau Esmerio Campo, a Brazilian detainee who tried to make STDC staff aware of his cardiovascular problems, died of cardiac arrest while in custody, according to the document. HRW's panel of medical experts found that multiple delays between Campos first reporting chest pain and the arrival of an ambulance "may have significantly decreased any chances the hospital doctors had of saving his life."
GEO said it cannot comment on individual cases but added that it "delivers high-quality around-the-clock medical care" that complies with federal and third-party accreditation guidelines. Additionally, it pointed out, direct medical care in the facility is supplied by ICE, not GEO employees.
But Dr. Marc Stern, an assistant affiliate professor of Public Health at the University of Washington who served on the HRW panel, said the death should raise red flags, both for ICE and GEO.
"Based on this, someone should be taking a closer look," said Stern, an expert on health care in corrections facilities. "It may be an isolated case, but it could be something larger."
While no fan of for-profit prisons such as those run by GEO, Stern said the problems with care inside ICE's detention facilities are bigger than one company's profit motive. As more stringent immigration policing has kicked into high gear, there's been little to guarantee detainee safety.
"The problem isn't privatization. It's inadequate funding and inadequate oversight," he said. "Overall, we're talking about a broken system."
Stay on top of San Antonio news and views. Sign up for our Weekly Headlines Newsletter.