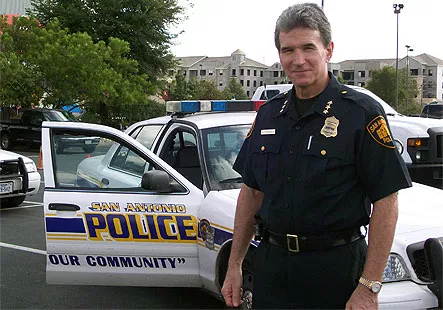 U.S. Department of Justice
William McManus will once again serve as San Antonio Police Chief if confirmed by City Council.
Meet the new boss, same as the old boss.
City Manager Sheryl Sculley announced last night that she appointed former San Antonio Police Chief William McManus to retake to his former job.
McManus served as SAPD's top cop for nine years. He retired from SAPD in December 2014 to take a job with CPS Energy as Senior Director of Security.
Sculley picked McManus after a months-long, nationwide search for his replacement. Dozens of people applied for the job, and Sculley narrowed the list down to five finalists in August, including interim Police Chief Anthony Trevino.
Those candidates participated in a series of interviews with both Sculley and panels of community members. Organizations represented on the panels included members of the LGBT Advisory Committee, the NAACP, Geekdom, the Hispanic Chamber of Commerce, the San Antonio Police Officers Association and the Alamo Asian American Chamber of Commerce.
"The community panelists will serve an integral role by asking the candidates questions and providing the City Manager with feedback on strengths of each finalist," a city news release said.
McManus reached out to Sculley during the interview process to tell her he was interested in returning to his former gig. Sculley finished interviewing all of the named finalists before picking McManus.
"In the final analysis, Chief McManus' qualifications and experience made him the clear choice. We never wanted him to leave," Sculley said in a news release. "SAPD is better managed, more professional, has better trained police officers and stronger relationships with the community than ever in its history thanks to Bill's leadership and integrity."
City Council will consider McManus' appointment on October 1, and his first day back on the job would be October 5. If confirmed, he will make $212,000 per year.