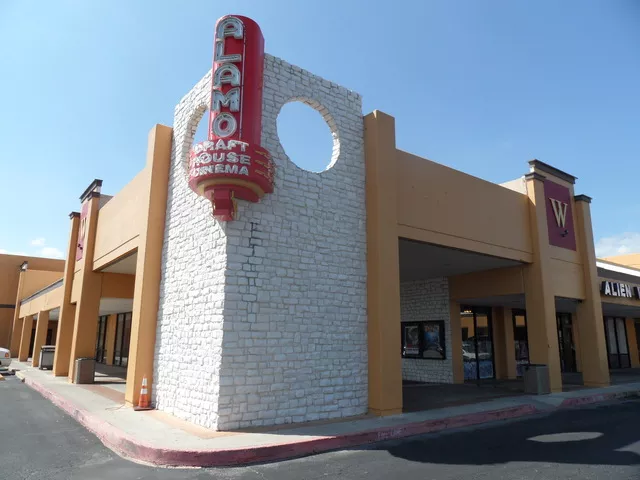 Alamo Drafthouse Westlakes (via)
This September, Alamo Drafthouse, the laid-back movie theater where you can have your fill of burgers, pizza, and beer while taking in the latest blockbuster, is celebrating its 10-year anniversary in San Antonio.
San Antonio has three Alamo Drafthouse locations, and each of them is celebrating the theater's 10th anniversary with special, limited-time offers. All this month, the theaters will be offering a discounted ticket price ($7.50) to anyone who shows up wearing an Alamo Drafthouse shirt, carrying an Alamo Drafthouse growler or wearing a costume. The theaters are also serving up a limited-time $10 combo meal which includes pizza, soda and popcorn. You'd be crazy to pass up such a cheap dinner date, ladies and gentlemen, especially considering the line-up of movies that Alamo Drafthouse has in store for September.
All three San Antonio locations will be showing a series of classic hits this month, which includes Jaws (9/17 at 7pm, 9/23 at 7pm) for you guys that didn't get enough great white action from Sharknado 2, a double feature of The Godfather and The Godfather II  (9/7 at 2pm), Duran Duran Unstaged by David Lynch (9/14 at 7pm), and more. But here's where it gets really exciting – Alamo Drafthouse's Action Pack features. You can talk during these because they're sing-alongs and quote-alongs. That means you can show up to the Ace Ventura quote-along (9/10 at 7:15pm, 9/11 at 7pm, 9/14 at 7:00 pm) dressed as the pet detective himself, get your ticket for just $7.50, and then ham it up quoting some vintage Jim Carrey all night in a room full of people doing the exact same thing. Or if you're not a total weirdo, you can grab your bae and get yourselves to the Bey-Z: On the Run sing-along (9/29 at 7:00 pm). Go ahead and relive the glory days of Beyoncé and Jay-Z. Bask in your denial of their impending divorce! Or if that's not your bag, you can go to the Clueless quote-along (9/7 at 7pm, 9/11 at 7:15pm, 9/17 at 7pm) with your girlfriends. That'll give you a chance to break in your new purple clogs.
Personally, I think the most fun to be had will be at the Stone Oak location's Ultimate Willy Wonka Party (9/30 at 7:00 pm). Paris Themmen and Julie Dawn Cole will be there (that's Mike Teevee and Veruca Salt for you less dedicated fans of Willy Wonka and the Chocolate Factory). They will be available to answer all your questions about Wonkavision and about golden gooses and geeses. Plus, the theater will provide you with bubbles and candy! Maybe that will make the freaky tunnel scene easier to stomach.
Just remember, if you're not attending an Action Pack feature, don't talk or text during the movie because you will be kicked out. Don't be that guy. Everyone will look at you and everyone will judge you, so just be cool.