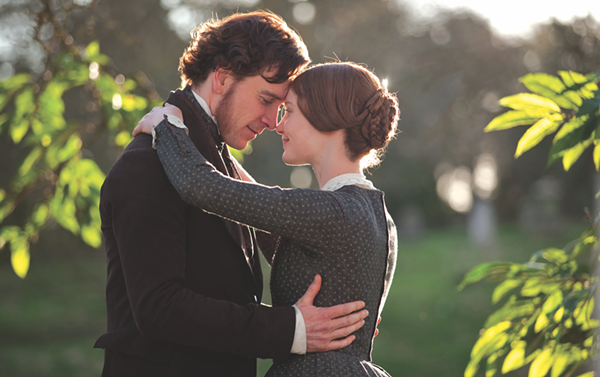 Unless you have lived a troubled life, the words "spooky" and "romantic" don't usually go together. But that's the mood director Cary Fukunaga perfectly evokes in his 2011 interpretation of Charlotte Bronte's
Jane Eyre
. Fukanaga directed every stylish episode of the first (some say only) season of
True Detective
and his new Netflix series
Maniac
premiered on September 21. He was also just announced as the director of the next
James Bond
film, so it's a good time to revisit this earlier work.
Screening as part of Alamo Drafthouse's Afternoon Tea series, Jane Eyre delivers the romance goods (Glorious vistas! Buttoned-up passions breaking free!), but also has a weirder, scarier vibe than your average period drama. At times (especially during the first half), you might think you're watching a straight-up ghost movie.
Mia Wasikowska plays the titular "Plain" Jane and conveys both the terror of her childhood and the resilience she gained as a result. Michael Fassbender as her HR nightmare of an employer, Mr. Rochester, hints at pained vulnerability under his character's cruel surface. He is also, let's just be honest, a dreamy jerk. Who can resist a man who preys on his much-younger employees by insulting them and has certain … ideas of how to handle women when they become … inconvenient? Especially when he looks like Fassbender? Swoon!
Jamie Bell and Judi Dench round out the cast as frenemies Jane encounters as she navigates her way to a mostly happy ending. Perhaps not the ending we want for her (Jane! Run away from the terrible men once and for all!), but one that satisfies the rules of the genre.
$21.65, Sun Sept 30, 1pm, Alamo Drafthouse Park North (618 NW Loop 410) & Stone Oak (22806 Hwy. 281 N.), (210) 677-8500, drafthouse.com.

Get our top picks for the best events in San Antonio every Thursday morning. Sign up for our Events Newsletter.