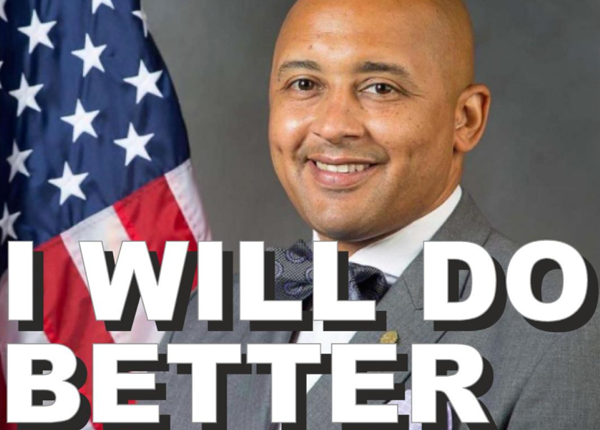 Yes, this is an ad Alan Warrick paid money for.
It seems Councilman Alan Warrick has nothing to lose.
Since the May 6 election results rolled in, guaranteeing a June 10 runoff race for his District 2 council seat against William "Cruz" Shaw, Warrick's led a last-ditch effort to keep the job.
His latest move? Warrick's campaign paid the
San Antonio Observer
to stick his smiling face on its cover along with the message "I WILL DO BETTER." Inside,
there's the editorial paid ad
, supposedly written by Warrick himself, with a less-confident headline: "I CAN DO BETTER."
"I've made some mistakes but I have learned and gained knowledge from them. I am ready to move our community forward," Warrick quotes himself saying.
Warrick goes on to quote Keith Toney, who came in third during the May 6 election. Days afterward, Toney allegedly met with both runoff candidates and, according to Shaw, told them he'd endorse whoever handed him a cool $15,000 to pay off his campaign debt and ensured the city kept funding LaborFest, an event organized by Toney's campaign consultant that
bombed in spectacular fashion last year
.
Shaw
told his Facebook followers
he refused the deal hours after Warrick received Toney's warm endorsement on the steps of City Hall. In Warrick's paid
Observer
story/ad/plea, Toney's quoted as saying: "If I can forgive the councilman after all the battles we have had then surely the rest of the community can too." He also explicitly mentions Warrick's
controversial 2015 plan
to move the MLK March from the historically black neighborhoods of District 2 to downtown San Antonio.
"Now he needs to engage with the East Side residents that still haven't forgiven him for ...some of the other mistakes he made over the last two years," Toney's quoted as saying.
It's a lukewarm endorsement at best. The ad that even paints Warrick as somewhat unsure he's the right guy for the job. By the end, the councilman's openly doubting his own campaign promises.
"Former Councilman Keith Toney and Councilman Alan Warrick have never genuinely worked together before," writes Warrick. "This could be the start of a more united District 2 but only time will tell."
It should be noted that
Shaw also paid for a blurb
in the
Observer,
but kept it brief — and confident.
"
We are going to win this runoff and bring real leadership back to District 2," Shaw writes.