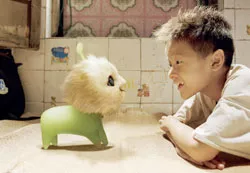 CJ7 and Xu Jiao have a staring contest over who's cuter.
CJ7
Director:
Stephen Chow
Screenwriter:
Stephen Chow
Cast:
Stephen Chow, Xu Jiao, Kitty Zhang Yugi
Release Date:
2008-04-16
Website:
http://www.sonyclassics.com/cj7/
Rated:
PG
Genre:
Foreign
Dude, I'm such a sucker for cute creatures. Not that that affinity alone would've pushed me beyond the theater-lobby doors and into, say, Shrek the Third (nope, not even for you, Puss-in-Boots). But when I discovered that, of all people, Stephen Chow (writer-director-actor of Kung Fu Hustle and Shaolin Soccer and kind of a cutie himself) had pulled together a flick about a young boy and an alien who resembles a Furby, I was more than game. (For fun, google "cute alien movie" and see how many CJ7 sites/references come up.)
Anyway, to be nice, and to pay her back for ushering me to E.T. all those years ago, I tried to take my mom to the CJ7 press screening when I got the invitation. Normally she loves press screenings, mind you:
"What kind of film is it?" she asked, dryly.
"It's a Chinese alien movie for kids," I answered.
…
I went to the theater alone that night.
And I enjoyed myself. (Mom.)
The only real pity is that the people who might really, really enjoy CJ7 — that'd be tikes under 10 — probably won't be able to keep up with the subtitles. ("Or," as one of my friends suggested, "you can teach your children Chinese before you take them — that's what my parents did for the films of Francois Truffaut.") (He meant French, in his case, natch.) (Total lie, by the way.)
Despite Chow's intention to make a film for families and bebes, I'm afraid it's going to be up to dorks like me to fill the frakking theater hereabouts. And it is just one theater — Regal Fiesta 16 — as per my latest intelligence.
So, for those of you still with me, here's what you have to look forward to: Chow's usual pop-culture send-ups? Check. Throwbacks to his earlier flicks that only the insufferably geeky-awesome will get? Check. Over-the-top action? Check. The most amazing gender-bending performance of the year? I'm just guessing, but 'Check.'
Chow plays a poor construction worker, Ti, who toils daily under the hot sun in order to send his son, Dicky, to an elite private school where he is mocked and barred from participating in gym class because his sneakers are too worn. They live together in a shack so vile that "roach" does not merely refer to the icky brown insect itself, but a game of squashing the bugs with hands and feet that father and son play during meals. Quaint.
What Dicky wants more than anything is a robotic toy dog that his wealthy school rival possesses. All that Ti can procure from his favorite local dump is an unusual neon-green sphere that turns out to be more than it seems.
CJ7 doesn't feign ignorance of its E.T. roots, or attempt to tell a truly new kind of story (pssst — it's about sacrificial love). The wonder of the film is in Chow's truly bombastic, hilarious filmmaking voice; in the extraordinarily well-rendered CGI (CJ7 is purportedly one of the most expensive films to come out of China); and in Xu Jiao's portrayal of Dicky. Yep, he's a she — a fact this reviewer was ignorant of until about five minutes before commencing reviewness. So if your genius-IQ-Chinese-speaking 5-year-old won't be dragging you to the theater … and you have no penchant for cuteness … or Stephen Chow … perhaps an early look at the next Tilda Swinton will pique your interest? •