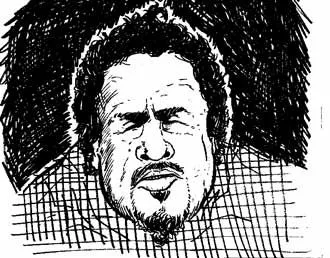 Better git it in your soul: jazz legend Charles Mingus.
Three jazz legends (well, two, and the family of a third) have recently gone the way of upstart indie rockers and fed-up folkies, starting record labels of their own in an attempt to whittle away at what middlemen earn off their labor.
In the case of Charles Mingus's
At UCLA 1965
(Sue Mingus Music), the release is a reminder that self-releasing is hardly a creation of the internet age. This double-disc, after all, reissues what Mingus originally pressed himself, in a limited-run LP that has barely been seen for four decades. The live recording is a work-in-progress, like a rehearsal with an audience — occasionally coming together beautifully, but mainly a chance to showcase compositions the bassist had intended to play a week earlier at Monterey, had his set not been cut short.
The other two titles were recorded within the last year by saxophone giants: Ornette Coleman introduces his latest quartet on
Sound Grammar
(Sound Grammar) — a two-bass band (one bowed, one plucked) that may sound like chaos moment-by-moment but, once you lean back and let it flow over you, feels solid and cohesive. Sonny Rollins offers a more conventional lineup on
Sonny, Please
, a disc of originals that he expects will be followed by a stream of archival and live titles on a label he calls Doxy — after an early composition.
For many jazz-stars-in-the-making, though, an established label still feels like the safest bet. And if you've gotta have one, surely Blue Note is as classy a home as you can get. Three of my faves have recent titles out on Blue Note: Jason Moran continues stretching the boundaries of his art on
Artist in Residence
, cutting and splicing live performances of pieces commissioned by institutions like the Dia Art Foundation into a new experience. Especially interesting here is the way, as on "Artists Ought to be Writing," that the pianist mimics and plays with rhythms of sampled speech. In the sensual, gorgeous
African Tarantella
, vibrophonist Stefon Harris spends most of his time "dancing with" Duke Ellington; sticking to some of Duke's lesser-known epic suites, he emphasizes slow dances over swing, and adds three of his own compositions for good measure. Lastly, Don Byron pays tribute to Motown tenor saxophonist Junior Walker on
Do the Boomerang
, featuring highly polished arrangements wherein Byron spends most of his time on Walker's horn instead of his usual clarinet; nice exceptions are the title track and the soulful "What Does It Take (To Win Your Love)," which uses his rich bass clarinet to stand in for the R&B tenor axe.
Ever paying tribute to the artists who inspired him, Byron recently recorded the suite "Eugene" for comedian Ernie Kovacs, accompanied by the anything-goes percussion ensemble Bang on a Can All-Stars. That, and a slew of other delicious Byron-penned tributes (much more in the jazz mode than
Boomerang
), are on
A Ballad for Many
, released by Cantaloupe, a label (this sounds familiar) launched some time ago by the Bang on a Can folks. Unlike some label-owning artists, BOAC has done a good job with records that aren't theirs. Take Icebreaker, for example, which, according to a recent interview, is one of David Bowie's favorite new ensembles. Playing weird, exciting "Serious Music" on Pop Art-bedecked discs with names like
Terminal Velocity
and
Cranial Pavement
, the dozen-plus instrumentalists (playing everything from pan-pipes to electric bass) make a ruckus I'd love to witness live.
While I haven't seen Icebreaker, I did get a chance to see BOAC in Massachusetts more than a year ago, where they played a number of Steve Reich pieces with the composer in attendance. In honor of his 70th birthday, Nonesuch has issued
Phases
, a budget-priced, five-disc set of the work that made him famous: From "Drumming" to the epic "Music for 18 Musicians," you'd be hard pressed to find a better introduction to (ahem) "America's greatest living composer."
Lastly, Reich's neighbor under the oft-complained-about Minimalist moniker, Philip Glass, has had successful releases on an array of big labels but appears lately to be releasing music almost exclusively on his Orange Mountain Music imprint. This gives him the nice opportunity to release soundtrack work without a broad commercial appeal, but it's fantastic news when it comes to filling in gaps in his early career — as on specialized discs like
Early Voice
, with '70s works ranging from drone experiments to trademark Glassiana;
Saxophone
, with a dozen solo-performer compositions and some spellbinding quartets; and multi-track recordings that stretched available technology on
Analog
. Oh — and at long last, a version of the
Thin Blue Line
soundtrack that, unlike the one that's been out for nearly 20 years, doesn't have narration from the film running on top of the music.
Sometimes running your own record label can be pretty nice.