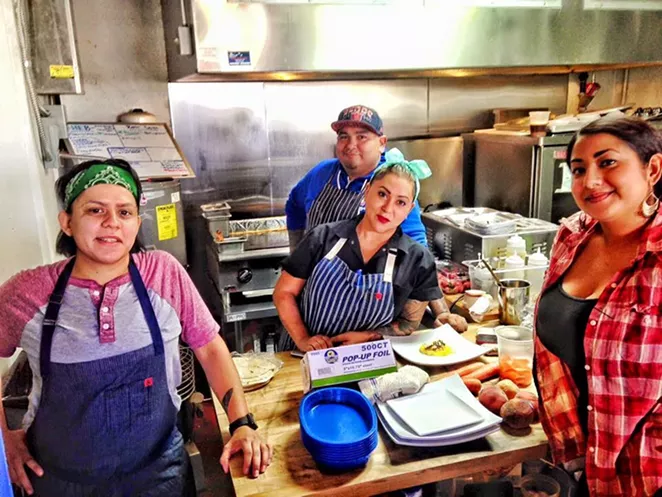 Courtesy
The team is creating a pretty legit lineup for Saturday's brunch.
Brunch lovers can get their drunk breakfast on this weekend at
Amaya's Cocina
(1502 E. Commerce St., 210-265-5449) as they host
"Amaya's Feast in the East A New Conversation"
on Saturday, December 5 from 10 a.m. to 3 p.m. with proceeds from the event benefiting the
San Antonio AIDS Foundation
.
The event's menu includes $10 dishes such as "Papa y Blitzen" with papas and Brussels sprouts smothered in spicy chorizo hollandaise; "Krampus," a peppercorn waffle with berries and mint chantilly creme; "Turkey Aftermath" a roasted turkey over a butter scone with cranberry jam and maple gravy, garnished with a turkey chicharron; and "Christmas Forevers" a duck-stuffed tamal ($15) paired with a spiced chestnut salad with pomegranate and vanilla.
Sides, $3 each, include a fried egg, bacon or winter fruit.
The even it BYOB with a $5 cork fee; all corking fees will be donated to the SAAF.