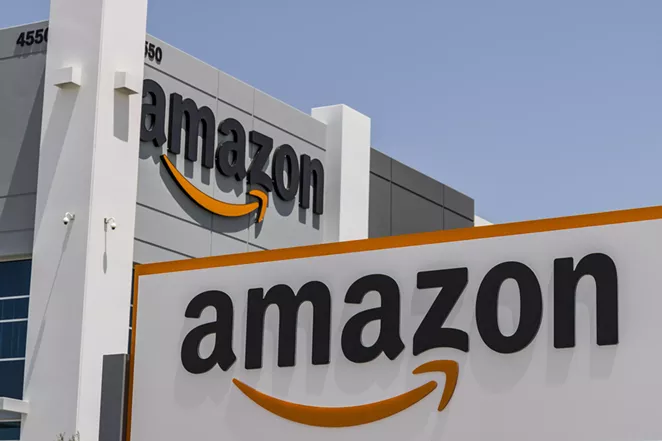 Shutterstock
Schertz is the home of the SAT1 Fulfillment Center, located just outside of San Antonio.
Recently, Amazon employees have been popping up in the mentions of more and more Twitter users. These employees, known as "Fulfillment Center Ambassadors," use Twitter to assure the public of their perfectly adequate working conditions. On Aug. 1, the multi-billion dollar company promoted free tours of their fulfillment centers to "see what [their] warehouses are really like." However, this promotion backfired as multiple people questioned the legitimacy of the company's claims:
Come take a free tour at an Amazon fulfillment center and see what our warehouses are really like. Check out the locations and reserve your spot online. #AmazonFCTours

— Amazon News (@amazonnews) August 1, 2019
Hi, real ex-amazon employee here and I hated my job :) it made me miserable and I made my depression worse than it had ever been in my life. They treat you like you're a cog in a machine. Jeff Bezzos is a money hoarder that couldn't care less about his employees

— Θεμίδα ☮ (@sabrina__nika) August 15, 2019
A now viral Twitter thread prominently displays how FC Ambassadors rushed to defend Amazon with unsettling, symbiotic loyalty.
I suffer from depression too, and at one point I wanted to quit Amazon. But I realized it was my fault for the problems I was dealing with, and not Amazon's. I'm allowed to talk to people, but sometimes I don't want to. Now I have some great coworkers to pass the nights with.

— Hannah - Amazon FC Ambassador 📦 (@AmazonFCHannah) August 15, 2019
All of these responses seem to echo the same talking points, which highlight employee benefits and downplay any negative commentary surrounding Amazon's
notoriously harsh warehouse conditions
.
This isn't the first time Amazon FC Ambassadors have popped up on social media. In 2018, the company implemented the program as a way of "educating people about the actual environment" of their fulfillment centers. Then, there were only about 14 confirmed accounts. Now, there are over 40. Although ambassadors continually assure the public that they are neither being paid nor forced to tweet on behalf of the company, former Florida warehouse worker
Chris Grantham offers some insight on how the program works
:
"When I was there they just got an extra paid day off and a gift card after Peak [pre-holiday season]. This is what I got. A paid day off (that expired in 3 weeks lol) and a $50 Amazon gift card. Plus, they gave us lunch. Coldcuts and sandwich bread . . . Becoming an ambassador was a way to get out of loading trucks, or packing boxes for 10 to 12 hrs. You may ambassador 1 day then unload trucks for the next 3."
In February 2019, the FC Ambassadors were the center of more online buzz when they took to Twitter to denounce unions as unnecessary and inefficient, again seeming to mindlessly regurgitate company-assigned talking points. This time, the outpouring of Ambassador responses were
instigated by the campaign to unionize Amazon's retail workers in New York City
.
If the decision should be up to the workers I can honestly say as an Amazon employee I do not want a union. Also, speaking of decisions it is your choice where you decide to work.

— Jen - Amazon FC Ambassador 📦 (@AmazonFCJen) January 31, 2019
If the decision should be up to the workers I can honestly say as an Amazon employee I do not want a union. Also, speaking of decisions it is your choice where you decide to work.

— Janet - Amazon FC Ambassador 📦 (@AmazonFCJanet) January 31, 2019
While it is fairly common for companies to use PR strategies as a method of improving a tarnished image, Amazon's social media program is unique in the most unnerving way. It offers a deeper understanding on how this multi-billion dollar industry relates to its supporting body of workers, and reveals an alarming disconnect between employee needs and corporate expectations.
With
multiple reports of workers compromising their health and well-being for the sake of maximizing company production
, it seems like Amazon's FC Ambassadors have a lot more explaining to do.
Update:

Amazon has reached out to the
Current
since publication of this piece and asked that we include the following statement:
"FC ambassadors are employees who work in our FCs and share facts based on personal experience. It's important that we do a good job educating people about the actual environment inside our fulfillment centers, and the FC ambassador program is a big part of that along with the FC tours we provide. This year alone, more than 100,000 guests have come to see for themselves what it's like to work inside one of our FCs. If you haven't visited, I recommend it."
Stay on top of San Antonio news and views. Sign up for our Weekly Headlines Newsletter.