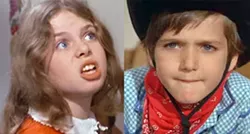 Tonight, April 28 at 7 p.m., the Alamo Drafthouse at Stone Oak will hold a special Quote-Along screening of the 1971 film Willy Wonka & the Chocolate Factory. In attendance will be Julie Dawn Cole and Paris Themmen, the actors who played the original Veruca Salt and Mike TeeVee. Tonight's event will include a Q&A session after the screening and a gift of an autographed poster for each moviegoer.
During an interview with the Current last week to promote their visit to the Drafthouse, Cole and Themmen talked about what it's like watching the movie today and what they think about the characters that have make them famous over the last 41 years.
To purchase a ticket to the screening click here.
When you watch Willy Wonka today, does it still have the same affect on you as it did when you watched it as a kid?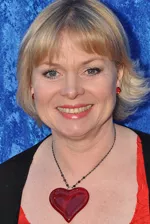 Julie Dawn Cole: I still enjoy watching the movie. I saw it on the big screen for the first time with my kids last weekend at the British Film Institute. It was great to see it in an audience with young and old. The young children still seem to enjoy it, though one did have to be taken out in tears at the fizzy lifting room scene. He was scared Charlie and Grandpa Joe were going to get stuck!
Paris Themmen: The first time I saw it was at the Ziegfeld Movie Theatre in New York City. It was the premiere of the movie. The first time I saw it was a tremendous thing. Do I still feel that way? Yeah! It's my baby pictures and everybody gets to see them.
What kind of reaction do you get from fans at conferences when they find out who you are?
PT: For the most part, I get people who are really nice. The questions I get the most are, "Was Gene Wilder nice?" The answer is yes. "Did I eat a lot of chocolate?" Yes, there was a fair amount of chocolate. You get people who've seen it a lot, even more than I have. People tell me I was so cute. Some tell me I look the same. Some tell me I look different.
Julie, do you embrace your character Veruca Salt? How does it feel to be known for playing that specific character?
JDC: Of course I embrace Veruca. It wasn't her fault she had bad parents that couldn't say no. I think there is a little Veruca in all of us. Besides everyone secretly admires the bad girl and would perhaps like to be a little like her. I guess today she would probably be a leader in business.  I wouldn't want her to be my boss! Or else she would be married to Donald Trump!
Paris, some child actors – like Jaleel White who played Steve Urkel on the TV show Family Matters – today hate the character they played as a kid and don't want anything to do with it. Why do you think that is?
PT: It's a basic psychological difference. I know why I feel the way I do. There's no reason to hate the character. It's brought a lot of opportunity in my life. Now, why does Urkel not like Urkel? I don't know. I mean, you get to a certain level of fame at a certain age and you think the trajectory of your life is going to continue to go up from there. In some cases, like [director] Ron Howard, you find a way to make the transition from childhood actor and turn it into a legitimate adult career. In many cases you don't. So when you don't, I think there is an inherent disappointment. It's all about how you deal with the fact that there must be life after art.
What do you like most about your character, Paris?
PT: Well, the first thing you think about Mike TeeVee is that he's a brat, obnoxious, and precocious. He really genuinely seems to be enjoying his trip through the factory. Even when the other kids are meeting their demise, he's always into it. I actually asked the director how I should play him. Should I be concerned and upset or should I be into it? Are there great things about Mike TeeVee? That's the other way to look at it. He's like the other side of the morality tale. He's the guy you don't want to be. It's more about how great Charlie is. I often tell kids I meet at autograph signings, "Don't be like Mike TeeVee!"
What do you think it is about Willy Wonka that makes it one of those films that has stood the test of time?
JDC: I wish I knew why it endures. It appeals to all ages. It has lots of levels. There are a lot of references you don't appreciate as a child but get much later on. Maybe it is the chemistry of the whole cast.
PT: It's a really colorful film and operates on a few different levels. It operates as a movie for kids, but it also has this under layer that adults really appreciate.
I'm sure you get this question a million times a day, but what did you think about Tim Burton's remake?
PT: You know, for the first couple of years if someone asked that question I was shy about answering it. But at this point, so many people have come up to me and told me they loved my film and the other one came up short. I feel I'm safe in saying ours is better. I think it has to do with the relationship between Charlie and Wonka. Johnny Depp, who was terrific, made very insular and neurotic choices in how he portrayed Wonka. In our film, Gene [Wilder] has this great moment which is, "My boy, you've won. You've done it." That's definitely missing in the remake.