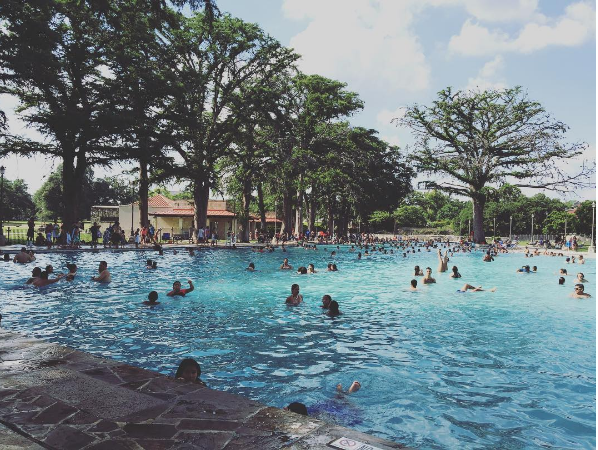 This just in: It's hot out. It's only going to get hotter. The 50-foot walk to my car basically feels like a trek through Mordor. My car's AC is doing the best it can, but at the end of the day, it's still 90-plus degrees. The rest of summer sixteen is only going to get worse.
None of this is news to you, really, but I'm trying to build my case for why a visit to
San Pedro Springs Park pool
is in order this summer.
I get it. For some, San Pedro Springs Park has a slightly seedy rep and it can turn into the USA network. I've seen a fair share of characters, but have never felt threatened or in any sort of danger. It just means you have to roll with a bigger group.
But beyond that, there is no reason San Antonio at-large shouldn't be enjoying this history-filled urban oasis. To start, San Pedro Springs Park is the city's oldest designated park. It comes in as the second oldest public park in the country only after Boston Commons. Since 1852, when City Council established the area as a reserve, SPSP has gone through many iterations and upgrades and it played host to several facilities, including pavilions for entertainment, stables that housed camels used by the U.S. Army in 1856, a race track, a museum and a zoo. The park also included springs, ponds and a lake, the latter of which was turned into the San Pedro Springs Park pool in the 1920s.
History lesson aside, the pool is the biggest draw for this 46-acre park block, which also includes the McFarlin Tennis Courts, San Pedro Playhouse and San Pedro Library. I'm not knocking fuzzy yellow balls around in this heat, though I'm sure enjoying a play/book/DVD in the theater or library would be tight.
No, I'm talking about the pool. It's open 2 to 8 p.m. Tuesday through Sunday until August 14. It's hard to gauge the pool's awesomeness with a cursory look from San Pedro Avenue. The massive trees that line the perimeter provide a great deal of shade and whimsy — how is this pool smack dab in the middle of San Antonio? And one need not worry about this cool refuge from the South Texas heat being packed. Even though SPSP pool is only open six hours a day, it can accommodate an impressive number of folks. Even opening day, on June 11, when would-be splish-splashers lined the trail leading to the pool numbering in the low hundreds, the area never felt cramped.
Don't dive in — this pool only ever hits 5 feet at its deepest, and features a shallow area for the kiddos. Sure, this means you'll have to watch out for the occasional ultra-splashy necio pre-teen, but again, this former lake is big enough for all to enjoy.
And if you're worried about having one too many conchas and not working on your summer bod, don't. The best part of SPSP pool is how varied pool-goer bodies are here. Sure, we can all sneak into bougie hotel and luxury apartment pools, but I'd rather not work on my summer tan next to a slew of ultra-ripped Crossfit types (no offense, really, y'all look great!). All bodies, with all sorts of dimples, all levels of farmers tans, all manners of toned, wibbly, tattooed, scarred, freckled, hairless, fuzzy shapes are welcome here.
That's reason enough to make San Pedro Springs Park pool my home pool this season.
San Pedro Springs Park, 1315 San Pedro Ave.