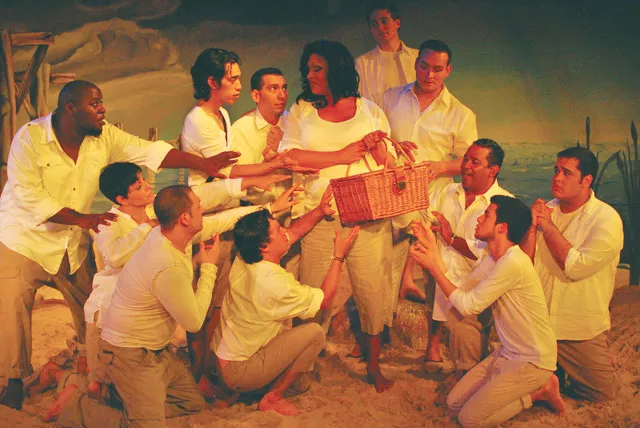 Sarah Maspero
The cast of Corpus Christi, playing at San Pedro Playhouse.
Corpus Christi
$15-$25 (No one under age 18 admitted.)
8pm Fri-Sat, 2:30pm matinee Sun
Special Thursday performances:
8pm June 30 & July 7
Cellar Theater @ San Pedro Playhouse
800 West Ashby
(210) 733-7258
sanpedroplayhouse.com
Through July 10
"Oh Mary! It takes a fairy to make something pretty!"
— Emory in The Boys in the Band
Take a clue from this year's Tony telecast as Neil Patrick Harris broke into song: "If you feel like someone that this world excludes, it's no longer only for dudes who like dudes. Attention every breeder, you're invited to the theater. It's not just for gays anymore!"
Perhaps the good news never reached protesters outside the San Pedro Playhouse's Cellar Theater at its sold-out opening of Terrence McNally's Corpus Christi (see "Judas & Joshua forever," June 22, 2011), the Jesus story reimagined with a homosexual man named Joshua living and dying in Texas. After all, when local interfaith leaders stood together to denounce McNally's controversial play, the San Pedro Playhouse bravely stood its ground and its commitment to artistic freedom. They didn't blink.
Cause for celebration? Not quite. Visible and public support for the San Pedro from the San Antonio theatrical (SATCO) and artistic community was next to nil. The gay community has got to take up the cause when an injustice is done to the LGBT community. We need to be fierce and fearless and hold those politicos and professional civil-rights advocates' feet to the fire. They always ask our vote and support, but where are they when the going get tough, when we need them to stand up and be counted?
Thankfully, McNally, whose "Catch Me If You Can," is a big Tony-winning hit on Broadway, came to the rescue and even wrote a letter of appreciation for the Cellar production playbill. McNally wrote: "Good theater is never easy to do. Our job is even more challenging when viewed under the hostile scrutiny of people who want to be heard more than they want to listen."
And while the protest may have intended to keep audiences away, the opposite occurred. Corpus Christi has been sold out night after night, and its run was recently extended through July 10.
Doing gay theater in this town is damn difficult — and lonely. Only a handful of theaters program shows that directly address the gay community. Even fewer black and Latino theaters seem open to these works. I know. This is Texas. Who watched the Tony Awards when the Mavericks and Heat were battling it out for the NBA crown? No-brainer.
However, since my return to San Antonio in 2001 after 20 years in Los Angeles, I have seen projects that tackle difficult gay themes. Paul Bonin-Rodriguez in his Texas Trinity cycle chronicled the life and times of a gay Latino man. Jump-Start produced the critically acclaimed local premiere of The Laramie Project. Under creative director Frank Latson and executive director Di Ann Sneed, the San Pedro Playhouse staged Tony Kushner's Angels in America on their main stage. Gay-themed plays also found the welcome mat out in the SPP's Cellar Theater, where productions have included the brilliant Gross Indecency: The Three Trials of Oscar Wilde directed by Diane Malone; Doug Wright's Pulitzer-winning I Am My Own Wife; Richard Greenberg's Take Me Out; and many others.
The brouhaha over Corpus Christi offers an opportunity to reassess how far gay theater has come locally. Some argue that gay theater per se doesn't have an audience here: Corpus Christi is a fluke that might have quickly faded without the media attention and protesters. Granted, theaters have to sell tickets, but do some use that excuse for programming fewer gay-themed productions, or only those that play on stereotypes? Casting gay parts has led some directors to audition out of town for actors. Is it homophobia or merely a benign patronage system that fails to recognize a new breed of theatergoers? Whatever the reason or reasons, local gay theater, despite a few progressive strides, still comes up short.
For those who claim there is no gay theater, signs to the contrary are everywhere. Nationally, a new generation of theatergoers is flocking to shows that not only explore political and health issues in the LGBTQ community but also the hot-button issues of gay marriage and gays in the military, as well as everyday concerns in a gay context. And for an informed citizenry, it's important to both support and write those dramas and comedies that heal and inspire. We are everywhere. We're here to stay. Theater isn't just for gays anymore. It's a necessary lifeline for all of us. •
Gregg Barrios is a San Antonio playwright whose play Rancho Pancho, hailed by New York theater critic John Lahr, will receive its first equity production this summer at the National Hispanic Cultural Center in Albuquerque during its Tennessee Williams Centennial Celebration.