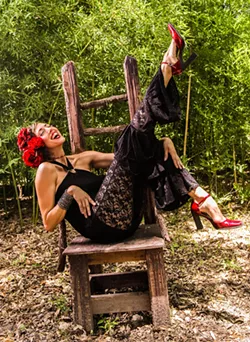 Linda Hughes
San Anto singer Patricia Vonne, unveils a new Spanish-only album at Olmos Bharmacy.
The reveries of childhood, when fired by ambition, wanderlust and earned confidence, can catalyze explosive breakthroughs. As a little girl, growing up in Monte Vista with nine siblings including acclaimed movie director Robert Rodriguez, Patricia Vonne dreamed of connecting more deeply with her ancestors.
Through her mother's music and her father's storytelling, Vonne developed a rich and colorful sense of her roots in Mexico and, back over nine generations, tracing them to Spain. In her work, the wild drama and joy, the exuberance and defiance, el orgullo y la tristeza of these cultures, manifest in songs with cultural personalities all their own.
But, it was only after 11 frustrating years spent chasing various artistic ambitions in New York that Vonne — who adopted her middle name as surname to stave off the discrimination she encountered in the Big Apple — came to the realization that she should come back home and forge her own path in music. Thankfully, while in New York, Vonne had already recruited a solid band of fellow Texas transplants to support her musical endeavors.
Through her first five albums, most notably 2005's Guitars and Castanets and 2013's Rattle My Cage, Vonne proved herself an adept musical storyteller, an emotive and deceptively straightforward songwriter who chooses collaborators that accentuate her strengths, as well as a student of the great mestizo tradition known as Tex-Mex.
Amassing accolades and winning fans worldwide (with a staunchly loyal following in Europe), Vonne has put out music of consistent quality that draws on the divergent themes that populate her cultural memory. With her strong, soaring and seductive vocals at its core, her sound incorporates elements of Spanish flamenco and Gypsy music, Mexican balladry and contemporary rock with blues hues.
Now, at 45, Vonne is ready to release her sixth album. Named Viva Bandolera, it's actually a compilation of the Spanish songs from Vonne's first five efforts, so it feels a tad inaccurate to call it her finest work to date. But, technicalities aside, it is exactly that.
While her earlier releases featured the humorous, moody, sumptuous, empowering and stubborn Spanish works as side dishes — accompaniments to her powerful, but often less ripe English language tunes — these mestizo gems are the constantly impressive main course on Bandolera.
In an interview last week, Vonne told the San Antonio Current that, taken as a whole, the album is "about Mexico, Spain, my grandma and grandpa, my favorite poet, Federico García Lorca and a lot of other things, too."
Vonne described the feeling of releasing her first Spanish-only album as "a celebration of [her] heritage." Officially released yesterday, she dedicated it to her parents, who always fostered creative thinking and cultural pride in all of their kids.
Three of the finest and most poignant songs on Bandolera, focus, at least in part, on female empowerment and deepening awareness of issues facing women.
The title track plays off of Vonne's popular "girl Zorro or bandolera" character Dallas from her brother's Sin City films. Vonne identifies with this character as "a symbol of women's capability to do what men do."
In a similar vein, "Torera" ("Female Matador") envisions a woman doing battle in the bullring, which is seen as a symbol for masculine domination. "It's about women struggling, but also just about struggling in general," Vonne said.
Meanwhile, the prayerful dirge "Mujeres Desaparecidas" ("Missing Women") focuses on "the missing women of Juarez, Mexico," vanished into the hell-fog of borderland chaos across the Rio Grande from El Paso. Vonne explained that a documentary moved her to write the song as a "prayer or a battle cry for families of these victims that feel forgotten."
Slightly lighter fare on the album includes career highlights like the flamenco-twinged and tortured love song "Traeme Paz," ("Bring Me Peace") the sultry Andalusian Gypsy jig "Fiesta Sangria" and two marvelous and surprisingly representative songs about Lorca.
Vonne explained that Lorca inspired her with his "compassion and courage to write about oppressed people even in the face of danger."
It's appropriate that Vonne brings this release, with its lyrical and sonic embrace of her homeland and its pursuit of love and justice, to the Olmos Bharmacy for a special performance. Like many San Antonians, Vonne fondly remembers growing up enjoying family milkshake runs to the old incarnation of the historic place.
"This is really me going back to the beginning," Vonne beamed.
Home sweet home, indeed.
Patricia Vonne Album Release
$10, 7pm Fri, June 26, Olmos Bharmacy, 3902 McCullough, (210) 822-1188, olmosrx.com