A Texas House floor debate among lawmakers is now underway at the Capitol to determine the fate of a controversial bill that would ultimately decimate access to abortion in the state. Mostly Democratic lawmakers are in the process of proposing a flurry of amendments – being shot down one by one by the GOP majority – and will likely continue throughout the day.
House Bill 2 and it's counterpart, Senate Bill 1 would outlaw abortion at 20 weeks of pregnancy, require hospital admitting privileges for abortion doctors, compel patients to follow outdated protocol for abortion-inducing drugs and force abortion clinics to comply with the same standards as ambulatory surgical centers (ASCs)– which would close all but five clinics upon effect due to costly upgrades.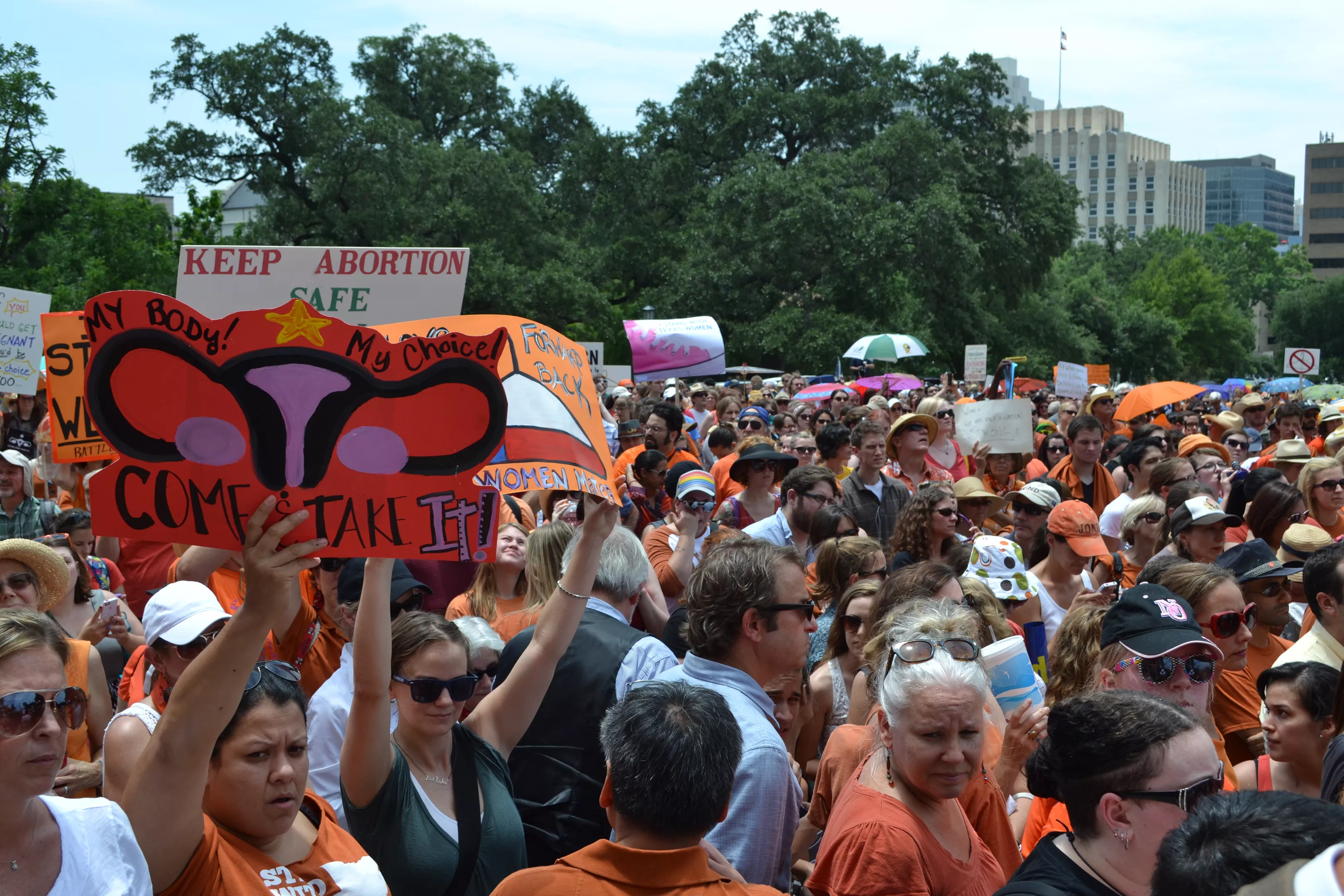 A bill that would shut down all but five abortion centers in Texas is stirring unprecedented debate and protest. Photo by Mary Tuma.
Bill author, Rep. Jodie Laubenberg (R-Parker), continued to discredit medical consensus from major players in the community, such as the American Congress of Obstetricians and Gynecologists, who adamantly oppose the legislation. Laubenberg also denies all 37 of 42 non-ASC abortion centers in Texas will close as a result of her bill, asserting the clinics have a year to comply with the standards, as the law would go into effect in 2014.  This is despite the repeated assurance from health care leaders that the expensive – and "unnecessary" – facility changes associated with the requirement would, in fact, prevent the majority of clinics from surviving.
Rep. Carol Alvarado (D-Houston) pointed to the undue burden the bill would place on women in terms of travel, cost, and time. Atop the pre-abortion sonogram law requirement (passed during the 2011 legislative session), which forces women to undergo a sonogram 24 hours before the actual procedure, HB2 says women would need to make an additional trip to the abortion doctor after the sonogram for abortion-inducing drugs.
In a fiery speech, Rep. Senfronia Thompson (D-Houston) offered an amendment for exceptions to rape/incest while holding a wire clothes hanger and later, a knitting needle, to represent dangerous self-induced abortion that would likely increase if the abortion ban is enacted. " I don't think there are any pro-rapist" legislators here today, said Thompson.
Rep. Sarah Davis (R-Houston), the lone Republican to vote against the sonogram bill last session, also offered an amendment to make exceptions for rape/incest, fetal abnormalities, and women with a risk of suicide. Laubenberg shot them all down, even though Davis, a self-proclaimed "pro-life" advocate, tried to add the exemptions so the bill would actually have a better chance at surviving a constitutional attack.
"The nation is watching [
]," said Davis after her amendment was tabled. "Now is not the time to play political football with women, now is the time to pass good pro-life policy."
Rep. Gene Wu (D-Houston) referenced other states where similar bills have been blocked, like a law in Wisconsin that required abortion doctors to have hospital privileges no further than 30 miles where the procedure is performed. That law was struck down by a federal judge earlier this week, on the grounds it would pose "irreparable harm" to women and increase health risks.
Wu asked Davis, who represents the world-renowned medical center in Houston, how easy it is for doctors to be denied those admit privileges – Davis confirmed it's routinely done even if not constitutional.
The debate isn't over, stay tuned for updates.