Despite thousands of pro-choice advocates flooding the Capitol day after day and last month's memorable 11-hour filibuster on the chamber floor, the controversial omnibus bill that would essentially decimate abortion access in Texas passed the Senate in a final 19-11 vote and now moves to conservative Republican Gov. Rick Perry's desk for a signature.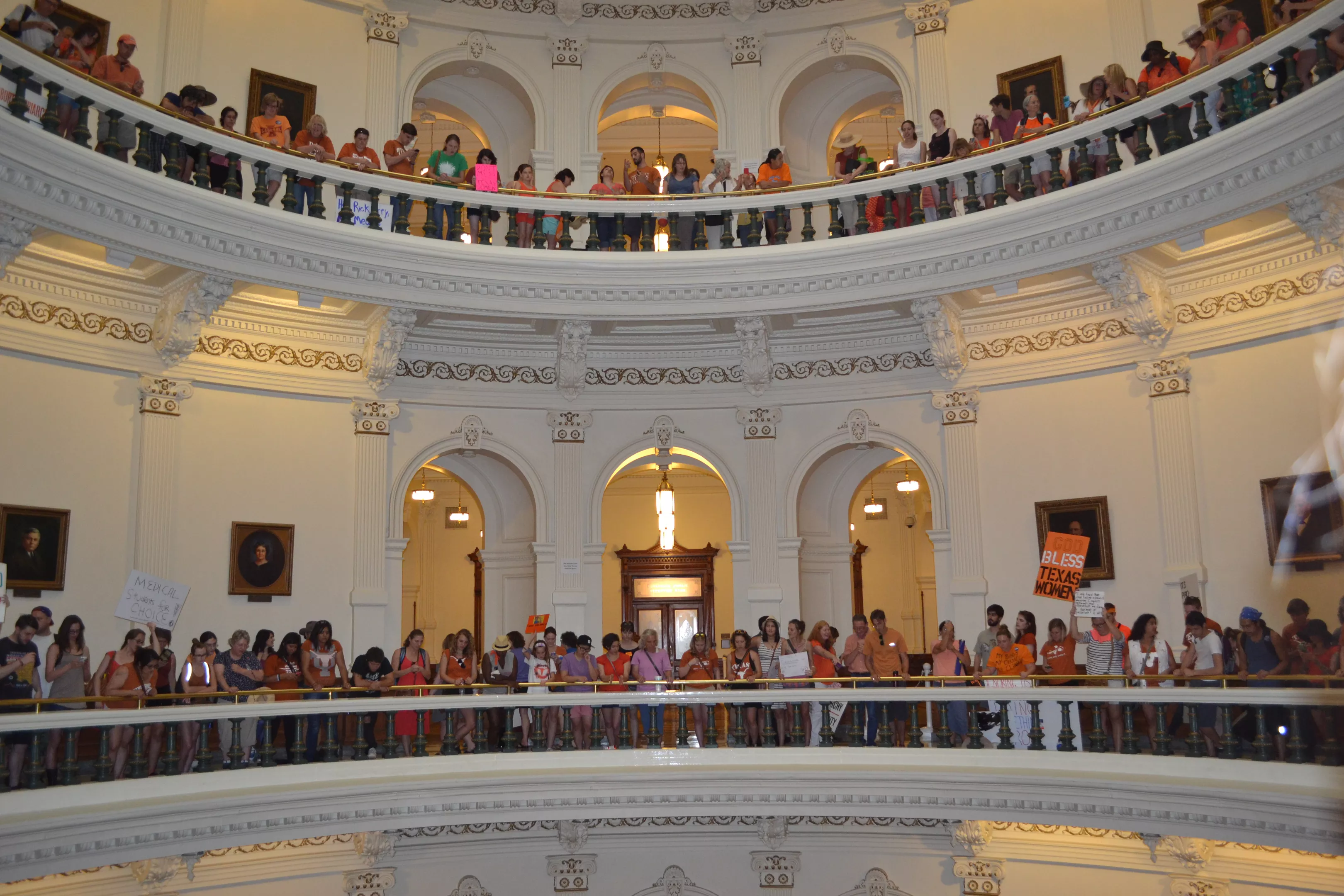 While they "lost the battle", pro-choice advocates say they will keep fighting the war against anti-abortion legislation. Photo by Mary Tuma
Senate Bill 2 and counterpart House Bill 1, passed earlier this week, bans abortion at 20 weeks of pregnancy, requires hospital admitting privileges for abortion doctors, forces patients to follow certain protocol when taking abortion-inducing drugs and compels abortion clinics to comply with the same standards as ambulatory surgical centers (ASCs)– 37 of the state's 42 centers would likely close upon enforcement.
Defying logic and medical evidence, the GOP Senate majority drowned 20 amendments to the abortion-restrictive bill, many of which actually  aimed to reduce the number of unplanned pregnancies and as a result, decrease the number of abortions. Amendments ranging from equal pay to accepting federal Medicaid funds to infusing the depleted family planning budget and most contentious, an exception to the 20-week ban for rape and incest victims were automatically shoved aside.
Democratic Senators, including Sens. John Whitmire, Royce West, Judith Zaffirni and Wendy Davis grilled bill author Sen. Glenn Hegar (R-Katy) one last time, asking familiar questions including why Hegar failed to provide substantial medical evidence to back up fetal pain claims and the need for hospital admitting privileges, why he wouldn't accept amendments that would actually serve to lessen the need for abortion (like promoting sexual education and adoptive services) and how expensive upgrades to abortion clinics in the transition to an ASC­– like janitor closets and expanded hallways–would in any way help the safety of women.
Senators asked why Hegar would support legislation strongly opposed by the medical community, like the Texas Medical Association and the American Congress of Obstetricians and Gynecologists. They asked him why he wouldn't accept the fact only five abortion centers in the state would remain open if his bill passed. They asked him to point to one single, documented shred of evidence to prove his claims of safety could be backed up– an example of which he was unable to produce.
In the end, the vague generalities, the weak defense and the lack of empirical data failed to halt the draconian legislation.
Senators like Whitmire charged Hegar with playing politics under the guise of women's health. They pleaded with the Hegar to listen to major medical organizations and to consider the dire ramifications the bill would pose to Texas women. Citizens stood up in protest, chaining themselves to the Senate gallery railing while other pro-choice advocates staged a sit-in outside the Senate doors. Overall,  thousands came to oppose the onerous legislation. But by around midnight, the battle was lost and the vote sailed through the Republican majority.
Yet, through it all, lawmakers see the short-term loss as a seed for a growing movement that could eventually unseat anti-choice legislators in power. As Davis put it, "The fight for the future of Texas is just beginning."
For now, the devastating and unprecedented effects of SB1 are already being calculated. Researchers with the Texas Policy Evaluation Project, a three-year study exploring the impact of the state's cuts to reproductive health funding, examined the potential on-the-ground consequences of clinics transitioning to ASCs, as required by the legislation.
All five of the clinics that will stay open are located in major metro cities. With 80 percent of the population living outside of those areas, the bulk of women will be forced to likely take off work or school, travel long distances and spend increased time and money securing access. TxPEP looked into those smaller metro areas.
Take for example, the lower Rio Grande Valley, which has two abortion providers. Neither are licensed ASCs, so the clinics, located in a historically impoverished area, would need to shovel up to millions in building upgrade costs or close their doors. The next closest ASC is in San Antonio, roughly 235 miles from McAllen and some 250 miles from Harlingen. Women would have to make at least two visits to San Antonio, tacking on about 16 hours of travel time to obtain the procedure, TxPEP found.
Subsuming the influx of displaced clients from centers forced to shut down, the remaining clinics are set to experience an overflow of patients. That means longer wait times to get an appointment, pushing back the procedure date and undergoing abortion later in the pregnancy, which is associated with a higher risk of complications. The researches predict some women may instead choose to self-induce their abortion or use black-market methods, a trend already being followed in Texas, according to a recent article in Bloomberg News.
The legislation won't only do damage on its own, but aggravates the already shredded reproductive health landscape in Texas. In 2011, GOP lawmakers cut $74 million, or about two-thirds, from the family planning budget, causing more than 50 clinics to close their doors. They also excluded Planned Parenthood from a Medicaid program, leaving 50,000 women without their first choice provider for basic preventative care. The aftermath of those decisions are still being felt and all signs lead to the one-two punch contributing to an even greater rate of unintended pregnancies and thus, abortions– ­the very outcome conservative legislators hoped to curb. In a battle that pit logic, reason and reality against conjecture and hollow science the results fall in line.