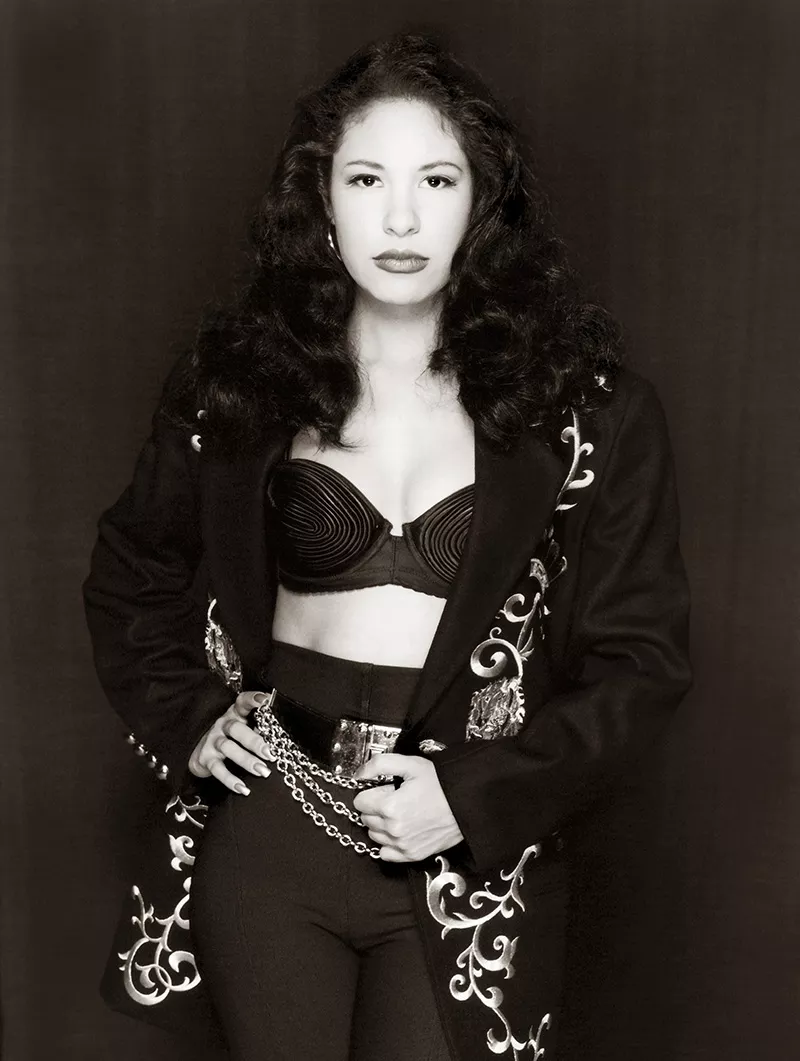 Al Rendon
Al Rendon's Selena portrait is part of the Smithsonian's collection
In a blue and gold veil borrowed from the Virgin Mary, San Antonio artist Ray Scarborough's vision of Selena Quintanilla may be the most forthright worship we have of the madonna of Tejano pop. Since her death two decades ago, the commemorative tone for Selena throughout South Texas has been one of uncompromised reverence.
Post street art of the singer and there's never a worry about tagging or removal by the property owner. Staple a tribute gig poster with her smile in Chanel Brick and the bill is stolen in no time, likely relocated to a safe frame at the thief's home. As Scarborough's portrait suggests, South Texas' treatment of Selena borders on the religious.
"People do see her as a religious icon," Scarborough told the San Antonio Current. "Not necessarily that they pray to her, but that in the admiration for her, that she was a saint."
For Selena followers, Corpus Christi and San Antonio are the respective Mecca and Medina of this pop culture devotion — where the singer grew up and where she launched her campaign for national attention. As the world's Tejano music capital, San Antonio offered pivotal momentum for Selena as she cleaned up at the Tejano Music Awards between 1986 and 1997, amassing 36 in her career.
Even though it has been 20 years since Selena Fan Club president Yolanda Saldívar murdered her, the singer's iconographic presence is still felt all over San Antonio. In death, SA mourned her with the pain of a close friend and the pride of a cultural figure, lighters up, blasting "Dreaming of You."
[From the Archives: Selena: A Star Dies And An Icon Is Born (November 2, 1995]
In the deep library of karaoke machines, the material from Selena's Amor Prohibido and Dreaming of You albums elicit some of the strongest responses. And for good reason.
Without the arresting melodies and addicting cumbia rhythms of those two albums that sent her into the pop stratosphere, her legacy may not have held on with such a tight grip for so long.
Released in 1994, Amor Prohibido contains almost every one of Selena's best-known tunes. The buoyant title cut, the overwhelming sadness of "No Me Queda Mas," the four-on-the-floor smash "El Chico del Apartamento 512," the hip-hop touches of "Techno Cumbia" and the fluttering-heart patterns of "Bidi Bidi Bom Bom" — Amor Prohibido is the desert island album for Selena fans.
The overlooked hero of Selena's music is her older brother, A.B. Quintanilla. The producer of her five solo albums, A.B. established the tone for her crossover from straight Tejano into pop. Sure, some of the keyboard settings sound cheesy in time; a contemporary producer using A.B.'s orchestra hits and Daytime TV horns would be like wearing M.C. Hammer pants now.
But A.B. did wield a timeless ear for arrangement. Cumbia patterns and Tex-Mex upbeats repeat on lock, providing a strong background for dancing. At key points in the melody, he boosts Selena's voice with harmony on keys and background vocals. And countermelodies flutter around like grackles in the springtime. Songs like "El Chico del Apartamento 512" are occupied with horns and keyboard tenants, but never feel overcrowded.
"When you listen to a Selena song these days, like 'Amor Prohibido,' it still sounds like it was recorded yesterday," A.B. Quintanilla told Noche Latina in 2010. This infectious production — a touch of corny syrup, but universally fun — helped Selena's music pervade car stereos and party soundtracks in the '90s.
The Quintanilla family did not respond to the San Antonio Current's requests for comment.
"I grew up with it in the household," Nina Diaz, singer of SA's Girl in a Coma, told the San Antonio Current. "I remember being really young and having Selena contests with my friends who would sleep over."
While Selena's music seeped into life in South Texas, female performers around the country began paying attention as she created a bona fide crossover phenomenon. Beyoncé, J-Lo, Shakira and Katy Perry all cite her as an inspiration.
"Definitely growing up in Texas, I heard her on the radio," Beyoncé told MTV tr3s in 2007. "And listening to her album, even though I didn't actually know what she was singing, it helped me in the studio with my pronunciation."
Selena continues to have influence over other known and up-and-coming performers. Born in 1992 near Dallas, Disney bopper Selena Gomez, now a pop star of her own, was named after the queen of Tejano (during Selena's 1991-1995 reign, her name skyrocketed from 780 to 91 in the rankings of most popular baby names in America). Casual onstage and confident with her hips in rhythm, Selena's comfortable and commanding presentation made thousands of little girls aspire to be just like her.
"She was one of the first to wear those outfits for full-figured women," said Diaz. "Me, being a Latina with a big butt, watching her dance around and be comfortable with her body, it makes me feel more comfortable with my body."
But it wasn't just Selena's musical chops that had a lasting impact on her legion of fans. Perhaps even more influential was her contagious no-fronts, down-to-earth demeanor.
"She was such a sweet, humble person," Diaz said. "That's something that follows her as well, not just her music, but her as a person."
Matt Stieb
Chris Montoya's mural on South Flores Street is a vivid reminder of how much SA still loves the Tejano music diva.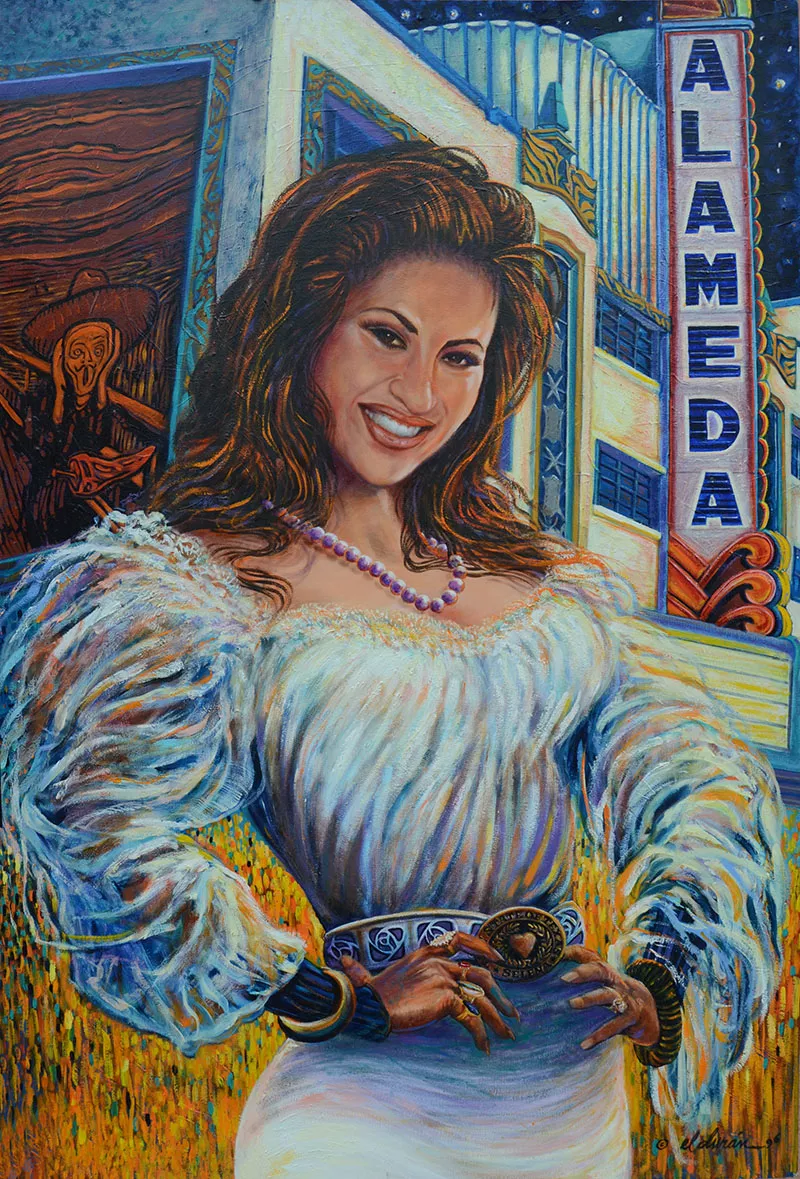 Bryan Rindfuss
Local artist Gilbert Duran's painting of Selena in front of the Alameda Theater on Houston Street.
If there's an award for creating and defending a wholesome, money-making brand, the Quintanilla family deserves a lifetime achievement award. Selena's father, Abraham Quintanilla, Jr., set the tone for his family's career in music, billing the family band name Selena y Los Dinos as an anodyne but electric form of entertainment. Skeptical of the now-iconic bustier, Abraham guarded his family from over-sexing, bad press and public shame. In his daughter, Abraham found a conduit for his family's success and a shining example of morality. The one "scandal" that befell Selena was her elopement with her band guitarist, Chris Pérez — a non-controversy if there ever was one.
But with a bullet in room 158 of a Corpus Christi Days Inn, a young life and still-rising career suddenly ended. On March 31, 1995, over a dispute about embezzlement, San Antonio native and Selena Fan Club president Yolanda Saldívar shot Selena in her right shoulder, severing an artery that would cause her to bleed to death. She was just 23.
Immediately after her passing, Hollywood wigs reached out to the Quintanilla family to option Selena's story as a biopic. Amid tragic loss, the Quintanilla family stepped up, determined to tell the story as they thought Selena would want it told.
"What we didn't want to happen was to have a misrepresentation of a great artist like Selena and a family member and a family and a culture," said A.B. Quintanilla, in the documentary The Making of Selena: 10 Years Later. "It kinda forced the family to make a hard decision, which was making the movie."
After saying no to a flurry of producers, they found a friend in Moctesuma Esparza, an activist responsible for the 1968 Chicano Blowout in Los Angeles and producer of Gettysburg and PBS' Villa Alegre. By August 1995, just five months after her death, Gregory Nava (El Norte) was announced as director for Selena."The pain and the loss and the grief was palpable," Esparza told the San Antonio Current. "And we were sensitive to that. From that point of view, it was a constant remembering that there were real people who were here who suffered tremendously and had real pain that we needed to respect and honor."
Filming began for Selena a year later, with then-unknown Jennifer Lopez as adult Selena and a young girl from Harlingen, Rebecca Lee Meza, as the childhood singer, picked at a casting call in San Antonio.
"I did some research and had the idea that what was possible was to make a movie about an American family that was seeking the American dream," said Esparza. "And was devoted and committed and worked together and managed to achieve that success."
The movie takes a long retrospective look at Selena's life, the type of macroscopic biopic that is now out of vogue. Beginning with Abraham Quintanilla's teenage music career flickering out at Lerma's on the West Side, Gregory Nava walks the audience through Selena's childhood and meteoric rise, ending on a montage of loss set to "Dreaming of You."
One poignant scene sparked the enduring catchphrase of Selena culture. After the family's tour bus gets stuck in a ditch, a pair of cholo stereotypes pitch in to help, bashfully offering "Anything for Selenas!" Aside from rocketing Jennifer Lopez to stardom, those three words may be the most memorable impact of this movie on Selena's life.
By establishing the narrative to the tune of $60 million at the box office, Selena widely cemented the legacy of the Tejana icon.
Courtesy
Ray "Tattoedboy" Scarborough's portrait of Selena
Richard Harris, who researches the relationship between media and memory at Kansas State University, describes the blurring of fact and biopic fiction in the brain.
"Research on this kind of thing shows that dramatic accounts of real events — in people's memory — get very muddled in the memories of the real event," Harris said. "It's hard to keep the details straight. For people not old enough to remember the events, that movie becomes reality in their memories."
A quick experiment in memory: Picture Selena at the 1994 Grammys, trophy for Best Mexican-American Album in hand. Bright red lipstick, a tower of hair, shimmering white neck strap dress — are you thinking of Selena or J-Lo as Selena?
Harris also cites a relevant phenomenon known as the "parasocial relationship" — the way in which individuals feel connected to celebrity figures they've never met.
"All of us have relationships with real people, but what isn't as widely known is that we develop relationships with media figures," said Harris. "People have close relationships with characters on Friends and they're not even real. That's the basis for the really strong reaction that people show particularly to the death of a beloved figure."
Immediately after Selena's murder, a culture of mourning swept over San Antonio. Vigils popped up at South Park Mall and Sunken Garden Theatre. At San Fernando Cathedral, a bilingual morning mass was held for the fallen star, complete with mariachi choir.
Al Rendon, a San Anto photographer who shot the cover to Selena's '92 album Entre a Mi Mundo, recalled a palpable collective sense of loss.
"People were asking for images. It was a blur. It was so tragic and disheartening, I didn't know what to do," Rendon told the San Antonio Current. "You just want to grieve for a while. And it was hard because I was getting approached by newspapers and people wanting interviews, people wanting images."
Along with mourning came the economic impact of remembering Selena. Rendon sent out photos that made their way to People En Español and The Smithsonian. In San Antonio, supporters flocked to the Selena Etc. boutique on Broadway (now a CD Exchange), picking up goods from the Quintanillas' salon and clothing store.
Shirts and record sales skyrocketed in the morbid, reliable sales bump that eerily accompanies celebrity death. Released in July of 1995, Selena's crossover English album Dreaming of You was the first posthumous release to top the Billboard chart, selling a white-hot 175,000 copies on its first day.
Selena's bright career and tragic death at 23 offered a form of immortality in pop culture iconography and fan memory in SA. On South Flores, Chris Montoya's 2012 mural of Selena combines the singer's face and flowing hair with the patterns of Mexican serape blankets. "For Mexican-American kids, listening to Selena is a memory that almost everyone shares here," Montoya told the San Antonio Current. "Having that, I knew I needed something to tie in the community and have the community feel something for what I was gonna paint."
Ray Scarborough's work plays with the reverent theme more boldly, merging the Tejano queen with Cadillac grills, tattoo sleeves and other images of street art. "I grew up as a punk rocker, but in our household she was always around, whether my family was listening to her, or at parties," Scarborough remembered. "She was a part of the culture. And I like street art and graffiti art, so that's just what comes out naturally."
For Scarborough and his generation, Selena's pop also serves as a connection across the generational divide. "I grew up with a bunch of punk rock guys but whenever a Selena song came on, we'd lose our shit," he said. "It's a weird thing, but at the same time, it's what our grandmothers listened to and our parents loved. I listened to the Descendents and NOFX and stuff like that, and when Selena came on, my parents and my uncles, we would all dance and have a great time."
"The fact that she is Tejana, which is an American identity, is very important to point out," added Esparza, the veteran activist and movie producer. "She didn't speak Spanish. Her ancestors had been in Texas as long as Texas was Texas. She was projecting an American culture."
Breaking into the mulleted, male world of Tejano music, and then breaking into the landscape of American pop, Selena set a precedent for women in the industry.
"It was very hard for a woman to make it into the Tejana scene and she totally did it and knocked down all these walls for female artists, even in rock scenes," said singer Nina Diaz. "She's right up there with Joan Jett or Billie Holiday. All these women that had things against them, whether it's color or race, they still did it in a masculine world."
Barely an adult, Selena had made immense strides — tidied up the rounded R's of her Texas accent to sing in Spanish, transformed a genre, opened a pair of clothing stores and married her love. But 20 years ago she lost so much more — film and hip-hop crossovers, building a family, career lulls and smash hit reunion tours.
In other words, a life. And Selena fans, holding onto a fond family memory or an eBay-bought tube of discontinued Chanel Brick lipstick, endlessly dream of what could have been.
And who could blame them. Dream on.