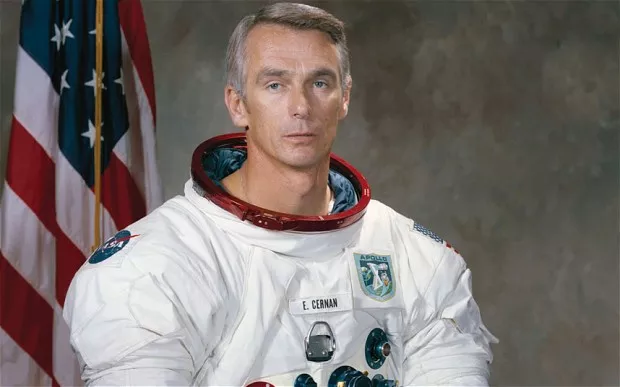 NASA
Gene Cernan's career in the NASA space program is documented in the film The Last Man on the Moon.

After the release of his book The Last Man on the Moon in 2007, which chronicled his career and role as the last astronaut on the moon during Apollo 17 in 1972, Gene Cernan was pitched a lot of ideas to turn his story into a movie. Over the next few years, however, Cernan was never really interested in pursuing something for the big screen. He changed his mind when director Mark Craig and producer Mark Stewart shared their vision for a documentary.

"At first, I assumed they were trying to sell me swampland in the desert," Cernan, 82, told the Current during a phone interview from his home in Houston. "I was reluctant, but I said, 'Let's go ahead and do it.'"

In the documentary The Last Man on the Moon, Craig revisits Cernan's time as a NASA space commander and how his career ultimately affected his life back on Earth as a husband and father.

The Last Man on the Moon is available on Blu-ray and DVD Tuesday, April 26, 2016.


Brent N. Clarke
Retired Apollo astronaut Gene Cernan attends The Last Man on the Moon screening in New York in February.
What was your experience like making a documentary on your career?


Well, I call Mark Craig "The Dreamer" and Mark Stewart "The
Doer." I didn't know how the film was going to be received, but we had a great
team from the U.K. They stuck a microphone on me and said, "Think out loud." I
started to think, "Why me?" That's been a question I've asked myself all
through my days in the space program. Why was I chosen? Why did I get to fly?
Why did I end up being the last man on the moon? Why are they doing a film on
me? It's a question I've never been able to answer myself.


Do you think you will always be the last man on the moon or will NASA invest in another trip sometime in the future?


We will not only go back to the moon, we will go to Mars. We
will not just see new lunar landings, we will see habitats put up in order to
learn more about what it's going to take to go to Mars. I think we'll be able
to reap some of the benefits there are from having gone to the moon. Yes, we
will go back to the moon. I wish it was sooner than later. Quite frankly, I
thought we'd be on our way to Mars by now.


Last October, retired astronaut Scott Kelly broke the record for consecutive days spent in space by an American astronaut. What are your thoughts on what he was able to accomplish?


God bless him. That year went pretty fast, to me at least. I
read that he would've stayed another year if they asked him. I sent him a note
and said I certainly didn't want to belittle what he did because I respect him
and it's a great achievement, but I said, "Rather you than me!" Once you've
gone to the moon, it's not enough to stay home. But going round and round in a
circle for a year [on a space station like Kelly did] is like staying home. But
it is a great accomplishment. If you want me to go back to the moon, I'm ready.
Give me a spaceship and I'll be on my way. But 300 days going round on a space
station? I'm going to claim I'm too old for that.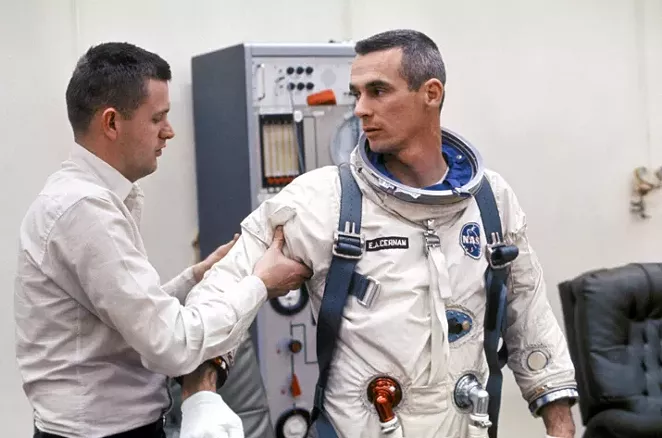 Courtesy
Astronaut Gene Cernan was the last man to leave his footprint on the moon during the Apollo 17 mission in 1972.
The 30-year anniversary of the Space Shuttle Challenger disaster was this past January. Was the Challenger disaster something that could've been prevented?


It could've been prevented if we were a little smarter or
done things a little differently. We never should have launched on that cold
day. As always, we were pushed by the space program and by cost and schedules.
It cost us money not to launch. It cost us money to sit on a [launch] pad for a
week or so or until the weather warmed up. We've always put safety first, but we've
stretched it on many occasions. In the film, [retired NASA flight director]
Gene Krantz said, "Risk is the price you pay for progress." You can't really
say it any better than that.


When you think back to you final trip to the moon, what do you remember most about it?


I came back with the memory of looking back at the Earth, its
overwhelming beauty, logic purpose and being surrounded by this three-dimensional

blackness beyond your conception. Taking that last step was an extra perk on
the end of a mission like that. It was significantly important for me at the
time. I sort of played the role of the underdog for most of my time in the
space program and ended up spending three days on the moon. I proved to myself
that I was just as good as anyone else.