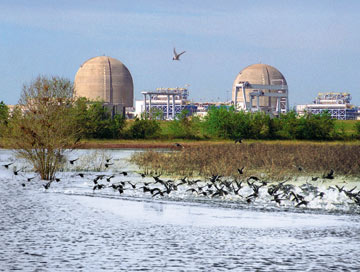 By Roland James
Despite their supposed conservatism, which usually means local, state, and decentralized solutions, John McCain and Sen. Kay Bailey Hutchison are calling for many more nuclear power plants in the U.S. ('Texas poised to lead nuclear renaissance' by Sen. Kay Bailey Hutchison, August 10 2008).
The nuclear industry in the U.S. is the most nationalized and centralized industry in the United States. The federal government has provided billions of dollars in Nuclear R&D since WW2, enriches the uranium, insures and limits the liability of nuclear plants, and handles the nuclear waste.
The only thing it doesn't do is own and operate the plants, which the government does do in France.
Why is it that the only thing that conservatives admire about France is its nuclear program, which is a quintessential example of nationalized socialism?
Obama's energy speech in Lansing Mi on August 4 was full of specifics, in contrast to McCain who now just trumps drilling for oil off-shore and nuclear power, which isn't helpful in transportation or lowering the price of gasoline until battery technology improves â?? and congressional Republicans vote against spending on that, as well as improved efficiency standards and renewable energy portfolio standards.
Installing and maintaining solar water heaters on every rooftop where hot water is needed could be a decentralized and local solution that would save 2000 to 4000 kwhrs/year per residential installation. It would also keep energy dollars and good jobs in the local community.
This is one paragraph from Obama's speech:
"George Bush's own Energy Department has said that if we opened up new areas to drilling today, we wouldn't see a single drop of oil for seven years. Seven years. And Senator McCain knows that, which is why he admitted that his plan would only provide "psychological" relief to consumers. He also knows that if we opened up and drilled on every single square inch of our land and our shores, we would still find only three percent of the world's oil reserves. Three percent for a country that uses 25% of the world's oil. Even Texas oilman Boone Pickens, who's calling for major new investments in alternative energy, has said, 'this is one emergency we can't drill our way out of.'"
And right now, nuclear power has no connection to dependence on foreign oil â?? oil "moves" America, it doesn't "light it up" any more.
But what about the nuclear power? At least, it doesn't emit carbon dioxide.
Does Obama oppose the "use of nuclear power"?
No. But he is more cautious about expanding nuclear, which would require significant federal spending, say most analysts than McCain.
Says Obama, "I don't think that we can take nuclear power off the table."
Yes, we shouldn't as we deal more and more with the converging catastrophes of Global Climate Disruption and Global Oil Peak/Depletion.
If we want to have nuclear power, however, we will have to have a government "priesthood" like France â?? not connected to profitability â?? to deal with its proliferation and safety concerns.