Artifacts

News and notes from the San Antonio art scene
---
Move 'em on head 'em up
The RC Gallery artist potlucks swing back on to the scene this month at RC's new location, 222 Roosevelt. The Outdoor Whirligig Show, a drive-by art event for the summer heat wave (BYOA/C), opens July 10, and the potluck is July 24, featuring music by sculptor Ken Little, "two special art world mystery guests" (our fingers are crossed for Linda Pace and Mike Casey), and the band AKA Rodeo HO HO! 6-10pm. May we suggest a cooling Jell-o salad?
---
Though they're disapprovin' keep them doggies movin'
The City arts funding process may take a little longer this time around, but that shouldn't delay the start of the new funding cycle `see "Clear as mud," July 1-7, 2004`, says Office of Cultural Affairs director Felix Padrón. Following the Esperanza Peace and Justice Center's suggestion at a June 29 Community Arts Board meeting that OCA might be violating the Consent Decree that requires it to adhere to specific guidelines and follow a published method, OCA, in consultation with the City's legal eagles, has decided to "take a step back in the process," says Padrón.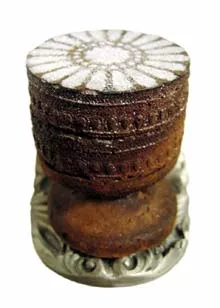 Bite-size faux pastries, made of compressed coffee grounds and other near-food substances, by Yolanda McKay are on display at Three Walls Gallery in the Blue Star complex for Contemporary Art Month. For more CAM news and reviews, see the Web exclusive, "Too Good to Eat."


The CAB is scheduled to meet again on July 27, at which time Padrón will ask members how they would like to proceed. Options include making their funding recommendations to City Council based on the Peer Panel scores, OCA staff recommendations, comments, and the appeals heard at the June meeting; or making preliminary recommendations and allowing for another round of appeals by unhappy organizations before forwarding recommended funding levels to the Council. Groups such as Esperanza and the Witte Museum that scored poorly and have been recommended for smaller amounts of funding than they received in the previous cycle, and the San Antonio Symphony and Metropolitan Ballet, which were recommended for zero funding, are hoping for a major overhaul of the Peer Panel and OCA staff recommendations.

At the June 27 CAB meeting, members of the West Side Arts Coalition also cited concerns over the Peer Panels, which scored applicants on artistic merit and audience development, charging that members were unprepared and that there was no adjustment made for differences in scoring between the visual, performing, and multidisciplinary arts panels.

"If the arts community is not clear, or is not comfortable," says Padrón, he wants to give CAB the time and opportunity to address those concerns. Not too much time, though: City Council must approve the CAB's recommendations before they can be implemented in time for the start of the two-year funding cycle on October 1.
---
Soon we'll be living high and wide
There's still time to catch three Cactus Pear Music Festival concerts: Bach & Forth on July 15, featuring music by Tartini, JS Bach, and Debussy, among others; Double-Dipped on July 17, with a program including Menotti, Grapelli, and Sarasate; and Double-Dipped reprised, sans piano, for free on July 18 at the Mission San Jose, featuring the Cactus Pear Young Artists fellows. Tickets for paid shows are $20 adult, $8 students, and include a catered reception after the concert with food by Biga on the Banks and the Lodge on July 15, and Prickly Pear, Cementville, and Entrées on July 17. For more info, call 824-5377, or visit www.cpmf.us.
Compiled by Elaine Wolff