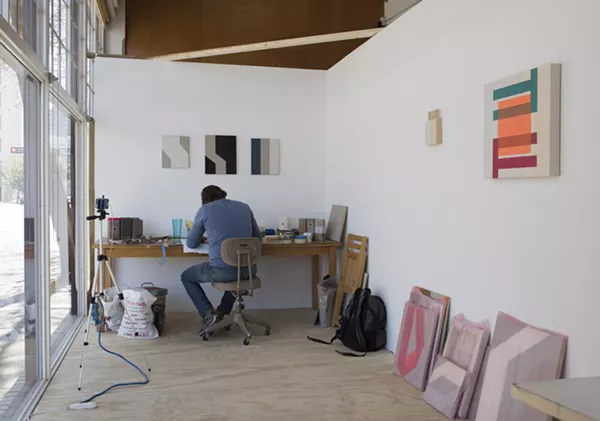 Adam Schreiber
Benjamin McVey, "Open," originally commissioned and produced by Artpace San Antonio
A Houston native who earned a BFA in communication design from Texas State University in 1995 and an MFA in studio art from the University of Texas at San Antonio in 2012, artist Benjamin McVey set up shop in Artpace's Main Space in late January and will remain there through April 30. Formerly known as the Window Works gallery, the Main Space is the organization's most accessible area due to its large storefront windows — a reminder of the building's former life as a Hudson automobile dealership in the 1920s.
As the first artist to be featured in the renamed space, McVey has recreated his home studio within the gallery's walls for an exhibition aptly titled "Open." For McVey, it's a way to reach out to the community and bring transparency to the art-making process.
"I set this up as an open studio but it will evolve into a work space," McVey said during a media preview. The artist will be live streaming throughout the course of the exhibition, giving the project a performance aspect. He says he plans to put up a dry erase board outside of the gallery windows so viewers can communicate with him as he works. The goal is "to have a dialogue, in a very analog way, in this digital world that we live in."
The idea for the project was inspired by McVey's time spent living in New York City, where he observed pedestrians interacting with ongoing construction. He says there's usually a two-year incubation period during which he thinks of ideas and jots them down before "somehow they bubble to the top."
As for his recent paintings, McVey found inspiration in bricks and various domestic materials. Several of his large abstract paintings are on display in the Artpace conference room. "I had these three bricks that sat in my studio for a really long time and I started thinking about how to take this very domestic thing and change it, or look at it differently, or break it apart," he said.
"Open"
Free, on view through Apr. 30, 
Artpace, 
445 N. Main Ave., 
(210) 212-4900, 
artpace.org.