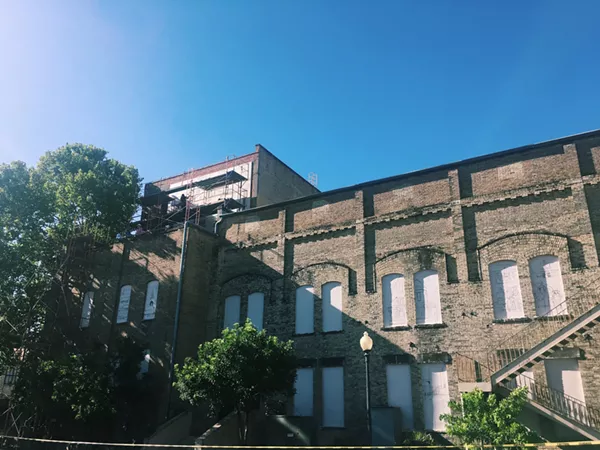 San Antonio welcomed world-renowned Spanish artist Daniel Muñoz this morning as he previewed a new mural commemorating the city's tricentennial.
The community was invited to attend a meet-and-greet breakfast with Muñoz at Magik Theatre as the artist took a break from designing. Although unfinished, his artwork has begun to take shape to celebrate key aspects of San Antonio's history.
"This part of the process is the hardest. We have to see how the composition of the artwork works with the building," Muñoz shared while surveying his work. "I've started to mix different aspects of San Antonio, such as anthropology, immigration and racism, as well as the hierarchy of popular architecture from taco shops to cathedrals. They are symbols of the city and of Texas."
The Hemisfair mural was developed by Public Art San Antonio with the Cultural Office of the Embassy of Spain. The project was able to move forward after months of international exchange with the Spanish art office Ink and Movement, as well as with collaboration with San Antonio's Luminaria, the city's only multi-arts festival organization.
"It's super exciting to be working on a tricentennial project that is connecting Spain and San Antonio," said Kathy Armstrong, executive director of Luminaria. "PASA worked with the Spain-USA Foundation to find an artist whose work resonated with an interest in our history and culture. I think it's fabulous. It's really thrilling to see Daniel work."
Muñoz's art has been featured in installations around the world, including in Europe, the United States, South America, Asia and the Middle East. Stay tuned for when he completes this piece.
Stay on top of San Antonio news and views. Sign up for our Weekly Headlines Newsletter.