San Antonio artist Ethel Shipton is one of our most driven, talented and ubiquitous resources. She has worked at and with almost all of the museums, galleries and architectural firms in the city, and is currently the production manager for Luminaria. Born and raised in Laredo, Ethel graduated from the University of Texas, hung around Austin until she moved to Mexico City for a stint, and eventually ended up here, living at the unofficial art compound in Southtown. She and her husband, the artist Nate Cassie, make up one of San Antonio's most dynamic power duos. He's from Wisconsin, she's from Laredo, and they refer to themselves as "Bean and Cheese." I caught up with Ethel at her studio.
Do you remember your first exposure to art?

My first exposure, in many ways, was going through the markets in Nuevo Laredo and looking at all the handmade objects, the changing of the objects from season to season, and the diversity of materials — from metals to ceramics to glass works to textiles. My first exposure to art history was a survey book with large color plates of all the masters. My sibling and I would look through that book over and over again at my grandmother's house. We were around the ages of 7 to 10 years old.
What was it like growing up in Laredo?

Growing up in Laredo was great because you lived in a place where everyone was connected in some way. You were either related or your parents or grandparents had gone to school together. You lived on an open border between Mexico and the U.S., where you lived between two countries, two cultures and two worlds.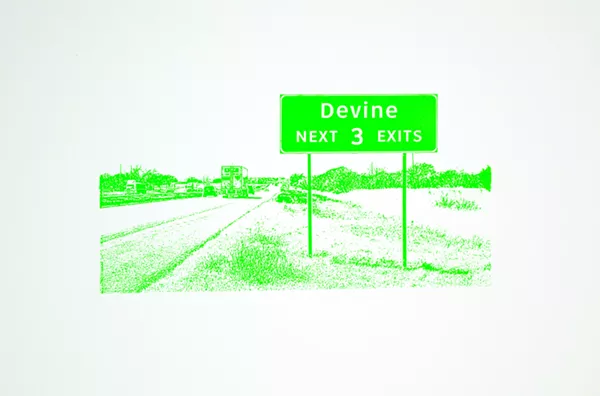 Courtesy of RUIZ-HEALY ART
Was there a moment or an artwork that made you decide you wanted to be an artist?


I don't know if there was one given moment ... I suppose the first time I thought it was possible to live as an artist was after getting into to a show at Mexic-Arte [in Austin]. I think I was 19 or 20.
Who were some of your early influences?

One of my very early influences as a small child was my maternal grandmother, who was a teacher. She was also able to reupholster furniture, sew you a shirt and teach you how to make a hand-sewn doll. As for some of my early fine-art influences, I was looking at Cy Twombly and Hans Hofman.
If you were asked to describe your current work to someone, what would you tell them?

My work today often deals with the idea of having just a minute to hold in your hand and what that might look like.

What's your work schedule like?

My work schedule is not rigid, meaning that I often work with ideas that I carry around for weeks or months.

Do you agonize over your pieces, or do your ideas flow out of you?

Well, I start with an idea that I need to have sit for a while, to see and think about all the angles ... So I may carry the idea around in my head for months and sometimes years. And then, other times, the idea comes quickly and certainly.

I'm not a big fan of humor in art. Okay, maybe I am. Do you find some challenges in finding an audience for humor?

I don't worry about audience — I just [create] work that allows one to see the world the way I do.


Have you ever taught?


I've been involved in [education] programs with Artpace and Fox Tech, which I loved doing, but I haven't done any real teaching.
If you could change the gallery system, how would you do it?

Wow ... not sure how to change it. But it would be cool to work with a curator on a project that is then partnered with a gallery. I don't think this scenario would change the market necessarily but [it might] open up the market.

What advice would you give to struggling young artists?

Work hard, have fun and try not to hurt anyone. Say yes more than you say no. And get involved in your community — it often leads you to a bigger world.
If you could own any piece of art, what would it be?

This is a hard question — one is not enough. But the list includes [works by] Modigliani, Thomas Hart Benton, Cornelia Parker, Mark Bradford and Luis Jiménez, to name a few.

You're married to another accomplished local artist. Has there ever been any competition? Do you seek advice about each other's work?

We don't compete with one another; we are truly happy for one another when one of us has some success. I mean, if Nate gets a grant or a residency — that just means I get to go on the ride too. As for advice, we usually only seek each other's advice on the structure or mechanics of a piece. We work pretty separately, as far as concepts and ideas ... We collaborate on our Vacancy Projects (vacancy-sa.org), which has been a series of interventions — one day-shows or events in empty spaces throughout the city. We've had about 11 of these over the past five years and our most recent was during last year's Chalk it Up, featuring works by 10 previous Artpace residents. There's an ongoing leg to the project through the hashtag #vacancy on Instagram and Facebook. They're open pages that ask you to look at the world around you and find artworks as you move through life — preferably things not intended to be art.