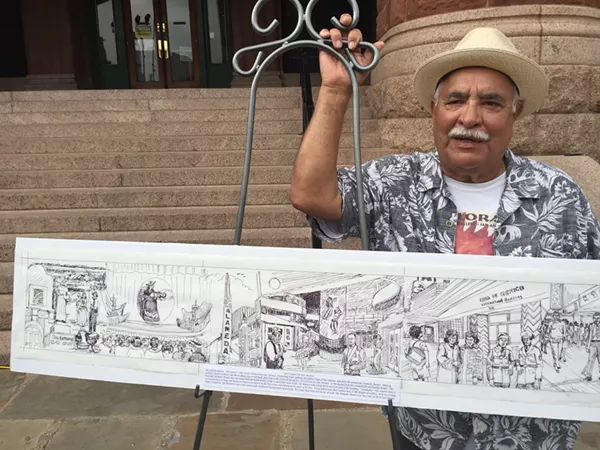 Monica Simmons
Joe Lopez stands beside his rendering of San Antonio's "the good old times."
Thursday morning on the county courthouse steps, Bexar County Judge Nelson Wolff revealed the four mystery artists who will paint gigantic murals along the Sand Pedro Creek Culture Park. Each local artist — including Alex Rubio, Adriana Garcia, Katie Pell, and Joe Lopez — will create murals that represent a different aspect of San Antonio history as a part of the San Pedro Creek Improvement Project. They will reveal their final work next year during the city's tricentennial celebrations.
The project's public art curator, Carrie Brown, said that she wanted the project to "remember what was once there," while also "bringing the community back together."
Chicano movement artist Lopez said that the hardest part of the project was figuring out how to fit into the theme. He stood beside his four-foot concept sketch and explained that he finally settled on depicting a "humble time" during the 1930s and 1940s. Lopez's mural will run along the west bank of San Pedro Creek between Travis and Houston Streets.
Rubio said his abstract design of blue and turquoise waves was an ode to south Texas water. It will mirror Lopez's on the west side of the river.
Garcia's mural will depict the confluence of Spanish and indigenous cultures, and show the natural beauty that attracted both groups of people. She will paint the 120-foot history between Santa Rosa Street and Martin Street.
Finally, Pell, who was not able to attend the ceremony, will use her 50 feet of wall space to commemorate the flora and fauna that once flourished along San Pedro Creek.
The Sand Pedro Creek Improvement Project was spearheaded by Bexar County and the San Antonio River Authority, along with the City of San Antonio. The project aims to not only reflect the creek's history, but also improve flood control, restore natural habitat, and promote tourism.