Roberta Barnes Photography
Elizabeth McGrath, Broken
For its 25th anniversary, Artpace looks back at the beginnings of its now internationally-renowned residency program. Its latest opening will feature two early alumni of the program, San Antonio artist Alex de Leon and artist turned psychotherapist Elizabeth McGrath.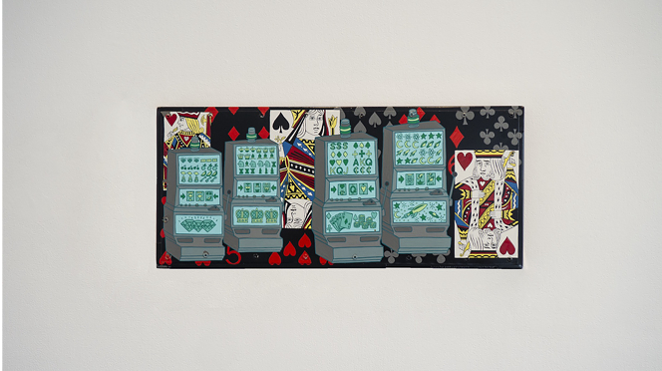 Courtesy of Anna and Jeffrey Weissman
Alex de Leon, They're supposed to be going to meetings for that
A retrospective of de Leon's work will be presented in the Hudson Showroom, showcasing the variety of his output over the course of his career. Perhaps most well known for his ceramics, de Leon – who died in 2012 – also contributed design work to film and television productions including
The Bob Newhart Show
,
The Tracy Ullman Show
,
Six Degrees of Separation
,
Reversal of Fortune
and
Truth or Dare
. In his practice, he sought to elevate low art to high art and often used iconography including beer cans, bottles, skulls, vehicles, cigarettes, night clubs and drug culture.
Roberta Barnes Photography
Elizabeth McGrath, please watch your step
Now a licensed psychotherapist based in Boulder, CO, McGrath returns to San Antonio to present a selection of work originally created for her 1996 Artpace residency. Playful pieces on display will include
Broken
, a wooden chair encased in netting that is moored to the ceiling, as well as carefully placed bouncy balls that were integrated into her original residency exhibition. There's even two of the O.G. balls embedded in the ceiling of the Artpace lobby.
Free, 6-8 p.m. Thursday, September 5, Artpace, 445 N. Main Ave., (210) 212-4900, artpace.org

Get our top picks for the best events in San Antonio every Thursday morning. Sign up for our
Events Newsletter
.