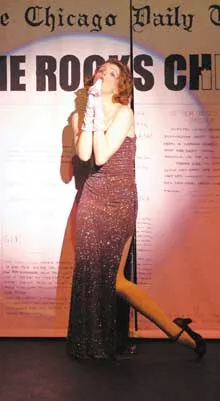 Stephanie Elbel, top, is delightful as the murderous waif Roxie Hart, while Anne Gerber, bottom, provides a tour-de-force of vaudeville kicks and splits as Velma in the Vex's production of Chicago.
The Vex's Chicago puts its best pelvic thrust forward
It's a bit of a head-scratcher why the Vexler Theatre chose Chicago to conclude its current season; after two national tours and a recent Oscar-winning film, one might think that San Antonio has seen plenty of Chicagi. The Vex's solid production, inspired by Frank Miller's stylized graphic novels, remains more slinky than inky, but still serves up Kander and Ebb's intoxicating brew of vaudeville, cabaret, and German expressionism-lite. The real star of the evening is Michelle Pietri's inventive, sexy choreography, which, while acknowledging its roots in Bob Fosse's original staging, manages to generate some surprises of its own. The famous opening number, "All That Jazz," features so much grinding and thrusting that "All That Ass" would be keener truth-in-advertising, and boy, are we not complaining. An enthusiastic cast gyrates its way through Pietri's steps and Ken Frazier's generally deft direction.
The originally tepid reception of Chicago in 1975 has always been one of the mysteries of Broadway, especially given the revival's ecstatic reviews two decades later. Were the hippies really so pooped after the revolution that they couldn't enjoy this skewering of the American cult of celebrity? The plot follows the waif Roxie Hart (a delightful Stephanie Elbel) as a two-timing Hausfrau who shoots her lover dead; her stirring tale of deception, fornication, and the convenience of handguns bumps double-murderess Velma Kelly (Anne Gerber) from the headlines, much to Kelly's disgust. Both women solicit (ah, just the right word) advice from celebrity lawyer Billy Flynn (Roy Bumgarner, deliciously unctuous), who launches into a media campaign to razzle-dazzle both the jurors and the audience in his efforts to save Hart from a hanging.
Most of this is narrated through highly stylized song'n'dance, and the lead trio gives strong performances despite some very difficult dancing. Gerber and Elbel, in particular, receive so many lifts and flips that the audience actually gasped in anticipation of Kersplat-The Musical! Kudos also to Gerber for her difficult solo turn, "I Can't Do It Alone," a tour-de-force of vaudeville kicks and splits.
Individual supporting roles were well-cast and played, including Jane Haas as the corrupt, hypersexual prison Matron and A. J. deVoogd as a Pollyanna reporter with secrets of her own. Greg Hinojosa practically steals the second act with his ode to Joe Schmos everywhere, "Mr. Cellophane." Frazier's physical design hoists Christopher D. Littlefield's band above the mayhem, while Tami Kai Frazier's exuberant costumes capture the razzmatazz of the roaring '20s. (Her clever designs for the Ziegfield parody "All I Care About" also demonstrate the importance of strategically placed feathers.)


Chicago
7:30pm Thu, 8pm Sat, 2:30pm Sun
Through May 27
Call for ticket prices
Sheldon Vexler Theatre
12500 NW Military HWy
302-6835
vexler.org



One of the curiosities of the stage production is to point up (alas) the strengths of the better plotted and paced film version. The first act closer, "My Own Best Friend," a static paean to self-reliance by Roxie and Velma, is a surprisingly weak way to bring down a curtain (abetted, I think, by a botched lighting cue). Likewise, a second-act duet between Velma and the Matron decrying the decline of morals ("Class") seems like padding and ends up a show-stopper in the worst sense. Overall, the production could use a quicker tempo, particularly as it crosses the two-and-a-half hours mark. There's just not enough plot to go around.
Saturday's packed opening-night house clearly enjoyed the production, with a standing ovation and cat calls galore, the latter probably inspired by the crotch shots. As crowds pour in for the Vexler, the theater needs, however, to rethink its open seating policy: With all the jostling for the few seats available, a change to reserved seating would continue to keep the murders at the Vex safely, and entertainingly, onstage.