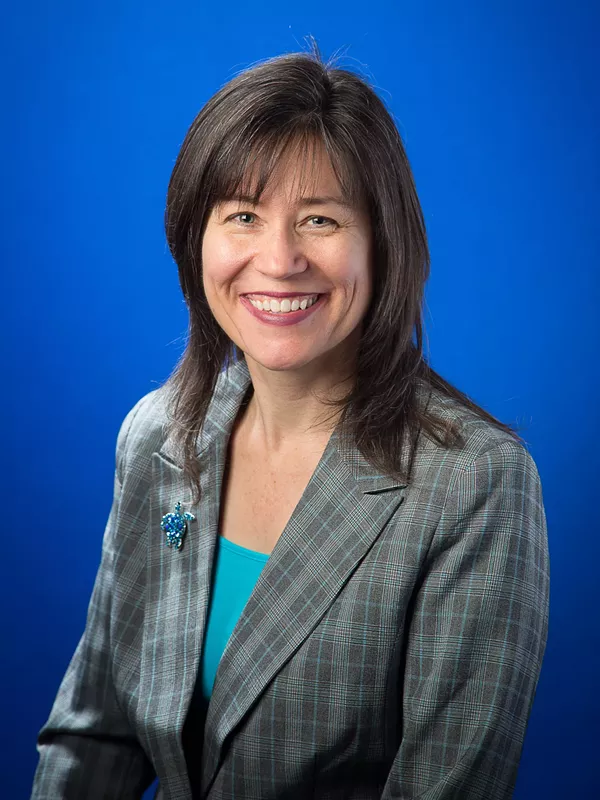 Could you lay out what PASA's role is and how proposals and projects flow through the pipeline?
So Public Art is a division of the Department of Arts & Culture. It started out as a design-enhancement division of Public Works. That was many years ago … Eventually there was some money that was set aside in the bond program. There was a policy approved for one percent of capital funds to be for public art. And that evolved over time to where we were able to pool the funds. [In the 2012 bond], each project — the streets and sidewalks proposition — they took all the money that was in it, which was $337 million, and they pooled the one percent. So we had $3.3 million. Now we could do something. So what we would do is determine which project got public art based on what the staff professionally thought would be viable. This year, with the 2017 bond, we did the same thing: We have the [improvements] propositions and we have the funding pooled for public art. But what we're doing now is we're having community meetings, and we're asking the community where they want to see their public art ... We also have a project that is for downtown. It's called the San Antonio T. And the San Antonio T is the River Walk extension that was built in 1968 [that] kind of tees off into the Rivercenter Mall and into the Convention Center ... We're going to be doing a project where all the community connects to downtown. So let's just say we want to do a public artwork that will be informed by Comanche Lookout Park and what it means to our community ... And what we want to do is come up with an artwork that represents that story ... and bring that into the San Antonio T and debut it and let everybody from the community come downtown and see it, let visitors see it, to know that there's more to San Antonio than the River Walk.
How is that vision presented to applicants?
The way an artist would get involved is they would apply through our open call annually ... they put together their portfolio and submit it. We've been doing that for the last six years.

So they're not submitting their work to be considered for a specific project.
Right. They submit, they get on a pre-qualified list, we have staff that review that, and we have three different categories: established artists, mid-career artists and emerging artists ... And there's also a curated list [assembled by our] Curatorial Committee. And that Curatorial Committee is made up of curators from many of the institutions in San Antonio ... some arts patrons and such. And they come up with artists that are significant to San Antonio who might never apply on an open call. So they make a list. And both those lists we take to the Public Art Committee and to the Arts Commission, and the City Council approves them ... Then when there's a project, we work with the community to determine what it is that they might want. So let's just say they want a sculpture. Then we would look for artists that meet that kind of criteria ... Sometimes we'll have a selection panel that will include neighborhood folks and other interested stakeholders, depending on the project.
And then once the selection is made, how does the back-and-forth go between the selected artist and you guys?
So once the selection is made and it's approved by the Arts Commission, then our Public Art Project Managers would be working with them to go back to the community, talk to them more about the concept and what would they like to see. And they would come up with an idea and they would kind of vet that. And so then the concept goes back to the Public Art Committee for approval. And then they keep working on it until they get a final design. And once they get a final design, they go back through those committees, and the Arts Commission will ultimately bless the final design ... It's a very thorough and rigorous process that takes many, many months to do.
Is there any special consideration given to local artists or is it a totally open playing field?
So to get on the list, it's qualifications-based, which is why we started the whole emerging artist category ... We also started a mentorship program where we teach emerging local artists how to better market themselves for public art opportunities. We teach them what to look for in a contract, how to expect to be paid, how to work with other disciplines. If they're a sculptor, they might need to work with a structural engineer. So we teach them all those things and we give them an opportunity to work on projects as well ... This past year we've had more San Antonio artists that we've given commissions to than we ever have before.
What would you say is the true value of public art?
When you think of the word "public," it's for everybody. And public art going through the kind of process that we go through to engage the community, to tell their stories and connect them to the artwork, it's the kind of thing that lasts and is able to carry that story for future generations. Because public art is meant to last ... Outside art, we have to maintain it, we have to take care of it ... It's also because people look at art and they recognize the culture of a community ... I think public art can tell that story. It can tell about a past, a present and a future — to everybody. And it's free.
What would you pick out as a highly successful public art project in San Antonio?
Most recently, I like the ConRAC at the airport. I think the artists nailed it. They were two emerging artists from San Antonio who went through our mentorship program ... Their concept showed promise, and the Curatorial Committee said, "They're the ones." What made them a great fit for the project was [that] we needed to digitize their work and they already worked in a digital media ... We wanted to do a Tricentennial project and we wanted to do an aviation history project. And they mixed them together in the mural just beautifully.
Do you have an all-time favorite in San Antonio?
I like Open Hand because, to me, Open Hand symbolizes San Antonio as being unifying. Being in Pittman-Sullivan Park, where the MLK March ends, the Open Hand is the symbol of unity and openness, that our community embraces people of every walk of life. And I think that's who San Antonio is.
Any particular hopes or goals for projects in San Antonio?
Well, I'm really excited about the San Antonio T and this whole new way of community involvement. And so I hope that it will not only showcase other parts of the city to our visitors but that people from other parts of the city can come downtown and learn ... It would be nice for us to kind of have that unity. And see that we have really diverse areas of our city that we might just live in, our worlds, [but] we [need] to experience each other. And we're hoping that the San Antonio T does that — bring people together in a location [where] they can learn about each other.
Stay on top of San Antonio news and views. Sign up for our Weekly Headlines Newsletter.