Contemporary Art Month is so big there are almost not enough spaces in which to fit it all. The saturation of art not only fills hidden nooks and crannies but also spills out into the street. For example, Charlie Morris, who rents a second-floor studio in the old Southern Music Company Building, selected 11 artists for the Southern Space Project and allowed them to infiltrate the building's concrete foyers, open floors, and car ramps. Walking in, you are confronted by "Misinterpreter's Arch," a sculpture by Mark Hansen whose formality and vertical largesse is a foil to other more conceptual, spreading installations in the show. A floor above, Georgia Tambasis creates small, abstract landscapes of colored clay that fall out of holes in the wall and congregate along the baseboard. Randy Wallace announces his own sea change by building a coffin from his former performance sets. With that work ostensibly laid to rest, we look forward to what he has up his sleeve. And Morris himself shows sculptural works displayed picnic style, collaborates with sound artists Fatheads of the Deep, and projects a short film made in Hell, Michigan.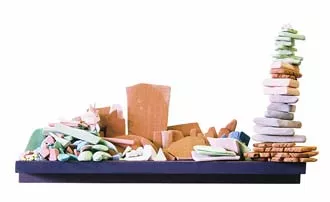 The physical space at the Southern Space Project allows artists to infiltrate the building's foyers, open floors, and car ramps. Above: Georgie Tambasis creates abstract landscapes out of colored clay.
The Alameda Theater's Emerging Artist Series features recent San Antonio College grads Norbert Martinez, Michael Coyle, and Diogo Miranda. All three spent the year concentrating on their portfolios and applying to the School of the Art Institute of Chicago. Since they all have been accepted with scholarships, the exhibition is an indicative statement of their hard work. The L-shaped exhibition space teems with paintings, assemblages, and sculptures of diverse media. Coyle gets kooky with sculpture while his paintings are easy on the eye. On the flip side, Miranda and Martinez seem to thrive on using adversary techniques to spice up their paintings while their sculptures appear to crave order.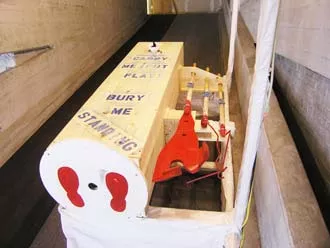 Randy Wallace built a coffin using materials from his old performance sets.
The Downtown Automatic Tour was a day of friendly foot traffic and visits to artist studios popular enough to defy this year's sweltering heat. Many of the artists were familiar from last year, including Ethel Shipton, Lewis Tarver, Riley Robinson, Cakky Brawley, and organizers Katie Pell and Peter Zubiate. One of the most interesting stops was the East Side home and former church site of Reverend Seymour Perkins, an outsider artist who uses whatever is on hand, including table legs and shoe horns, which he carves into anthropomorphic sculptures.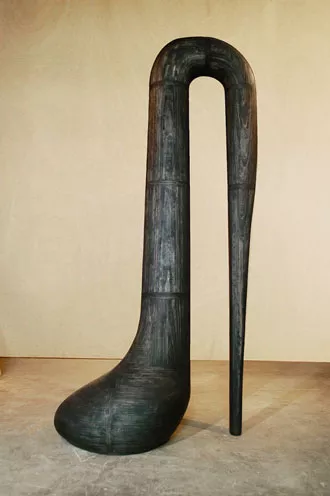 Mark T. Hansen's oil-on-wood "Misinterpreter's Arch."
(Photo by Rusty Steving)
While the days are excruciatingly hot, the nights come alive. Recently The Wiggle Room, a former Piggly Wiggly turned bare-bones music and performance venue, hosted a night of cabaret-style performance by Bunnyphonic, and art rock by San Francisco-based performers Ezee Tiger and Le Flange du Mal, who are part of the avant-garde West Coast music scene. The evening was smartly absurd, shamanistic, and loud.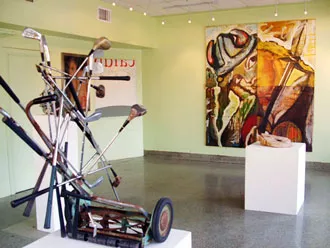 The Alameda Theater's Emerging Artist Series features works by recent San Antonio College graduates Norbert Martinez, Michael Coyle, and Diogo Miranda.
The Southern Space Project
1100 Broadway
Through July 30
Mon-Sat noon-5pm
269-7264

Emerging Artists Series
The Alameda
318 W. Houston
Through August 12
299-4300

Birds in Flight: Eagles to the East
Artist Le Green
Through July 31
224-8175

After a night of aggressive music, there is nothing like a motivating path to rebalance your yin and yang. Le Green of Stone Metal Press is the artist behind a temporary public project
Birds in Flight: Eagles to the East
that dresses out the East Side where she lives. Starting at Cherry and Commerce streets downtown, sky-blue banners with silhouettes of eagles in flight line the road up to New Braunfels Avenue where, unfortunately, the banners' simple designs have to compete with big-box retail hullabaloo. The project also includes public celebrations and activities. In the age of cynical art,
Eagles to the East
doesn't shy away from optimism.
•