Power and destruction fuel multiple late-summer shows
This week's Art Capades is announced not by a gong toll, but by Rae Culbert's sledgehammer smashing through Artpace's front window. It's exciting that Artpace is willing to comply by allowing the destruction as part of their WindowWorks series (445 N. Main and 306 E. Houston, 212-4900, through October 9). The broken window is accompanied by a smashed safe and is surrounded by the accoutrements of a political hangover: cigarettes, wine bottles, and a book on Bush senior authored by Bob Woodward, a name linked to another famous break-in involving presidential duplicity.
An installation view of Rae Culbert's Calamity at Artpace, which references political duplicity past and present.
(Photo by Riley Robinson)
Culbert's accompanying window installation at 306 E. Houston is a color-coded comment on the artist's home country, England, as it rides shotgun with the U.S. The artist merged red, white, and blue into a new shade of purplish pink that covers the windows. Cutouts read "Cor Blimey" and "Devilish Logic," referring to Tony Blair's reaction to the recent London bombings.
Culbert's work reminds me of another politically inspired artist, J. Derrick Durham, who dealt with fascism and mind control in Time Lord: The Secret Life of Sarkov, his July show at C-Art Gallery (1426 W. Craig, 979-6508). Sarkov is Durham's alter ego and has appeared in comics and on radio since 1999, when the artist was living and working in San Marcos. In Time Lord, Durham completely transformed C-Art Gallery, a domestic space run by Claudia Treviño that looks out over a greenbelt near Woodlawn Lake Park. Durham's tall, white-picket privacy fence directed visitors down a hall toward a marked-off room with a black fascist cross painted on the wall. A video of Durham as Sarkov centered the cross. His character, wearing black gloves and a chicken hat, used inane gestures meant to enthrall, but they made him more the Accidental Fascist type. A grinding soundtrack of stretched and woven sounds, unrecognizable as, say, the voice of Condoleeza Rice, slowly ground at your nerves.
Along the fence, visitors could kneel or stand, peek through peepholes, and see videos of Durham in various guises. The most horrific mimicked a cable-access religious character known for wearing wigs and staring out of the screen for the better part of his show. Peepholes are a familiar device but one that has new resonance in today's age of intense Homeland Security, when we have to calculate how much spying is useful and how much lies uncomfortably in the Orwellian zone.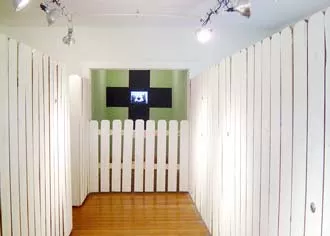 J. Derrick Durham's C-Art installation, Time Lord: The Secret Life of Sarkov, also dealt with the power of manipulation and surveillance.
Justin Boyd, like Durham, manipulates and stretches sound in Pulling a Folk Thread through the Ether Quilt at Sala Diaz (517 Stieren, 389-3121, through August 21). This body of work is nostalgic for the arts- and-craft aesthetic, and underdog status, of 19th-century Shakers, American Indians, and African Americans in the face of the industrialization that would eventually lead to Wal-Mart. On opening night, Boyd, in disc-jockey persona, wore a crocheted jumpsuit, spun documentary records of "folk" songs and chants, and raised anonymous folk personae to star status. Behind him, a black-and-white video showed his friend's hands crocheting meditatively.
His sculptures work better than his drawings - not in concept, but craftsmanship. It is hard to compete with a beautiful piece like "The Pull of the Near, the Draw of the Far (Vocal Butter Mix)," a wooden box with a tall handle protruding and rhythmically self-churning in a ghostly manner while soft sounds emanate, strung together into a collective sigh. It works as a hypnotic metronome for the rest of the show. An invented device - a teasong - fills the room with medicinal odors and looks like a gin mill. This show is full of important works, and it is appealing, but also difficult, to search for America's Golden Age in the face of our treatment of those same communities the artist admires. The artist juxtaposes a mythical time of better values and Americanism with today's uneasy nationalism. All of these shows are grappling with power, pride, destruction, and emptiness. •