The Smithsonian's senior conservator has a few tips for saving your heirlooms
A few years back, the Smithsonian recreated itself as a populist institution. Take their New Braunfels affiliate, the Museum of Art & Music. It currently hosts an exhibit paying homage to the long-running TV show Austin City Limits. Arresting, large-scale, black-and-white photographs of k.d. lang, Johnny Cash, Stevie Ray Vaughan and dozens of other musical legends in performance hang on the upstairs walls. Downstairs, the original wooden soundstage has been installed and visitors can sit on the ragged upholstered benches. We visited the night of the show's May grand opening, but we arrived late and only a few very-merrymakers remained. The local affiliate, Museo Americano, is planning a permanent exhibit featuring Selena and other Mexican-American pop-culture icons. But the Smithsonian is America's museum, and it wouldn't make sense for it to eschew the modern era in favor of musty dinosaur bones and Shaker furniture.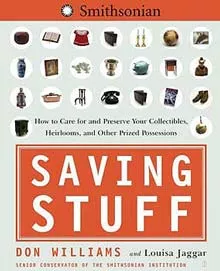 Still, those old artifacts must be preserved, just like your mother's wedding gown and the Kodachrome Polaroids of you in plaid bell bottoms and pigtails. In the spirit of being user-friendly, the Smithsonian's senior conservator, Don Williams, teamed up with family writer Louisa Jagger to publish Saving Stuff: How to Care for and Preserve Your Collectibles, Heirlooms, and Other Prized Possessions on the heels of the enormously popular PBS Antiques Roadshow franchise. Now that we all suspect Great Aunt Jane's ornate gilt chair might really be a Samuel Gragg, we can learn from a master how to preserve it for the next generation.
Saving Stuff
By Don Williams and Linda Jaggar
Fireside
$16, 368 pages
ISBN: 0743264169

Saving Stuff: Smithsonian workshop and book signing
6:30-9:30pm Fri, Jun 24
$30
The Alameda's Koehler Auditorium
318 W. Houston
229-4300
Saving Stuff
is a very straightforward and useful book, with advice on cleaning and preserving just about anything you can dig up in the attic, garage, or Monte Vista estate sale. Wool jacket? It must be clean before you store it because the wool moth can only survive on dirty items. Silver tea service? Don't cover it with plastic wrap. Wooden furniture? Paste wax only; absolutely no oil. Old shellac records? Clean them with a face peel. No kidding. Each object and medium is addressed with simple directions, lists of cleaning and storage supplies, and helpful hints. A glossary defines recommended tools such as moly bolts and monel staples, and several suppliers are listed in the back of the book.
Saving Stuff also includes an extensive section on artwork, although when I tried to follow all of the rules for hanging paintings (avoid direct light, air-vent paths, walls where work could be brushed or bumped, etc.), I found that I had to hang everything above the shelves in my closet.
The only element of the book that seems superfluous is a truly egregious rhyming poem by Jaggar incorporating words such as "fumigated." But in the spirit of Smithsonian's commitment to being a proactive museum, we'll take her last lines to heart: "If you handle your stuff with care, / your stuff need not be a worry / 'Cause for centuries it will be there."
By Elaine Wolff