As San Antonio native Pen Ward discovered, animation born in the USA is usually raised in Asia
History is filled with tales of young, impressionable talents meeting their idols and, inspired by greatness, following in their footsteps: Miles Davis met Dizzy Gillespie and Charlie Parker when he was still a teenager in St. Louis, a college-age Bill Clinton shook hands with President John F. Kennedy, and 12-year-old Pen Ward had breakfast with Matt Groenig. Pen's mother, the artist Bettie Ward, is a friend of a friend of Groenig's and arranged the meeting, which included playing Nintendo with The Simpsons creator and his sons.
Concept illustrations for "Adventure Time," an animated short that Pen Ward is developing for Nickelodeon's Oh Yeah! Cartoons.
Was this the defining incident in Ward's life, the shining moment when he peeked through a hazy future and saw himself as an animator? Maybe, but art was a constant presence in the young Ward's life through his mother, his own drawing, and the common teenage proclivity for animated flipbooks (though Ward eschewed the typical "stick figure exploding" or "stick figure falling off of a building" in favor of elaborate movie parodies). According to Ward, it was just common sense. "As soon as I was old enough to realize that what I thought was a hobby was how other people made their livings, I knew what I wanted to do."
Now 22, Ward recently graduated from the California Institute of the Arts in Valencia, and has a seven-minute short in the works for Nickelodeon's Oh Yeah! Cartoons show. Ward pitched "Adventure Time" to Frederator, an independent studio that produces The Fairly Odd Parents and other series for Nickelodeon, at the CalArts Producers Show. As Ward describes it, the short follows the adventures of a boy and his dog through a fantasy landscape populated by Ice Kings and other denizens of his offbeat imagination (on full display at buenothebear.com) with humor aimed slightly above the heads of its target audience. "It's generic action stuff," Ward says, "but with some ironic humor." Imagine Belle and Sebastian based on a cartoon by R. Crumb instead of Cecile Aubry's books.
What Ward didn't reveal immediately to either Frederator or Nickelodeon was his plan to animate and edit the short himself with the assistance of four friends, also recent graduates of CalArts. When the network learned of this, they were cautious but didn't interfere. Ward went to Hawaii for a week to write the story. He even penned the theme song, which Jonathan Richman is tentatively scheduled to perform. The young artist was about to enjoy an opportunity afforded to very few.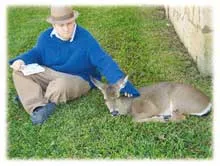 Pen Ward, petting a deer.
That is, until Nickelodeon decided that wasn't such a hot idea. Just as Ward was about to begin work, he was given a choice: Keep production in-house and add three months of pre-production to the schedule, raising the total to six, or work on character poses and designs with his friends and ship the rest of the job to South Korea. "They said they needed us to do pre-production 'for `their` records,' whatever that means. I felt like I was being a pain, so I let them send it away," says Ward.
Nickelodeon's reaction is troubling, but not unusual, in today's animation market. All of the major studios outsource animation projects to South Korea, the Philippines, Taiwan, India, and other countries where labor is cheaper and can be divided among a greater number of animators, greatly speeding up production.
Nickelodeon's reluctance to back Ward's self-reliant production plan also has roots in a 1992-93 debacle involving John Kricfalusi and Ren & Stimpy. One of Nickelodeon's first stabs at original programming, meant to encourage and develop individual styles, Ren & Stimpy was produced entirely by creator Kricfalusi's Spumco studio, which accounts for its approach to backgrounds and color, unlike anything else in the field at that time. By the end of the first season, network objections to content led to the re-working of several episodes, severely backlogging a studio already operating at capacity just to turn out episodes even before interference from Nickelodeon. Ren & Stimpy's schedule grew erratic and by the second season actual animation was sent to Rough Draft Korea and Kricfalusi was removed from the show entirely. Although Kricfalusi decided to send production overseas, pressure from the network more or less forced his hand. Schedule lapses and content flaps weren't worth the personal touch Spumco's production brought to Ren & Stimpy, and Nickelodeon sought further control over the product.
Illustration from "Adventure Time."
So are the sins of Kricfalusi being visited upon Penn Ward? "Adventure Time" promises far fewer, if any, hairball spittings and nose goblins, but fears of a creator-controlled series run amok seems to influence studio policy. Suzanne Williams-Rautiola, a professor of communication at Trinity University who specializes in animation, sees outsourcing as a means of controlling a show's schedule and content simultaneously. "Of course with outsourcing the cost goes down quite a bit," says Williams-Rautiola, "but studios also need a predictable schedule. And if questions of content come up, would there be time to make the changes at a creator-owned studio?"
Studios have outsourced animation projects to foreign shops ever since they decided they wanted a piece of the television market. Large studios such as Disney and Warner Bros. were stymied by the amount of work theatrical shorts required, and they couldn't justify a production of that scale for the smaller return it would bring through television. Smaller studios simply needed an affordable means of producing animation for screens both big and small. By sending the journeyman tasks of painting, in-betweening, and inking overseas, television became an affordable venue for studio animation. Of course the new system came with an artistic sacrifice. Compare the detail and elegant action of Max Fleischer's Superman cartoons of the late 1930s with the flat, static Quick-draw McGraw and the loss of quality and artistic panache is clear.
The butt plays an active role in "Butt Dance," a short animation on Ward's website, buenothebear.com.
But style isn't the only loser when it comes to outsourcing. "There is a stifling of creative nurturing with outsourcing. The old system was one of apprenticeship, where animators would work their way up through the studio," says Williams-Rautiola, referring to the more tedious entry-level jobs. "Now animators are just working on poses and character designs."
On the other hand, outsourcing has been an economic boon for the countries who receive the work, encouraging them to develop animation schools to attract business. In recent years, India has become a major center of animation outsourcing, and both Latin America and the Balkan regions are earning recognition for their computer-animation studios. It's a double-edged sword, and there is no easy answer as to which solution provides the most comfortable cut.
"It was unusual of them to even consider it," concedes Ward. Puzzled, but undaunted, the young animator is hoping to begin work as soon as possible, or at least once the third lawyer he's had to hire finally approves his contract. In addition to working on "Adventure Time," Ward is prepping another pitch for Nickelodeon, thereby increasing the chances of one of his shorts being picked up for a series. With any luck, having proven himself, Ward will finally be able to bring production back under his full control. And if not, well, there's always public access. •
By Aaron Block