Whether you're a lover or a hater, we've got a party for you
Faith (that you'll find a parking spot). Hope (that you'll find your friends at the end of the evening). Love (that nobody expects me in the office before 10 this week). Charity (really).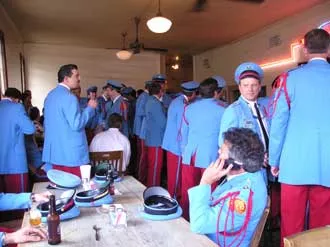 Texas Cavaliers prepare for the long, hot Battle of Flowers parade with a ritual stop at Liberty Bar.
These are the Fiesta virtues, and we practice them hard all week long. Not a devotee, you say? Nonsense. There's a Fiesta for every personality and just to prove it, we've provided crib notes for four of them:
The misanthrope's guide to parades
The Battle of Flowers Parade turns 115 this year, and the old girl looks good despite the PR beating the Alamo legend has taken in the last decade. With the state once-again openly referred to as Northern Mexico and talk of theft and occupation common, you'd think the parade, founded to commemorate the "defenders of the Alamo" and the subsequent defeat of Santa Ana at the Battle of San Jacinto, might wane in popularity in a town that's more than 60-percent Latino. But every year the bleachers are laden with tank-top and short-clad spectators getting the first sunburn of spring, working up a thirst for $7 cups of beer as the floats glide slowly, slowly by.
I've never enjoyed sitting still for long periods of time (too much church-goin' in my formative years) and getting my thighs stuck to metal benches and complete strangers is also a deterrent to attending the parade as a spectator. But the voyeur in me does like wandering the staging area before the show begins, while ROTC battalions practice rifle twirls, ladies in floppy hats secure swags of paper flowers to vintage cars, and tuba players wander the streets in search of their musical tribes. Last year, Davy Crockett made a cell-phone call on Avenue B as the charros and charras rehearsed their horses in the shade of the highway.
If they were armed and so inclined, they could have staged a raid, Butch-Cassidy-style, on the Wells Fargo wagon, which sat on Newell, unprotected. The Keystone Cops were at Liberty Bar, having lunch with the clowns. OK, no Keystone Cops, but the clowns had taken over a long table in the dining room and the Cavaliers were quartered in the bar — a wall of Prussian Blue jackets, caps upended on tabletops — hydrating themselves for the 2.6-mile expedition ahead. It's not a scene for the impatient (it can take a while to get a beer), but it's the best way to feel part of the parade without having to dress up as anything or anyone or, God forbid, walk all the way to Santa Rosa waving and smiling.
Outside our air-conditioned perch, the old neighborhood was transforming into a strange wonderland, with giant, glittering flowers bobbing under the gray concrete overpass. We were about to order a second round when the Oscar Meyer weinermobile rolled by. We downed our cold Modelo and headed out to chase it down, cameras in hand.
The 2006 Battle of Flowers Parade: Friday, April 28. 11:50 a.m. vanguard; 12:45 p.m. parade. Parade route & ticket info: Battleofflowers.org.
Elaine Wolff
The love child's playbook
If you live in the neighborhood, King William Fair begins not with the parade, but with breakfast tacos and coffee. If you are the anxious type, you have to make your own tacos, because you don't want to risk moving the car and having interlopers snag your parking place. After the vittles, you wander down to the corner to watch the parade, cheering at the high-school strum-and-bungle corps and trying to catch the Fiesta medals King Anchovie tosses from his Cadillac convertible as he slowly cruises by, his darling wife beside him, waving elbow, elbow, wrist, wrist, wrist.
Cars swagged and ready to roll, parade mavens take a moment to relax in the shade in the staging area.
After the parade, you feel a little logy; all the blood is down in your belly digesting the eggs and potato, leaving your head in a fog. That's when you return home to have your first couple of drinks: Bloody Marys, the spicy antidote to all that starchy fatigue.
Now then, to the arts-and-crafts fair, but only after pinning on the medals you've accumulated from this and previous Fiestas, including your entire collection of La Tuna gems. At the craft fair, you drunkenly fondle everything from artful wind chimes to tie-dye gym socks to photographs to wooden jewelry boxes, before settling on a cloth handbag, appropriately springlike in its green-and-pink motif, a retro orange rooster adorning its front and back.
Half-past-a-meal and time to eat again: You race down to the Turner Street end of the fair, where vendors are selling comestibles of every variety, but on a theme of fried. You go ahead and get the turkey leg — at this point, that adage about not eating things bigger than your head doesn't apply: If snakes can do it, so can you.
Get a beer or two and head back down to Beauregard and Madison, where a band is playing. No worries if the heat and alcohol are going to your head, everyone else is waving their bones around and doing the Grateful Dead Bear Dance, too.
Now you're thirsty, by damny. Over on King William Street, you crash a party at one of the stately Victorian manses. There're people in every nook and cranny of the house, dancing, canoodling, and, uh, napping. All the mixers are out, so you get a juice glass of tequila and start an inspired conversation with King Anchovie, whose cape is torn at the corners and dragging in Bermuda grass
The next thing you know, you're hunched over a bowl of lukewarm black-bean soup at El Mirador — the only soup left in the kitchen — squinty-eyed and bewildered: How could it only be 10 p.m.? It feels like 4 in the morning.
The 2006 King William Fair, featuring Kinky Friedman as the Grand Marshal and roving emcee: Saturday, April 29. 9:30 a.m. parade. $2 admission. Info: Kwfair.org.
Susan Pagani
The cynic's road to Damascus
It was a sunny springtime day, but that wasn't why the kids at Rayburn Elementary were so excited. King Antonio was coming to pay a royal visit.
"Who the heck is that?" inquired one fourth-grader.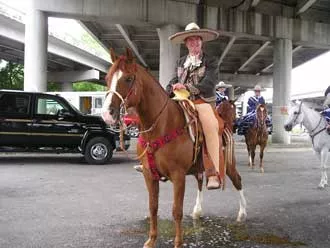 San Antonio Charro Association member Eric Foultz relaxes in the saddle before the parade begins.
The man stepped out of his automobile and strode majestically to the entrance of the school, where we all stood, waiting to see who this blueblood was, and what was in it for us.
I don't remember his plebeian name, but he gave me a King Antonio medallion, which I valued highly and kept in my coin collection for years. King Antonio had shaken my hand and had given me something! I liked his blue suit and his kingly hat with the giant feather sticking out of the top.
I still didn't know what Fiesta was, but I knew it was coming soon.
Several springtimes later, I worked in an office on Dolorosa Street, just south of City Hall. Every springtime, city workers would barricade the avenue between Santa Rosa and South Flores streets, and the carnival workers would arrive with their truckloads of brightly decorated rides — the ferris wheel, the Tilt-A-Whirl, the Himalaya — and set up the contraptions along with the booths where hucksters would soon plot to separate carnival-goers from their money.
It was the not-so-subtle sign that Fiesta was coming, and this time I knew exactly what it was.
One year, Alvin Lee brought his new band, Spirit, to play a stage at La Semana Alegre, the now-defunct annual Fiesta event sponsored by the San Antonio Jaycees. For those who haven't committed the names of the four Beatles to memory (John Lennon, Paul McCartney, Ringo Starr, and, ummm, George Harrison), Alvin Lee was the guitarist and lead singer for another British rock band, Ten Years After.
Alvin had no new songs to play at La Semana, but I fought my way to center stage anyway. I couldn't believe it, only a chain link fence separated me from the man who had the fastest fingers in rock 'n' roll. For two hours, I was in total bliss as he cranked out his best work.
How did I know I had a great time? I couldn't speak for the next three days — my voice was gone. Cheering on a rock star is hard work.
Over the long haul, my favorite part of Fiesta is standing in the middle of La Villita, enjoying the sights, sounds, and smells of Night in Old San Antonio. Stand in one place long enough, and somebody you know will come strolling along.
NIOSA 2006: April 25-28. Niosa.org.
Michael Cary
The do-gooder's ode to joy
Dreaming of an event where your party persona and charity-benefit self can hold hands and skip? Well stop dreaming, because Fiesta is here, and along with it a myriad of ways to donate to charity while getting your groove on. Start spreading your generosity carnival-style, with the music of the Caribbean and South America at Incognito. It's a masked costume ball, so get ready to embrace the Phantom in you as you cut the rug to the live sounds of Brave Combo and enjoy the floor show by Carnaval de San Anto. Money raised at Incognito supports Urban 15, a non-profit arts organization, funding children's classes in dance and drumming and a studio renovation. 8 p.m.-midnight Friday, April 21, La Villita Assembly Hall. $17.50/person, $150/table of 10. 736-1500, Urban15.org.
Slip out of your mask a little early and head over to the San Antonio Museum of Art for the WEBB Party. With a theme like "Classy Kitsch in '06," a silent auction including art and travel packages, and guest Brini Maxwell, you know this is going to be a good throw-down. What's more, the WEBB Party benefits the San Antonio AIDS Foundation, which provides medical and social care to individuals whose lives have been affected by the complications of HIV. 7-11 p.m. Friday, April 21, San Antonio Museum of Art. $50 advance;$60 door. 225-4715, Txsaaf.org/WEBB/.
If you're ready for more fun philanthropy on Saturday (once you shake off that hangover), get back out there for the Fiesta Oyster Bake at St. Mary's University. Carnival rides, yummy food booths, and bands await you. And, as you are savoring a bucket of baked oysters and enjoying the live music, remind yourself that your generous contributions are funding scholarships and other university programs. 5-11 p.m. Friday, April 21; 11 a.m.-11 p.m. Saturday, April 22. $11 pre-sale, $15 gate. 436-3324, Oysterbake.com.
A few days later you may be in the mood for a more chic affair. If so, check out the Cutting Edge Fiesta Fashion Show, put on by the University of the Incarnate Word fashion department. Proceeds from your lunch with the future of fashion, and the subsequent vogue-ing, will go right back into the department as scholarships for fashion students. 11:30 a.m. lunch; noon show. Monday, April 24, UIW Sky Room. Tickets: $100, $75, $50. 829-6013, Uiw.edu.
You may be accustomed to thinking of Night in Old San Antonio as just an opportunity to get drunk at La Villita with fellow San Antonians. And as long as people aren't driving, that's not such a bad thing. But it gets better. Not only can you enjoy 15 ethnic displays, 250 food booths, 20 bands, and several dance troupes, but also for the past 57 years, almost all of the funds raised during NIOSA (by the way, apparently it's "knee-oh-sa" but I'll never change my ways) benefit the San Antonio Conservation Society, which works to preserve historic buildings and customs. 5:30-10:30 p.m. Tuesday-Friday, April 25-28, La Villita National Historic District. 226-5188, Niosa.org.
Finally, choose an evening to attend Cornyation, the disowned child of NIOSA (NY-OSA!) and an event of spoofing and debauchery in equal parts. Sorry folks, no tortilla tossing this year. But on the upside, more than 90 percent of the monies earned at the box office will benefit charity! Funds will go too SAAF, Black Effort Against the Threat of AIDS, Krissie's Kids, and the Battered Women's Shelter. 9 p.m. Tuesday-Thursday, April 25-27, Lone Star Pavilion. Cornyation is being held at Sunset Station this year only, and the organizers expect to sell plenty of standing-room-only tickets. Cornyation.org.
Charitable gift-designated cash still burning a hole in your pocket? Log onto Fiesta-sa.org for more events.
Ashley Lindstrom