Losers and laffs
It's not exactly shocking for a non-superhero* comic to revolve around, well, a loser. That's practically a genre of the medium, from Charlie Brown to Rusty Brown, the hardback, self-published book that is the most recent installment of Chris Ware's Acme Novelty Library. (The volume also offers a small installment of Ware's "Building Stories" series running in The New York Times Magazine.)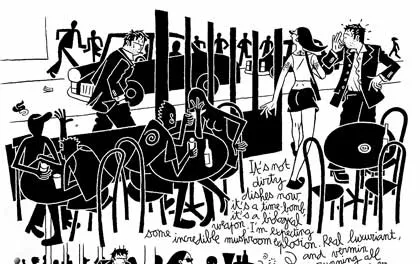 A time-bending page from Killoffer's Six Hundred and Seventy-Six Apparitions of Killoffer.
But it's rare that a protagonist's loathsome state is as phantasmagorically rendered as in Six Hundred and Seventy-Six Apparitions of Killoffer (Typocrat), an autobiographical horror story in which the Parisian author finds his personality festering and splintering off into hundreds of bitter organisms, all beer-bellied and in need of a shave. These Killoffers beat each other bloody, get sick all over, and don't do the dishes; it's a hallucination that might ring true for an unfortunate number of single males.
A more palatable flight of morbid fancy comes from Etgar Keret and Asaf Hanuka, whose Pizzeria Kamikaze (Alternative Comics) was originally serialized in the anthology Bipolar. (Tomer Hanuka's newly published The Placebo Man also springs from Bipolar's pages.) In Pizzeria, we learn that there is a special hell for people who kill themselves, and that it looks and works a lot like Tel-Aviv. Or Frankfurt. Or, probably, whatever place you lived when you "offed" yourself. It's a world of continuous dullness (rendered here in black and white with highlights of metallic gray), where you can drink and shoot pool and hit on girls but can't ever convince yourself there's more out there to get worked up over. Somehow, our hero winds up on a road trip anyway, resulting in an imaginative little parable about living with loneliness.
Mark Newgarden (best known for co-creating the Garbage Pail Kids) could teach Keret and Hanuka a thing or two along these lines, or at least you'd think so from the title We All Die Alone (Fantagraphics). A compendium of a career so experimental it's a wonder Newgarden was ever published anywhere, Alone features single-panel gag strips in which the punch lines range from "Nothing Funny This Week" to "My Mommy wanted a tumor but she had me instead." It's funnier than it sounds, but you do have to see it to appreciate it.
More accessible — in fact, so accessible that it can be enjoyed in any language — is Meow, Baby! (Fantagraphics), by the cartoonist known as Jason. Jason, whose predominantly wordless comics star dogs and birds that walk like men, has written serious stories before, but Meow is an assemblage of really funny short-form gags, some in three-panel format and some running a few pages. My favorites involve dog-vampires and skeletons. Jason's publisher has also reissued a vintage work pioneering the wordless-novel form, Milt Gross's He Done Her Wrong, which reads like a Frankenstein assembly of turn-of-the-century newspaper illustrations.
For surreal humor, though, few cartoonists can compete with "Snake 'N' Bacon" creator Michael Kupperman, whose Tales Designed to Thrizzle (Fantagraphics) proved it is a periodical by hitting issue Number 2. Kupperman mines the form of yesterday's comics, scoring his biggest laughs when lampooning those old ads with clip-and-mail coupons — in Kupperman's universe, though, the ads are selling foreplay-performing robots and penis-removal services instead of Sea Monkeys or plastic-figure armies. It's not all about commerce, though: The cartoonist provides public-service announcements such as "Let's all go to the bathroom!: A message from the bathroom council." Only a loser would ignore that advice.
*Believe it or not, news reports indicate that Marvel Comics is trying to trademark the term "super-hero." Personally, I'll start typing "TM" after that word around the time I credit Borden's for the invention of milk.