Filth!
The long-awaited second collaboration between Dan Clowes and Terry Zwigoff, Art School Confidential, may be drawing mixed responses from cinephiles and critics, but one of its unambiguously positive effects is getting Zwigoff's documentary, Crumb, back into circulation on DVD. A must-see for any comics aficionado, Crumb also reminds us how much the evolution of one kind of "adult" comics (intelligent, creatively ambitious) owes to another kind of "adult" material (i.e., the sex- and scatology-obsessed comix of the '60s underground).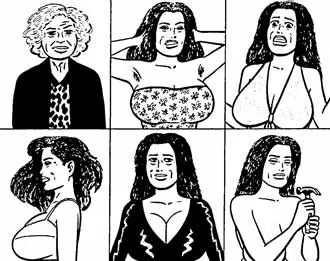 The many faces of Luba, heroine of Gilbert Hernandez's Luba: The Book of Ofelia.
Today, art comics cover a wide range of topics and genres. But sex and toilet humor are still around, and those of us who are accustomed to it should bear in mind how odd it looks to novices. For example: Gilbert Hernandez's Palomar stories may be one of the high points of literate serial fiction, but hand Luba: The Book of Ofelia (Fantagraphics) to the uninitiated, and the first thing they'll see is lots of graphic sex, full-frontal nudity, and Hernandez's bizarre fixation with breasts too large to exist in nature.
Erotic fantasies aside, Hernandez has created many of the comic world's relatively few interesting female characters. Of the still-too-small population of women cartoonists creating their own images, Canada's Julie Doucet is the rare one who gives him some competition for adult-only material. After a long absence from comics, her My Most Secret Desire (Drawn & Quarterly), collects scenes drawn from her dream journal. There's sex in it, of course (see Julie as an astronaut who masturbates with a cookie her mom made!), alongside other not-for-the squeamish material — getting stabbed in the eye with a junkie's needle, for instance. Doucet's subconscious-diving visions are so extreme it's not surprising she has been called "the female Crumb."
Back to Hernandez's obsession with bosoms: Fantagraphics' series of monographs on old "glamour girl" artists has now extended to one I suspect both Hernandez brothers appreciate: Innocence and Seduction: The Art of Dan DeCarlo highlights the career of the Archie Comics creator. As the cover makes clear, that career sometimes included racy drawings of Betty and Veronica lookalikes.
It may be hard for comics evangelists to keep newbies away from work so explicit they'll flee in horror. Tony Millionaire is making things a bit tougher, by splitting his time between mostly cute kiddie books about sock monkeys and stuff like the new Billy Hazelnuts (Fantagraphics), which is kid-friendly in binding style but definitely not in content — as its title character is some kind of homunculus, built by realistically drawn mice, with flies stuffed in his empty eye sockets. That would have given me nightmares for a year.
There are no mixed messages, though, in Hotwire Comix and Capers (Fantagraphics), an oversized anthology title that yearns for the days of lurid front covers and questionable, thrill-packed content. It's not completely devoted to juvenile kicks (Ivan Brunetti, instead of going all gallows-humor on us, contributes a tale of bodhisattva), but Hotwire offers more than its share of explosions, demons, drugs, and bare breasts. This isn't the place for scouting new talent (like the anthologies in last month's column), but it might be the place those up-and-comers go to blow off steam.
Also of note this month: While exploring online recently, I came across Digitalfunnies.com, which fills a niche I never really expected to see filled. Big publishers are doing justice to Krazy Kat, Little Nemo, and some other icons of early-20th-century comics, but what about the mountains of more obscure material that's uncommercial by any reasonable standard? Digital Funnies proprietor Jonathan Barli has taken it upon himself to archive as many public-domain funny pages as he can get his hands on, making scans of amazing quality (so detailed you can blow a single panel up to fill your computer screen, and it still looks great) and selling them on CD- or DVD-ROMs. The scans are serious enough that anybody who could afford it could publish a book from them, and it appears that Barli would welcome his efforts leading to something like that. But until Tony Sarg and Harrison Cady are as well known as Charles Schultz and Winsor McCay, a CD archive may be the only way most of us will ever read these forgotten strips.