Sodalitas Art Group masters the tricky business of collaboration
There's a basic assumption in Western culture that artistic creativity is generally the province of a single person's imagination (the most common exceptions being granted to songwriting teams and filmmaking partnerships). But this summer, one of the most exciting artists in the Austin Museum of Art's 22 to Watch show was actually three people. Their work is on display at Robot Art Gallery in Southtown through December 31.
"Sewn #2" from the Sodalitas collective's show at Robot Art Gallery.
Sodalitas, Latin for "community" or "fellowship," is a collective of three young artists: Joseph Phillips and Shea Little, native Texans, and Jana Swec, a Californian by way of New York who moved here after meeting Little at the School of Visual Arts (the two are now married). The trio began working together almost by accident three years ago, after they decided to share a living and studio space in a barren zone of East Austin. (Live/work makes it sound somewhat nicer than what it is: a warehouse more suited to auto repair than habitation.) An art fair sneaked up on them, and the painters, realizing none of them had anything small enough to show at a gift-oriented event, decided to juice up the creative process by helping one another.
Their first efforts at collaboration, Swec says, were very regimented: "We made all sorts of rules." In one scheme, they set up an A-B-C rotation in which a painting started with one person and rotated to the next after a set period, whether the first was in the middle of an idea or had done anything to the piece at all.
Swec describes one "game" they invented along these lines: "We would each start with a blank piece of paper, and one person would come up with a word, like 'paper bag.' We'd all draw our own paper bag without looking at each other's. We'd work for five, 10 minutes, and then pass it to the left and come up with another word — and then you'd have to incorporate your drawing of that word with the drawing you were given."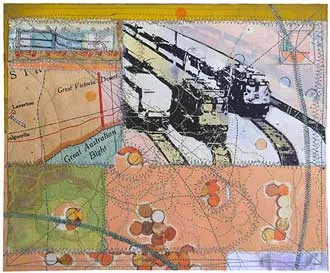 "Sewn #4"
Unsurprisingly, strategies like this quickly bred disagreements. One artist would paint over something another had done, for instance. Initially, their policy was that such destruction had to be justified to (read: debated with) the wronged painter. But over time, it seemed a natural and necessary part of the process — not that feelings aren't occasionally hurt. (And as Phillips jokes of his partners, "They're married, so they gang up on me.")
Debates crop up as well when the three are quizzed about which one of them came up with an image or idea. Little shows me a series of pieces in which a drawing has been glued into a thrift-store hardback, then mounted with a clever screw-and-magnet system that each of his comrades wants to take credit for. Little makes the peace, telling Phillips, "Actually I think you had the idea they should be screwed to the wall, and Jana came up with the magnets." It's a good-natured interaction, and if one can imagine it occasionally heating up, Swec insists that the artistic process has proven a very effective way to work out any interpersonal friction.
You'd have to assume that it also helped when the artists decided, two years or so ago, to move into their own separate living quarters. They now rent a number of warehouse bays in the same industrial strip, and sublet the ones they're not using to other artists. In addition to becoming landlords of a sort, they have launched ambitious community-building programs such as the East Austin Studio Tour, in which scores of artists open their studios one weekend a year to packs of roaming art-lovers, and the Texas Biennial, a juried show intended to give exposure to new Texas artists. Between these projects and their money-making graphic design gigs, it's a challenge to manage time efficiently enough to allow for painting.
Sodalitas: 'Sewn'

9am-5pm Mon-Fri,
& by appt.
Through December 31
Free

Robot Art Gallery
724 S. Alamo, Suite 3
476-8801

But work they do, as I saw on my studio visit last week. Most of the pieces for their Robot show had already been moved out for last Friday's opening, but I saw samples of the Sewn series that (along with two-dimensional paintings) will be the focus. Machine-stitched lines undulate like creeks or beaches along bits of maps that are joined to drawings; strange ingredients such as transparent plastic circuit boards are tacked by happy blue and yellow thread to pieces of retail detritus; imaginary landscapes are ravaged by explosions and natural catastrophes.
I also got a rare perspective on their work process when they showed me a stack of screenprints, each of which had one piece of imagery more than the last one. Watching as one intriguing composition was blotted out, only to build slowly into something new and denser, I could understand the apprehension each artist must feel — happy, trusting, team spirit notwithstanding — when it's time to hand the materials off to the next in line. •
By John DeFore