Funcore Comics says four-star cleavage pays the bills, dude
DC Comics, the company behind Batman Begins, is headquartered in New York City. So is Marvel, that other bastion of superhero-dom. Upstart indie presses such as Image and Dark Horse make their homes in California. But the desktop publishing revolution means that aspiring comic-book creators needn't trek to a coast and kneel before the giants. Nowadays anybody with a computer setup, pen and ink, and an imagination fed by decades-old genre conventions can be a publisher.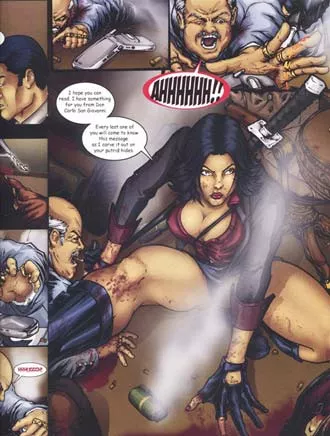 "Do I want to bag one of the characters or fantasize?" asks Funcore Comics business manager Roman Pineda in defense of the company's busty new heroine, Angel de Muerte. "Of course not, but it's appealing in an artful way."
Case in point: San Antonio's Funcore Comics, a four-man operation with one series on retail shelves and two more on the way. If you saw one of their books at your local comic emporium, you could scarcely distinguish it from the big boys' product. For local fanboys who gobble up said product by the Mylar bagful, their story may be inspirational.
The four young men are operating without a bank loan, supporting the venture with grown-up day jobs: Two work for media outlets, one drives a UPS truck, and the fourth is a geologist. The young publishers are also the writers and artists behind their releases. Once upon a time, such an enterprise was called "vanity publishing," but writer-artist-entrepreneurs ranging from Todd McFarlane (Spawn) to Dave Sim (of the offbeat epic Cerebus) killed that stigma years ago.
The Funcore Four surely enjoy the flow of their creative juices, but they're also not above a bit of market research: A survey on their website asks visitors, "Which comic book genre appeals to you more? `pick one` Horror, vampire, zombie type comics; Sexy-ass girl in skimpy clothes comics; Far off land fantasy comics; Straight up superhero comics."
One assumes the boys are equally conversant in all these fields, but back to those "sexy-ass girl in skimpy clothes comics." Funcore has just published a two-part preview offering three or four pages each of Soul Scythe and Angel de Muerte, the company's two new series, and among those few pages, whether the plot concerns dueling crime families or a demon-slaying dude with blue hair, you'd be surprised how often ballooning bosoms squeeze their way onto the page.
That's not news to anybody who frequents comics stores. Heaven help the guy who takes his girlfriend along to pick up the latest Eightball or Krazy Kat reprint, then has to spend the afternoon explaining that the comics he buys have nothing in common with Bullet Bimbos or Nymphette Night-Avenger. Since the Current had access to the artists for a moment, we took the opportunity to ask what the deal is with all the cartoon breasts. Don't fanboys know you can get actual photographs of naked women now, using something called an internet? Juan Carlos Ramos, who draws both series, replies in a way that almost challenges the questioner's masculinity: "Nobody asks why do you draw the men all buffed out, wearing skintight clothing ... for some reason that seems OK with people ... Hmm ... "
Actually, the hyperbolic physiques of superheroes has long been the target of ridicule, but at least it makes some sense: If you're going to draw somebody called The Mighty Thor or Superman, chances are the guy's going to have pretty crazy biceps. But little explains why every comic-book woman with ninja training or telekinetic powers appears to have spent her last dime on silicone implants.
Roman Pineda, Funcore's business manager, explained further in this e-mail message:
"If women were drawn realistically, not many people would pick it up. I know I wouldn't! You can check out my stack of comics and I guarantee most of them I bought because the artist's rendition of the female anatomy was appealing. Do I want to bag one of the characters or fantasize? Of course not, but its appealing in an artful way.
"It's all about art, just like the statue of David and various other nude Roman statues. Men biologically have hormones that jump around quite a bit and there's not a thing you can do about it. By the way, the comic industry is supported by a target audience consisting of mostly males from 13 to 50."
Touché, sir. Welcome to the world of comic-book publishing; you should make millions, and we'll reserve a space next to Michelangelo's "David" for your blouse-busting Angel de Muerte. •
By John DeFore