Contemporary Art Month officially comes to a close this week with three don't-miss events: The second-annual Dignowity Hill Pushcart Derby will pit returning champion (and founder) Cruz Ortiz against fellow SA artists and their custom carts. Robert Tatum returns, as does Andy Benavides and a host of other ersatz hotrodders, including Ethel Shipton and Katie Pell. 5-9 p.m. Saturday at Dignowity Park, corner of Nolan and Hackberry. 533-3036 for more info.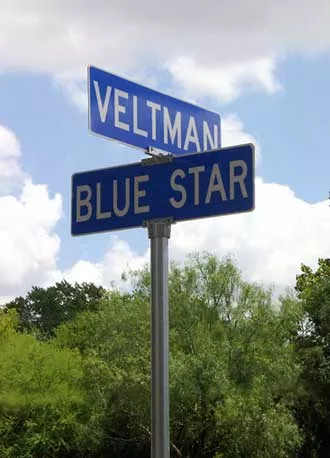 Landmark moment: Commemorative street signs will be installed at Blue Star July 30 to honor the complex's founders, Bernard Lifshutz and Hap Veltman.
On Sunday, you'll have time to attend A Tribute to Hap Veltman and Bernard Lee Lifshutz (6 p.m. at the Blue Star Arts Complex, 119 Blue Star) and the inaugural Green Eggs & CAM Awards at the Cameo Theatre (1123 E. Commerce), where honors will be bestowed by the likes of Blue Star Director Bill FitzGibbons, and Felix Padrón of the Office of Cultural Affairs.
The Green Eggs & CAM event is a 12-hour art-endurance marathon, 2 p.m.-2 a.m., and features video art (an advance clip from Joan Fabian is Schoolhouse-Rock psychedelic), live music, hot dogs, and cocktails. Fuel up there and then head over to the Veltman-Lifshutz tribute, where street signs commemorating Blue Star founders Bernard Lifshutz and Hap Veltman will be installed, along with a plaque honoring the donors who funded the project. But be back in your spot at the Cameo by 8 p.m., when emcee Gary Sweeney fires 'er up. You can still help decide who will receive the People's Choice Award (trophies are designed by CAM impresarios Anjali Gupta and Robert Tatum, among others, and certificiates are by Chuck Ramirez). Vote at Greeneggsandcam.org by midnight July 29. 320-4549 for more info.
- Elaine Wolff